[boxify cols_use ="5″ cols ="5″ position ="left" order ="none" box_spacing ="5″ padding ="5″ border_width ="2″ border_color ="blue" border_style ="solid" height ="90″ ]
Breeding news sponsored by…
[/boxify]
The number and gross value of Midlantic-breds sold at yesterday's Fasig-Tipton Midlantic Fall Yearlings sale both rose significantly versus 2012, though the average price of those yearlings fell.
Horses bred in Maryland, Pennsylvania, New Jersey, Virginia, and West Virginia accounted for 238 of the 289 hips sold — more than 82 percent.  That was up from around 65 percent in 2012, when 180 Midlantic-breds were sold.
Those horses fetched a total of more than $4.6 million, an average of more than $19,560.  The gross total was 18 percent above last year's, while the average declined about 10 percent, from $21,800.
Last year's overall sales topper was a Virginia-bred Malibu Moon filly that fetched $300,000.  This year's was Hip 186, a Kentucky-bred Quality Road colt consigned by Candyland Farm; the colt is also Delaware certified and brought a top bid of $250,000.  The top region-bred to sell was Hip 325, a Maryland-bred daughter of Tiz Wonderful consigned by Dark Hollow Farm; he brought a winning bid of $175,000.

Among the region's states, West Virginia and Maryland saw the greatest increase in sales.  The number of West Virginia-breds changing hands nearly doubled, from 12 to 23, and the average of those horses rose from $16,000 to $26,000, largely on the strength of hip 183 and hip 63; they fetched $126,000 and $120,000, respectively.  The number of Maryland-breds changing hands also rose, from 65 to 71, and their average value rose slightly, to more than $23,500.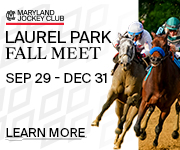 For the sale as a whole, the average price rose nearly 16 percent, to $25,847, while the buy-back rate dropped from 15.3 percent to 13.7 percent.
Coming Up: How the new sires and running dams we previewed fared at the sale, plus on-the-scene analysis.