from a Virginia Thoroughbred Association release
Grade I winner and Kentucky Derby runner-up Bodemeister was crowned as the 2012 M. Tyson Gilpin Virginia-bred Horse of the Year and the 2012 Champion Virginia-bred Three-Year-Old Colt, as part of the annual state-bred championship awards presented Saturday night at Colonial Downs.
Audley Farm, breeders of Bodemeister, also accepted the awards for Leading Virginia Breeder and Champion Virginia Broodmare. Audley-breds won 42 races in 2012 and claimed an in-the-money strike rate of 40 percent. 2012 marks the fourth year Audley has been crowned Leading Virginia Breeder.
In addition to Bodemeister, who stands at WinStar Farm, several Virginia-bred awards went to young stallions now standing in Kentucky and Maryland. Dominus, new to the 2013 Spendthrift roster, received the award for Champion Virginia-bred Turf Horse. Redeemed, standing at Northview Stallion Station in Maryland, received the award for Champion Virginia-bred Older Horse.
Virginia-Bred Champions and their connections, in order of award presentation:

Champion Virginia-Bred Steeplechase: WELL FASHIONED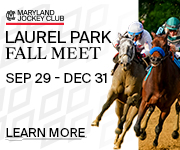 2007 Bay Mare (Cozzene – Cryptos' Best, by Cryptoclearance)
2012 earnings $45,500; Winner, Crown Royal Hurdle
Accepted by Frank Shipp for breeder Lazy Lane Farms, LLC
Sponsored by theVirginia Gold Cup Association
Champion Virginia-Bred Turf: DOMINUS
2008 Dark Bay Horse (Smart Strike – Cuando,by Lord At War [ARG])
2012 earnings $206,388;Winner, Dwyer Stakes-G2; Bernard Baruch Handicap-G2
Accepted by Donna Dennehy for the breeder, the Estate of Edward P. Evans
Sponsored by Spendthrift Farm
Virginia Leading Breeder: AUDLEY FARM EQUINE, LLC
Champion Virginia Broodmare: UNTOUCHED TALENT
2004 Bay Mare (Storm Cat – Parade Queen,by A.P. Indy)
Accepted by Dr. Jens Von Lepel, President, and Jamie Mcdiarmid, Horse Manager, Audley Farm Equine, LLC
Sponsored by TracksideOnRadio.com
Champion Virginia Bred Older Horse: REDEEMED
2008 Bay Horse (Include – Early Mass, by Pleasant Tap)
2012 earnings $348,000; Winner, Brooklyn Handicap-G2; Greenwood Cup Stakes-G3; Placed, Donn Handicap-G1
Accepted by breeders Wayne and Susan Chatfield-Taylor, Morgan's Ford Farm
Sponsored by Northview Stallion Station
Champion Virginia Bred Sprinter: CAMP VICTORY
2007 Dark Bay/Brown Gelding (Forest Camp – Victory Trick, by Clever Trick) 2012 earnings $210,000; Winner, Triple Bend Handicap-G1
Accepted by breeders Danny Atkins and Lee Ann Smith, Atkins Home, Inc.
Sponsored by PTK, LLC
Champion Virginia Bred Two-Year-Old Filly: A LOVER'S QUESTION
2010 Chestnut Filly (Spring At Last – Kelly's Question, by Mr. Greeley)
2012 earnings $67,230; Winner, Jamestown Stakes
Accepted by breeder and owner R. Larry Johnson
Sponsored by WinStar Farm, LLC
Champion Virginia Bred Three-Year-Old Filly: HEAVEN KNOWS WHAT
2009 Roan Filly (Holy Bull – What Do I Do, by Two Smart)
2012 earnings $80,650; Winner, Oakley Stakes
Accepted by breeder and owner R. Larry Johnson
Sponsored by Lady Olivia at North Cliff, LLC
Champion Virginia Bred Older Mare (Tie):
EMBARR
2008 Chestnut Mare (Royal Academy – In too Deep, by The Deep [IRE])

2012 earnings $134,670; Placed, Athenia Stakes-G3
Accepted by breeder, owner and trainer Susan S. Cooney
Sponsored by Lazy Lane Farms, LLC
NORTH FREEWAY
2008 Dark Bay Mare (Jump Start – Shawnee Country, by Chief's Crown)
2012 earnings $150,590; Winner, Winter Melody Stakes
Accepted by breeders Wayne and Susan Chatfield-Taylor, Morgan's Ford Farm
Sponsored by Lazy Lane Farms, LLC
M. Tyson Gilpin Horse of the Year and Champion Virginia Bred Three Year Old Colt: BODEMEISTER
2009 Bay Colt (Empire Maker – Untouched Talent,by Storm Cat)
2012 earnings $1,304,800; Winner, Arkansas Derby-G1; Placed, Kentucky Derby-G1; Preakness Stakes-G1
Accepted by Dr. Jens von Lepel, President, Allyn Carnam, Vice President and Jamie Mcdiarmid, Horse Manager, Audley Farm Equine, LLC
Sponsored by the Virginia Horse Industry Board
(Featured image is of champion older mare Embarr, by Jim McCue, Maryland Jockey Club.)