For Delaware Park trainers, moving day arrives
Mike Valiante

November 7, 2023
Virtually every adult is aware of the logistical challenges of moving. The planning, packing, relocation and unpacking can be particularly difficult for large families with a pet or two who are moving out of state.
If you think of that stress and multiply it 25-fold, you might be able to imagine the stress that trainers face as they move their stables from Delaware Park to winter homes like Tampa Bay Downs and Oaklawn Park. Take Chelsey Moysey.
Moysey finished the Delaware meet with 19 wins from 106 starters, good for fourth in the trainer standings. Her purse earnings of more than $450,000 were seventh-highest.

In the previous two years, her winter operations were at Oaklawn Park. But, she noted, "Last year Oaklawn was really tough for us. We lost a lot of horses [via the claimbox], and unless you are really aggressive in the claiming game, it is hard to do well. Tampa is very similar to Delaware, and we figured we would give it a shot."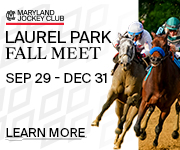 Others among the leading trainers this Delaware season who typically leave the region in the offseason include McLean Robertson, who finished tied for sixth with 17 wins, John Rigattieri (15 wins), and Greg Compton (12 wins).
Moysey will start the Tampa Bay meet with approximately 25 horses. The first step in the process was to obtain stalls at Tampa, and Moysey filed her application back in September. With a smaller operation, Moysey is in charge of a great number of administrative duties like stall applications. Setting up the shipment scheduling is another one of her duties.
"Normally I would ship my entire barn at the same time," Moysey said. But this year, her stock will head south in increments due to the high demand for transport at this time.
"My last horse to race around here is on the 10th," she added. "Our first shipment is going to be around the 11th, and we will trickle the entire stock in about three days."
Most of her staff will be going with her, but another administrative duty will be the need to hire one additional groom and an exercise rider. If she were sending all her horses down at once, it would take her staff about eight hours to break everything down and pack up all the horses and equipment. That process will be a little more complicated this year because of the staggered schedule, and each of the incremental shipments will have to contain enough supplies for the horses on that particular van.
"It's much easier when you ship the entire barn at the same time," she noted.
CHECK OUT THE LATEST OFF TO THE RACES RADIO!
Based in large part on her experience with large-scale moves and the hard work of her staff, Moysey is confident that her horses "will acclimate to their surroundings quickly." The Tampa meet starts November 22, and she has already reviewed the Tampa condition book.
"We have a few entered for opening weekend and then it dies down a little bit," she said. "I think we will have enough entries to give us a chance to get off the duck early."
The vagabond lifestyle isn't for everyone. Each move, with its attendant packing, traveling, and unpacking, "is like a 48-hour process straight through and really is exhausting," Moysey said. In fact, it's one she would just as soon avoid.
"To be honest if Delaware Park would allow trainers to stable there in the winter, I would just stay in the area," the trainer noted. "I love living on the East Coast."
That's not an option, though. She said she chose Tampa based in part because of the dirt surface, which she calls "the safest of any track." She has experience as an assistant there in the past and knows many of the existing track maintenance workers and respects the fine work they do.
"It is a very forgiving surface, like a beach sand," Moysey explained. The great majority of her entries will be on the dirt.
Her partner and number one jockey, John Hiraldo, also will join her in Tampa this winter. The two have been a very successful team at Delaware over the last few meets, and they registered a stakes win together with Red Hot Mess in Delaware's 2021 White Clay Creek. The colt, now four years old, is going to be pointed to an attempted return to the track following a layoff due to injury, Moysey said.
Like snowbirds, John and Chelsey are currently planning a return to the Mid-Atlantic next year. That means another challenging 48-hour move will once again be needed next spring.
LATEST NEWS