Delaware: Jockeys recall fondest moments
Mike Valiante

September 28, 2023
In October 2021, I was taking pictures at Delaware Park, and as apprentice jockey John Hiraldo ran to the paddock following a win on Red Hot Mess in the White Clay Creek Stakes, he let out a cheer. I don't think there were more than five people on the apron who heard that celebration, but I remember it clearly. 
So does John. I recently asked John what his fondest memory at Delaware Park was, and he went to this moment, his first stakes victory. John still rides regularly at Delaware Park, and his answer got me wondering what memories other jockeys have of the Stanton oval. In particular I asked a number of jockeys who have moved on to other tracks, for their fondest Delaware memories.
It has been a big 2023 for jockey Keiber Coa. He is second in jockey wins at Finger Lakes this meet with 47 as of September 27, just one off the lead. The son of jockey Eibar Coa had two significant memories, one genuinely unique to Delaware, at least in the East. That memory was winning the Darley Award for jockey of the year for his performances in Arabian races during 2017.

"I won numerous Arabian Stakes" for a number of years at Delaware, he remembered. His most famous mount was Paddy's Day, arguably the best US Arabian of his day. In addition he finished third among Delaware jockeys in 2018 with 113 in-the-money finishes.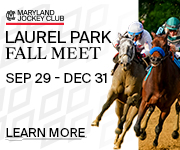 Jockey Tyler Conner has consistently been a top jock at Penn National and selectively will catch rides on bigger stages. This past weekend he rode Honor D Lady to win the Grade 3 Remington Park Oaks. Conner rode full-time at Delaware in 2015, finishing one win behind leading rider Carol Cedeno.
"That's a tough one. I've only ridden there full time for one summer so I don't have a ton of memories," he mused. "I guess it would have to be having a four-win day there when I had the bug (June 29, 2015), or when [the mare] Bess won all three of her three starts there a couple summers ago [in 2021]."
Jockey Jorge Vargas, who now rides in New Jersey and New York, took the sentimental approach with a memory that was unique to Delaware Park.
"I used to love to know when longtime paddock host Rich Glazier would use his little horse prop 'Bungee' on his TV show to pick one of my mounts to win," Vargas recalled.
Jockey Aubrie Green spent the summers of 2022 and 2021 riding at Delaware Park before returning to Louisiana. Last year she had a lot of success at both the Fairgrounds and Louisiana Downs. She remembers the fans, or at least, one in particular.
She told me, "My favorite memory riding at Delaware Park would have to be seeing Matt Halter in the stands showing his love for the sport and the jockeys." 
Matt, who is autistic, attends the races every Saturday and has become an unofficial ambassador of the sport, as well as the head of the Carol Cedeno fan club. He is well known by the patrons at Delaware Park and throughout the horse racing Twitter universe.
CHECK OUT THE LATEST OFF TO THE RACES RADIO!
Aubrie is the wife of fellow jockey Angel Suarez, who was always among the leading jockeys during his time riding at Delaware Park. Like Aubrie, he now rides successfully in Louisiana. He said, "My biggest memories are definitely the friends that I made through the years there. They became more than friends; they became family. Also riding for some top trainers like Graham Motion and Mike Stidham."
Prior to coming to Delaware, and after leaving, jockey Jose Bracho remained a consistent winner on the Ohio thoroughbred circuit. Although he rode less than two full seasons at Delaware, he was a consistent winner here as well, posting 32 wins in 2017, sixth most of any rider at the meet. He said, "It's a beautiful place, and the horsemen there were absolutely great as well."
Delaware native Trevor McCarthy, now riding in New York, had a very personal memory that had nothing to do with winning races. Trevor was a top jock in the Mid-Atlantic for several years before moving his tack to New York. Old-timers will remember that Trevor's dad Michael won the Delaware Park rider title numerous times. 
Fittingly Trevor's memory was a childhood one, with his dad. "Riding the pony on the backside when I was 11 years old when my father trained horses there."
NEWS AND NOTES
The fifth race on Thursday, September 28 is carded as a $100,000 allowance for Delaware Certified fillies and mares three- year-olds and up. The six-furlong sprint is equivalent to a mid-level stake with nine participants that have combined lifetime earnings exceeding $2,700,000. The 7th race on that same card has 13 Delaware Certified colts and geldings running that same distance, also for $100,000. It, too, has a stakes quality field with combined lifetime earnings exceeding $2,650,000.
Per the Delaware Thoroughbred Horsemen's Association website, to be Delaware Certified a "weanling or yearling must start residency on a DCTP certified farm before December 31st of its yearling year and must stay on DCTP farm for 90 days." In addition to carded Delaware Certified races, the program also offers the opportunity to earn purse bonuses whenever certified horses race at Delaware Park. The Delaware Certified program has been in existence for 22 years and is comparable to breeder association programs in surrounding states.
Daniel Centeno only had four mounts in the three racing dates last week, with. Saturday's card canceled due to the wet weather. Centeno made the most of his mounts, winning with three of them and capturing third place with the remaining one. One of his mounts, Mr. Antonelli, won a $30,000 maiden claimer, second time out for trainer Diane Morici. In addition to the jockey change to Centeno, blinkers were added and the horse won easily, going off at 9-1. Keep an eye on this horse next time out.
In the preceeding race on Friday, an allowance/optional $62,500 claimer for two-year-olds, Frankie's Empire showed a lot of heart in winning for D and D Stables LLC and trainer Susan Crowell. The field had a number of horses that were found wanting in Monmouth Stakes, but a few of these 2 year-olds could prove themselves to be tough in the claiming ranks.
In addition to the weather cancellation, the seventh race on Thursday was declared a non-starter when Trumpence, piloted by Kevin Gomez, clipped heels and fell just past the finish line the first time shortly after breaking from the gate. Trumpence was euthanized; Gomez rose under his power and has resumed riding…
Trainer Pedro Nazario had three winners last week. Prior to that he had eight total winners for the meet. Jaime Ness had two winners last week. No other trainer had multiple winners in a week that featured only 23 total races.
LATEST NEWS