Delaware: Capuanos-trained Copper Tax Just Great
Frank Vespe

September 27, 2023
Just Great – narrowly – held up her end of the deal, prevailing as the favorite in the Small Wonder, the first of two $100,000, Delaware certified allowances for two-year-olds Wednesday at Delaware Park.
That gave trainer Phil Capuano the win in the filly race, and it meant that if Copper Tax could live up to his favoritism two races later in the First State Dash, the second of those lucrative contests, son Phil and father Gary Capuano would sweep the day's features.
"The pressure's on him," Phil Capuano joked after Just Great's victory. "I got the first half. He can try to get the second."

"It was a lot of pressure," agreed dad Gary. "I was a little nervous today. I don't usually get too nervous."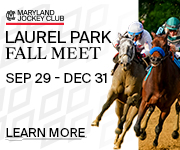 Fortunately, whatever pressure he was feeling didn't transfer to his horse. Copper Tax, wide on the turn under leading rider Jaime Rodriguez, took over nearing the quarter pole and drew away to win by nearly four lengths. It was the Copper Bullet colt's third consecutive win, second against Delaware certified rivals; all three have come by open lengths.
Copper Tax now has $120,000 in earnings.
"It kind of takes him a sixteenth of a mile, an eighth of a mile to get his feet under him," Gary Capuano said. "But he's quick enough anyway, and he finishes strong and he finished strong again today. He's a pretty nice colt."
The Kentucky-bred Copper Tax, owned by Rose Petal Stables, paid $2.80 to win as the odds-on favorite. Longshots Sharp Tones (22-1) and Finicky (54-1) filled out the place and show spots.
Second choice Give It a Whirl, winner of his first two before finishing fourth in the one-mile, $200,000 Sapling Stakes at Monmouth Park, raced up close to the pace early but could not go with the winner and finished fourth.
Two races earlier, Just Great, a nearly-14-length winner on debut, found the sledding considerably tougher in the Small Wonder, rallying between horses to win by a neck as the first four finishers were all within 1 ½ lengths of each other. Running time for the six furlongs on a muddy, sealed main track was 1:13.07 – significantly slower than the 1:11.31 Copper Tax recorded.
Just Great, bred in Maryland by Keith Harpster, was a $6,000 auction purchase picked out by Dale Capuano, Gary's brother and Phil's uncle. When Dale Capuano retired at the end of last year, Phil took over training duties for most of his clients, among them Lou Ulman, who owned Just Great in his debut and sold the horse afterwards to Team Valor International and Gary Barber.
Just Great stalked the pace along the rail, tipped out for running room entering the lane, and narrowly prevailed as the top four runners after the opening quarter-mile remained in the top four positions, albeit jumbled up a bit, to the end.
CHECK OUT THE LATEST OFF TO THE RACES RADIO!
The Mark Shuman-trained Old Bay (16-1) finished second, while Lucky Cougar (5-1), for Jason DaCosta, was third. Old Bay has run four times and finished second in all four. Longtime leader Super Fabulous (40-1) ran gamely to the wire but had to settle for fourth for trainer Jose Ramirez.
"At the top of the stretch, you know, there was a little bit of bumping, and so you always worry about that, but she's just a game filly," Phil Capuano said of Just Great. "And then last Friday, I did a little workout with her putting her behind horses and letting her split horses to see how she handled that, and she had no problem."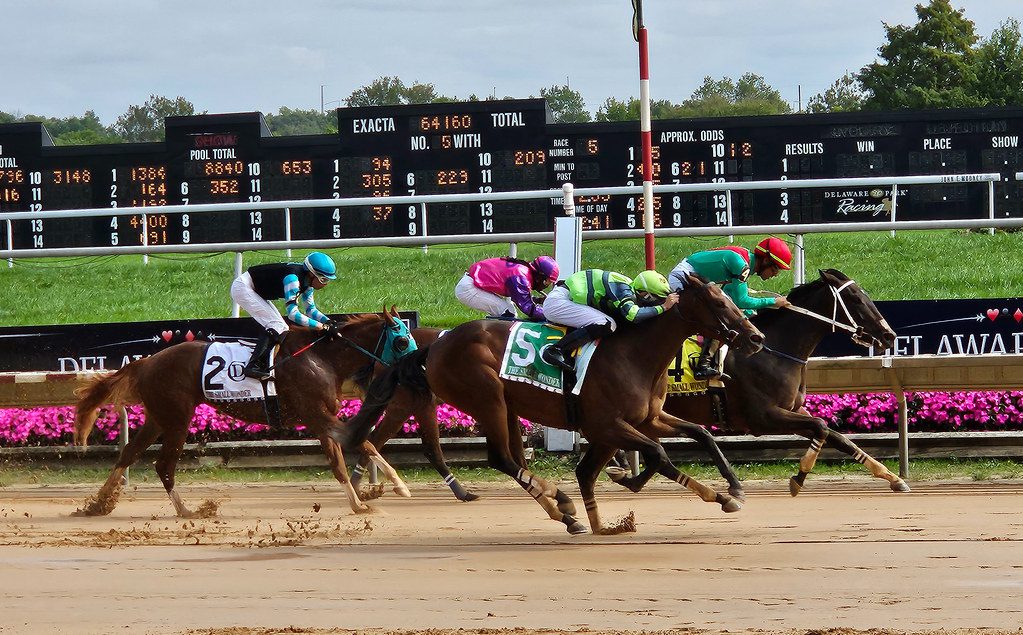 Leading rider Jaime Rodriguez rode both winners, but if admittedly ambitious plans come together, he won't be able to ride both next time out. Both are hoping, if their charges come out of these races well and bounce back quickly enough, to run back on October 14.
Just Great, a daughter of Maryland sire Great Notion, will run in the Maryland Million Lassie that day if everything works to plan. Copper Tax's next target is the one-mile Rocky Run Stakes at Delaware Park.
But that's a problem for a different day. Today, the Capuanos could enjoy their moment.
"It's real nice," Gary Capuano said. "I'm proud of my boy."
NOTES Odds-on favorites won the last five races in a row… On the walk over prior to the First State Dash, Speedyness (13-1) got loose and ran off for close to five furlongs before being corralled by the outriders. After a vet inspection, he was permitted to run and finished fifth…Jockeys Daniel Centeno and Jaime Rodriguez won three races each… Trainer Karin Wagner celebrated her birthday by saddling Chloe Rose to a win in the second race…
LATEST NEWS