Delaware Park picks and analysis: September 22, 2023
Joe Parisi

September 22, 2023
Live racing at Delaware Park kicks off May 24 and runs through late October.
Once again this year, we will have Delaware Park picks and analysis for every day of live racing at the venerable track. Today's card features eight races, and first post is 12:30 EDT.
Today's carryovers: None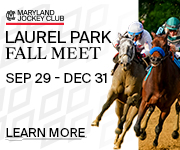 Race #1 Picks: 4-2-6-3
In this $16,000 maiden claiming race for two-year-olds at 5 ½ furlongs, #4 Paco the Taco Man (6-5) showed brief speed and faded in his debut. We expect improvement today and have him on top. #2 Hay Hay Harry (3-2) is coming from Monmouth where he ran evenly in a similar race. Carol Cedeno gets the mount today. #6 Clever Tiger (10-1) ran well in his debut but ran poorly in his second outing when he tried a route. Now back to a sprint and he should improve.
Race #2 Picks: 1-3-2-7
In this $5000 N2Y claiming race at six furlongs, #1 Pepe and Haywood (10-1) has been in the mix but has not won since March. He may get his second win of the year against this soft field. #3 Apache (5-2) Is also winless since March but has the speed figures to compete for the top spot. #2 Loverboy Lou (7-2) has had a pretty good career with $231,000 in lifetime earnings. He has some good races this year and may still have some gas left in the tank.
Race #3 Picks: 3-2-9-6
In this $6250 maiden claiming race for fillies and mares at one mile and 70 yards, #3 Don't Annoy Me (5-1) has been getting close to leaving the maiden ranks but hasn't quite made it. This might be her best chance as she will probably never face a weaker field and we have her on top. #2 Lilli Rose (3-1) has gotten the lead with $16,000 claimers in last two, which were taken off the turf. The class drop should help her today. #9 Ms Kays Cowgirl (8-1) is a deep closer that was running against better horses at Parx and Penn. The class drop could wake her up.
CHECK OUT THE LATEST OFF TO THE RACES RADIO!
Race #4 Picks: 13-4-2-8
In this $16,000 maiden claiming race for fillies and mares at five furlongs on the turf, if #13 Leggs (3-1) draws in off the AE list, she looks formidable today. She showed early speed with much better horses at Monmouth. This filly looks like a good bet in this race. #4 Steph's Top Nick (4-1) showed early speed in a turf route race at Canterbury Park and will now turn back to five furlongs. She is running for a high percentage trainer and looks like a threat today. #2 Hopeful Cure (8-1) has been struggling in routes, but the turn back to five furlongs could help her improve.
Race #5 Picks: 4-6-7-5
In this $32,000 N3L claiming race for fillies and mares at six furlongs, #4 Turn On the Charm (3-1) has been very solid running sprints at Monmouth. She is facing easier competition than she has faced recently and she should be able to handle this field. #6 Ritabook (6-1) has one win and two seconds in four starts at Delaware Park. She has been in very good form all summer and looks like a contender today. #7 Grace and Charm (4-1) won her last race and looks competitive in this spot. One to consider.
Joe's Notes
Thursday's seventh race was declared no contest.
Forest Fuel, a two-year-old Rainbow Heir filly who's a homebred for New Farm, made a splashy debut, winning a maiden dash on the turf by over five lengths under Paco Lopez, one of two Lopez wins on the day. She's trained by Dan Ward.
Race #6 Picks: 7-4-1-8
In this $28,000 claiming race for fillies and mares at one mile and 70 yards on the turf, #7 Can't Complain (4-1) got bumped in his last two starts after leaving the gate but still managed to finish first and second in those races. There is not a lot of early speed in this race and her ability to press and stay near the front should help her today. We have this filly on top. #4 Love Foreverafter (3-1) had a closing victory at Monmouth in last after a four-month absence. She should improve off that effort and be a contender today. #1 Louise Brooks (2-1) was running very well but found the company in her last race at Monmouth a little too tough. Now coming back to Delaware where she already has two wins this year, and moving down the class ladder. She is a threat in this spot.
Race #7 Picks: 7-6-4-1
In this allowance/optional claiming N2L race for two-year-olds at six furlongs, #7 Masakado (8-1) posted a closing victory in his debut race at Laurel. Now Cathal Lynch is going to Mychel Sanchez, who has won at a 33% clip in 78 races when riding for Lynch in 2022-23. We think this horse will improve today and we have him on top. #6 Frankie's Empire (3-1) tried two stakes races after her debut win and found them too tough. She did run a 60 speed figure in the Sapling and is now moving down to a level where that figure could win. A top competitor. #4 Bati King (2-1) won her debut maiden race here at Delaware with a 59 speed figure. That is a good race over this track and she is one to consider.
Race #8 Picks: 2-5-6-7
In this $30,000 maiden claiming race at six furlongs, #2 Stomping Moon (2-1) is coming in from Canterbury Park where he was running in maiden special company and now will be running in claiming company for the first time. This three-year-old seems to be improving, and he ran at 61 speed figure in last. We have him on top. #5 Ben's Hero (3-1) has been away since June when he was running well and has been working regularly since then. If he is in shape he could be a top contender. #6 Mr. Antonelli (6-1) ran evenly on the turf and now will try the dirt. Maybe the change in surface will help him improve.
LATEST NEWS