"What next" the lurking question for minor stakes winners
Frank Vespe

September 17, 2023
When horses compete in minor stakes, the question always lurking in the background – especially for the winner – is: What next?
Did this race answer particular questions? Did it set the horse up for a next step? And if so, what next step?
For at least one of Saturday's winning trainers at PImlico, the answer was pretty clear. For the connections of another, it was more of a fingers-crossed kind of thing.
Witty, second five times in seven 2023 outings, including three consecutive turf sprint stakes, finally earned his first stakes win on the turf – he already has two on the main track – with a narrow score in the grassy, five-furlong Ben's Cat Stakes.
"I had to wait until the very end to cheer," said trainer-breeder-owner Elizabeth Merryman, "because it seemed like, 'Oh, he needs me.'"
What the race suggested, Merryman said, was the Witty's future is on the turf. He's a half-brother to top turf sprinter Caravel – he's by Great Notion, while she's a Mizzen Mast – so turf makes sense. His first career turf try – in the 2022 Grade 2 Penn Mile – may have suggested otherwise, but that came at a distance that's perhaps too far over a boggy surface that he didn't take to. His more recent efforts in turf sprints seem more relevant.
"I think the main thing with him is he's gotten some confidence on the turf," Merryman explained. "You know, he doesn't have the strongest hind end, and he's a great, big horse. And it's just hard for him to get in gear when the when the dirt is breaking away from him behind. And I think as he's had a couple of starts on the turf he's had the confidence that the footing is not gonna break away from me, I don't have to worry about that."
Witty took the Ben's Cat by a hard-fought head over the Mike Trombetta-trained Sky's Not Falling. The latter, a son of Seville, won last year's Maryland Million Turf Sprint. The pair could meet again October 14 in that event, which is contested at 5 ½ furlongs, just a touch farther than the Ben's Cat.
"If everything goes well and he comes out of the race well, I'd like to go to the Maryland Million Turf Sprint," Merryman noted. "It'll be the same group. Probably both want farther. So it'll be a battle."
CHECK OUT THE LATEST OFF TO THE RACES RADIO!
For the connections of Intrepid Daydream, meanwhile, her win in the $75,000 Shine Again felt perhaps more like promise delivered than question answered. The Shine Again, restricted to fillies and mares that had never won an open stakes, was the four-year-old Jess's Dream filly's first stakes win and fourth win overall from 10 career starts.
"It feels great. It's a long journey of breeding them and all you go through," said owner-breeder Larry Fowler. "Injuries to older ones or this or that, it's a tough business. I've been doing it a long time, 30 years or whatever."
Intrepid Daydream now has four wins from 10 starts and over $200,000 in earnings: nothing to sneeze at by any means and still with plenty of time to burnish the resume. But after her first two wins, by a combined 27 lengths…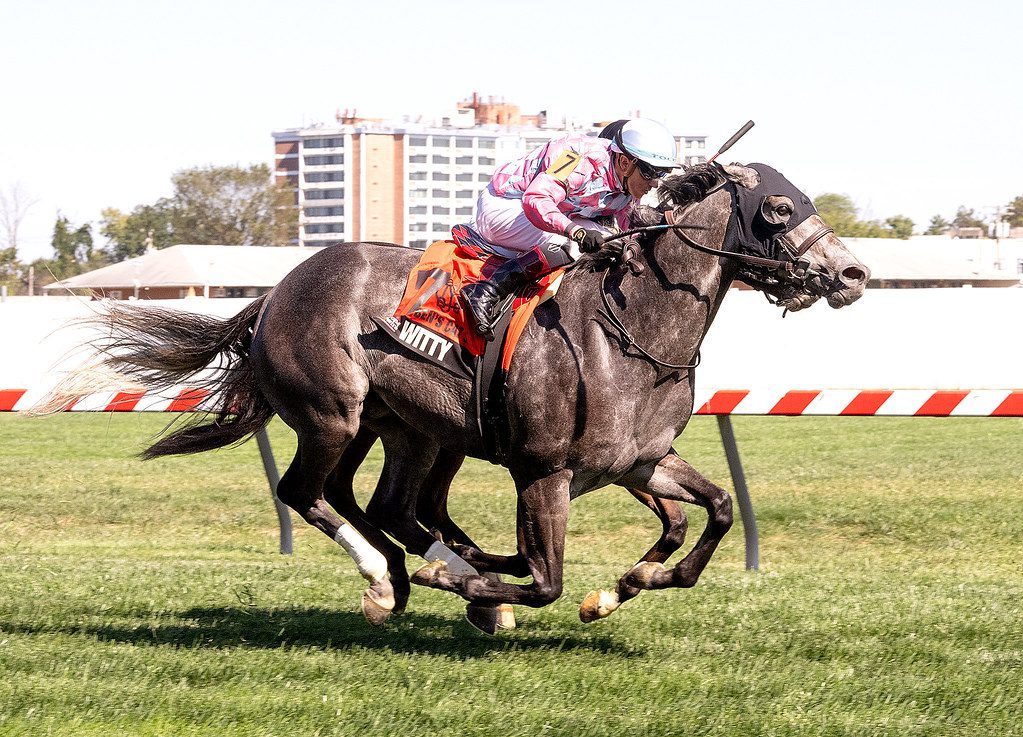 "You always hope, and we'll see," Fowler said. "She's getting bigger and stronger, and she bounces back pretty quickly. I think she would go routes as well as sprints. She's pretty versatile."
About that: while the Shine Again was at six furlongs, Intrepid Daydream won her second career start, a 1 1/16-mile maiden special weight test at Delaware Park, by 16 ¾ lengths. That was back in October 2021, and it was her most recent two-turn race.
"It was her maiden win, but, yeah, she just ran huge that day," said trainer Gary Capuano. "We haven't had two turns since. She had a lot of time off, but she's come back nice."
Intrepid Daydream had run well recently, including a good third, less than a length behind winner Hybrid Eclipse, in the Caesar's Wish Stakes in July. That race is contested at Laurel's one-turn mile distance, a trip many trainers believe is more akin to an elongated sprint than to a traditional, two-turn route.
So Capuano and Fowler will keep an eye on the condition book and try to find an appropriate two-turn spot for their Maryland-bred. She's nominated to the Twixt, a 1 1/16-mile race at Laurel, and that may be next, if she's ready. It's slated for Sept. 30, though, which may be a touch too quick back.
"I'm not sure, depending how she comes out of the race," Capuano said. "But she's a big filly and bounces back quick."
LATEST NEWS