Delaware Park picks and analysis: September 16, 2023
Joe Parisi

September 16, 2023
Live racing at Delaware Park kicks off May 24 and runs through late October.
Once again this year, we will have Delaware Park picks and analysis for every day of live racing at the venerable track. Today's card features eight races, and first post is 12:30 EDT.
Today's carryovers: None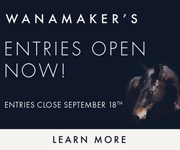 Race #1 Picks: 4-1-3-5
In this optional claiming/starter allowance race for fillies and mares at one mile, #4 Awesome Pic (3-2) appears to be the only speed in this race. She has shown that if she can get an easy lead with no pressure she can coast to a victory. We think this race will set up well for her. If our top choice falters, #1 I Love You (5-2) is the horse that is most likely to score a closing victory. She has won two straight by stalking the pace and closing in the last half mile. She looks like a contender today. #3 She's Peachy Keen (7-2) was facing tough competition in Florida but has been away since March. Trainer Gerald Bennett wins at 24% in 17 tries with horses that have been away for over 180 days, so this is one to consider.
Race #2 Picks: 3-1-2-5
In this optional claiming/starter allowance race at six furlongs, #3 Must Be Love (7-2) was claimed last time and will be making his first start for Michael Pino. He has been in good form all summer and will probably inherit the lead today. He is a game horse and we like him on top today. #1 Alpha Whiskey (9-5) has been in good form and has already beaten a couple of today's foes. Greg Compton horses win 25% of the time in 40 starts when they won their previous race. #2 Capt. Candy (5-2) was on the turf earlier this year before a claim. Carlos Sepulveda moved him back to dirt where he had some good races last year. We think he will improve today.
Race #3 Picks: 9-3-2-7
In this $16,000 maiden claiming race at five furlongs on the turf, #9 Discreet Devil (5-2) liked the switch to grass and responded with two good turf sprints at Colonial Downs. A repeat of those efforts should put him in the winner's circle today. #3 Barfly (6-1) will be making his second start on the turf for Tony Wilson. He ran a 48 speed figure in maiden company back in May, and there should be improvement today. #2 Ventilator (7-2) ran a good turf sprint race in his last outing when he set the pace but he got passed late. If he repeats that effort, he will be in the mix.
CHECK OUT THE LATEST OFF TO THE RACES RADIO!
Race #4 Picks: 6-2-3-4
In this $5000 claiming N2Y race at one mile and 70 yards, #6 Mister Winston (5-1) won a similar race at Parx in July, and this will be his second start under Carlos Caban. He struggled in his first outing, but we think there will be improvement today. #2 Substantial (5-2) goes out for red-hot trainer Jamie Ness is another top contender here. He has struggled in his last two but was running very well prior to that. He should be in the mix. #3 Ghostinyou (8-1) is getting a class break today and will be running late. One to consider.
Race #5 Picks: 12-3-6-7
In this $16,000 N2L claiming race at 7 ½ furlongs on the turf, if #12 Sigmund (4-1) draws in, he has a good shot today. He is facing a very weak field and he ran a couple good turf route races in Maryland. If he can repeat any of those efforts he should take the top spot today. #3 Coronova (8-1) recently made his first turf start for Lynn Ashby and did show minor speed. Ashby has skill at bringing turf runners along, and this one might surprise today. #6 Carico (8-1) was in close and lacked room in his turf debit and may improve today.
Joe's Notes
With leading rider Jaime Rodriguez at Pimlico for the weekend, Mychel Sanchez was the main beneficiary, riding seven for trainer Jamie Ness Friday and winning with three…
Even though no winner in the sequence went off at more than 6.60-1, the late Pick 5 paid $993.75 on a 50-cent wager…
Race #6 Picks: 2-4-1-6
In this optional claiming/first-level allowance race at one mile, #2 Brother Brad (5-2) had a couple of nice starts against better earlier this year. If he runs back one of those races, we think he will best this group. #4 Mystery Mo (9-5) has run second in four straight. He has won five lifetime races, so he knows how to win. Perhaps he will overcome his bad racing luck today. #1 Speargun (9-2) won and was claimed by Jamie Ness in last. He has a bullet work since the claim and fits well here.
Race #7 Picks: 8-7-4-1
In the $200,000 Cape Henlopen Stakes at 1 ½ miles on the turf, #8 Cross Border (4-1) is a nine-year-old who was running in graded stakes races last year and in steeplechase races earlier this year. He was overmatched in the Belmont Gold Cup and then just missed in an allowance race at Saratoga with a 90 speed rating. We think he is going to regain some of his old glory one last time, and we are putting him on top. #7 Tawny Port (5-2) recently won the John's Call Stakes in Saratoga with a 95 speed rating. That was an impressive performance, especially at 1 5/8 miles, which is further than he will be running today. Before that he clipped heels in the Grade-2 Bowling Green Stakes and ran fifth. This colt has proven he can run well on the turf and can handle this distance. He looks like a top contender. #4 Commandeer (6-1) has been running very well this year since making the change from dirt to turf.He struggled against graded stakes company in the Monmouth Stakes, but both of his other turf races this year were very impressive, including a 98 speed figure at Keeneland. If he can handle the 1 ½ miles, he could surprise today. #1 Beacon Hill (7-2) has run this distance once before and ran second, so the 1 ½ miles should not be a problem. He has been facing tough competition, but has not shown much on the turf this year. He will be in the mix, but looks a notch below the top three.
Race #8 Picks: 2-1-3-7
In this optional claiming/starter allowance race at 1 1/16 miles, #2 Screen Saver (2-1) has been running well at Parx this year with three wins and two seconds in nine tries. He should be able to stalk the pace and win late, which is his normal plan. #1 Ahsad (3-1) seldom runs a bad race and is almost always in the top three. That should continue today as he is not facing much stiff competition. #3 Night Ops (6-1) will be making his first start for Michael Simone after the claim. He was claimed three times in a row and ran well for his other trainers.
LATEST NEWS