Emma Wolfe: "The days are long, but I love what I do"
Mike Valiante

September 12, 2023
It's a truism that to obtain fantastic results you must have a great team. So it is with Brittany Russell, who has registered a stellar 32% win rate this season at Delaware Park, with her horses finishing in the money more than 75% of the time. A key member of Russell's team at Delaware is her assistant trainer, Emma Wolfe.
Wolfe has quite an extensive horse resume. It includes being a member of the equestrian team at Lander University in South Carolina. Also on her resume are stints at Saratoga working for trainers Billy Mott, Christophe Clement, Chad Brown, Brad Cox and Jimmy Toner. In addition, she has some experience in the Steeplechase world including riding.
Her plan, once, was to pursue a physical therapy doctorate, but she put but her academic journey on pause. She started breaking horses in Camden, South Carolina while she contemplated her next career move, and, well, one thing led to another.
"I always loved horses and loved competing with show horses," she said. "After a while my love for horses made me realize I could pursue my degree down the road if I chose to do so."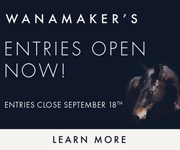 When the opportunity to work as an assistant for Russell arose, not only was she well qualified but there was also an additional reason why Emma felt this would be a good fit.
"As a mother it would have been difficult for me to be an assistant for some of the national outfits," she said. "A lot of trainers might not understand the demands of motherhood. But Brittany had one child at the time, and as a woman she knew that my role as a mother was a time-consuming one."
Fast forward a couple of years and the results have borne out that Wolfe is quite capable of handling Brittany's string of horses at Delaware Park. The stable is currently second in the trainer standings, and while it is well behind leading trainer Jamie Ness, who has 39 wins to the Russell barn's 21, they've notched those figures on fewer than half as many starts as the Ness operation.
"We were fifth in the trainer standings last year, and although we may never start enough horses to beat Jaime Ness for a trainer crown, one of the quantitative goals I set is to improve our numbers each year," Wolfe said. "Brittany has trust in me. I have a great staff. I love my team, they are loyal and hard-working and that is what makes a great stable."
CHECK OUT THE LATEST OFF TO THE RACES RADIO!
Wolfe is also quick to praise jockeys Sheldon Russell, Jevian Toledo, and Kevin Gomez, who have all ridden for the barn at Delaware this year. It also helps that by following Russell's model of spotting horses where they belong, the stable has gained the attention of owners and grown the business over the past few years.
"I've learned so much from Brittany and other successful trainers," Wolfe said. "I put the horse first, try to draw on my horsemanship skills, and surround myself with good people."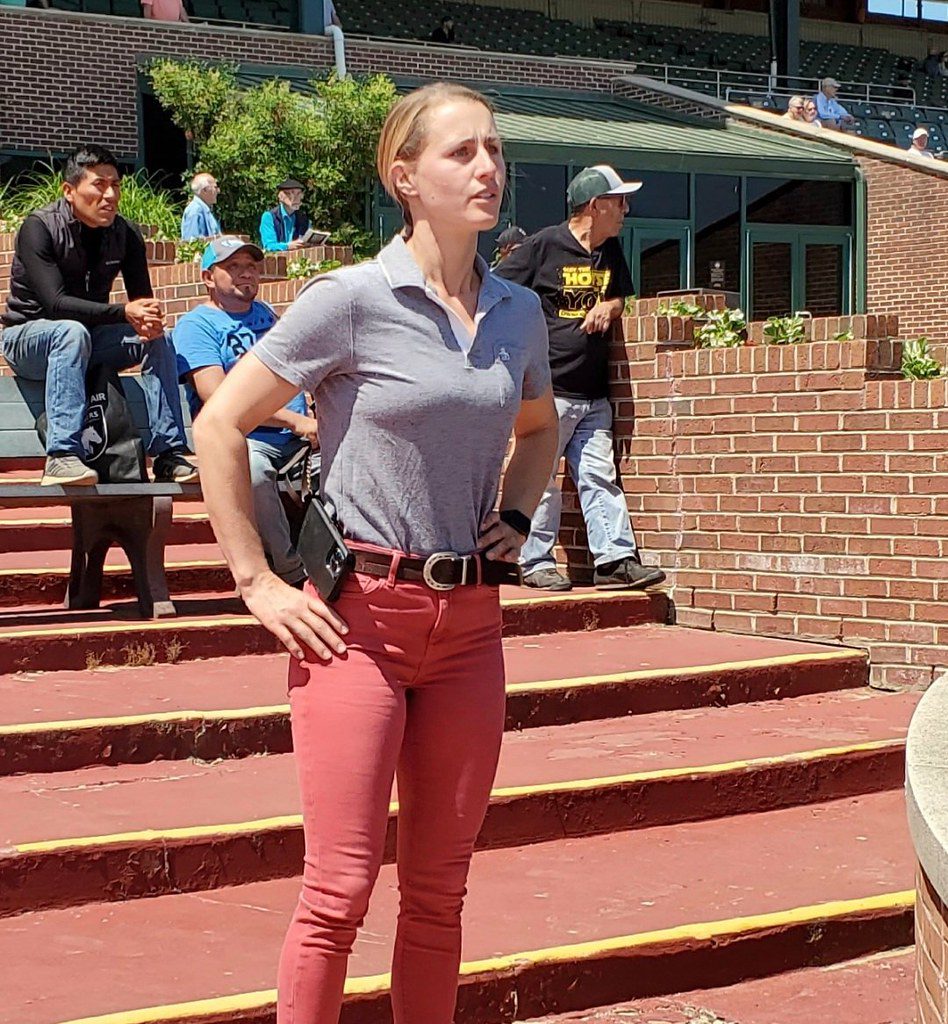 Given her work with Brown and Mott as well as her Steeplechase experience she has a slight preference towards working with turf horses. She can be hands on and is fit enough to still ride in the mornings.
Although Wolfe thinks that down the road she may branch out on her own, she loves what she is currently doing and how it enables her to fulfill her family responsibilities.
"Things change in life all the time so we will see what the future brings," she said. "The days are long, but I love what I do."
Given her extensive background, her willingness to continue learning, and the great mentoring she has experienced, don't be surprised if one day you see her on a bigger stage. The woman who put a physical therapy doctorate on hold now looks to be in great shape career wise.
NEWS AND NOTES A number of races held at Delaware Park in July continue to look particularly strong, judging by the results of returning starters.  After winning the Christiana Stakes at Delaware on July 15, Thirty Thou Kelvin came back to win the $250,000 Virginia Oaks at Colonial Downs on September 10…
On Labor Day the Grade 1 Hopeful Stakes at Saratoga was captured by Nutella Fella at odds of 54-1. His previous race was a maiden special weight victory at Delaware in late July. On July 8t Alva Starr won the Dashing Beauty Stakes at Delaware Park. On September 2, she came back to win the Grade 2 Prioress Stakes at Saratoga. Also on that same Sarstoga card, Parnac won the Grade 2 Flower Bowl. This followed a 3rd place finish in the Grade 3, Robert Dick Memorial at Delaware on July 1…
This Saturday, August 16, the Cape Henlopen Stakes is scheduled to be run at a mile and a half on the turf. Trainers Michael Matz, Graham Motion, Jimmy Toner, Ed Allard, Christophe Clement, Michael Maker and Keri Brion all have entries…
Jockey Daniel Centeno won on five of his 16 mounts for the week. He currently has 38 wins for the year and is third in the jockey standings trailing only Jaime Rodriguez and Kevin Gomez. The race for the jockey title looks to be down to these three riders…
The Brittany Russell barn has won at a 50 percent click with favorites. The average payoff has been $5.50, so the 2nd leading barn is showing a flat bet positive ROI on their 20 favorites at the meet.
Over $2.4 million was wagered on the Owner's Day card on September 9. The annual day was held earlier this year and was made up of 10 races, including two $100,000 events restricted to horses that had run at Delaware during the meet…
LATEST NEWS