Bell Gable most happy with their Fella
Teresa Genaro

September 7, 2023
Gary Contessa may have won only two races this summer at Saratoga, but when those races are the first and last graded stakes of the meet, you can't be too unhappy–and nor can the bettors who backed him in both of those races.
Training from a New York base for the first time in several years, Contessa's Becky's Joker pulled off an upset in the opening day Schuylerville Stakes (G3) for two-year-old fillies, winning by 3 1/4 lengths at odds of 21-1.
A mere 7 1/2 weeks later, Contessa was back in the Saratoga winner's circle with a two-year-old, this one a colt, Nutella Fella, who closed from the Catskills to win by a length and a half, paying $111.
"Oh, yes, we bet," said Nick Beaver, who with his wife Delora comprises the Delaware-based Bell Gable Stable.
"Plus," added Delora, "our son and daughter called and asked us to buy them tickets, so we bet for them, too."
The decision to run in the Grade 1 Hopeful Stakes could be seen as something of a gamble in itself. Nutella Fella had made one start, that at the end of July at Delaware Park for trainer Richard Sillaman. After the Runhappy colt won by 2 1/4 lengths, the Beavers knew this was one to send to Contessa.
Contessa had been based in New York for decades before heading south to Delaware to train exclusively for Bell Gable. After a couple of years outside the Empire State, he elected to return to New York earlier this year to reopen a public stable, with others taking over trainer responsibilities for the Beavers in Delaware and Contessa continuing his role as general manager. The Beavers had won two consecutive owner titles at Delaware with Contessa as their trainer, dead-heating for the win in 2022 with Runnymoore Racing.
The Beavers didn't indicate how much they'd bet on their first graded stakes winner, but if their tickets were for anywhere near about $100, they pretty much earned back at the windows what they paid for the Kentucky-bred, who sold for $12,000 at last year's Keeneland September yearling sale.
CHECK OUT THE LATEST OFF TO THE RACES RADIO!
"Nick saw him at the sale and said, 'I'll pay $30,000, maybe $40,000, but I don't really want to go above that,'" said Delora. "And everybody was saying, 'You got the steal of the sale!' We didn't know until he started training and we said, 'You know what? They may be right.'"
With $187,000 in earnings, the two-year-old has out-earned his purchase price nearly 16-fold.
Despite hours of work to get Nutella Fella comfortable in the gate and minimize the obstreperousness the colt displayed in his first start, jockey Junior Alvarado noted that his mount acted up a little bit before breaking flat-footed. He stuck to the rail up the backstretch of the seven-furlong Hopeful, tried to find room coming around the final turn, and swung wide hitting the eighth pole, charging down the middle of the track for the decisive win.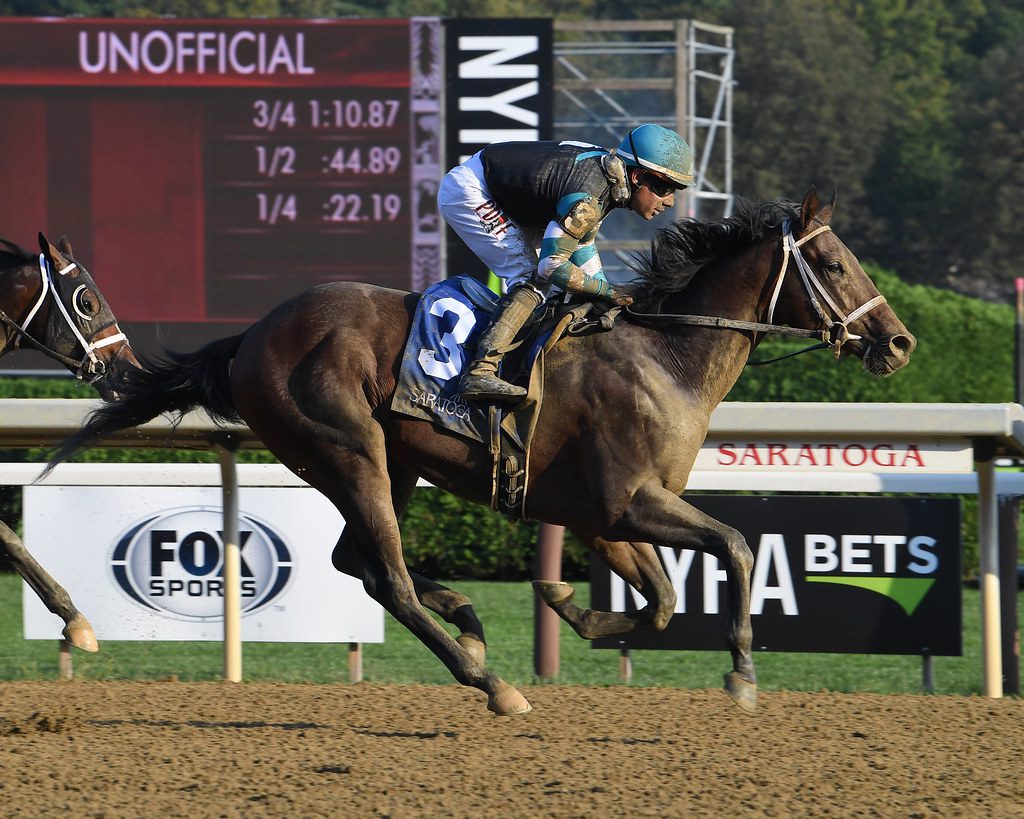 "He was acting up a little bit," said the rider. "I watched his last race and knew he had a problem in the gate. He broke a little flat-footed out of there. Even though the plan was to come from behind, I still would have loved to break a little better, just to be a little more close to the pace.
"When I started asking him through the traffic, we were passing horses on the outside and the inside. He was already in a run, and I didn't want to bother him at that point. I just kept riding him and he kept finding more for me."
In the field of 10 juveniles, Nutella Fella wasn't always easy to follow, especially given Alvarado's agile, mobile ride; even his owner couldn't keep her eyes on him.
"I had my eye on the wrong horse," said Devora. "It looked like he was in the middle of the pack, and then Nick started jumping up and down, and then I looked and saw the three coming across first–I was like, 'Oh wait! I'm looking at the wrong horse!'
"And then I couldn't believe it. I literally had tears in my eyes. I cried."
"I think Junior didn't know if he was going to go inside, outside, but this horse is going to do just amazing things for that amount of money," said Nick.
Contessa said that in Nutella Fella's first start, he was "a maniac" in the paddock, dropped his rider twice in the post parade, broke through the gate, was reloaded and reared up in the gate, dumping the rider for a third time. Despite those antics, the colt was permitted to run.
"[His gate issues were] a minor incident today compared to what he did at Delaware, so it's a work in progress, but it's a big improvement over the last time," said the trainer.
Nutella Fella will remain in Contessa's Saratoga barn to train for a next start in the one-mile, Grade 1 Champagne Stakes at Aqueduct Racetrack on Oct. 7. He'll continue to work with the gate crew in preparation for that start, and, said Contessa, he'll ship early to Santa Anita if the colt goes on to the Breeders' Cup Juvenile.
"If we're lucky enough to get to the Breeders' Cup, we'll leave the day after the Champagne and he'll work with that gate crew for a month."
This summer's wins were Contessa's first in graded stakes races since 2018; the Hopeful is the Beavers' first graded stakes win.
"He was the underdog, but we had a feeling, didn't we?" said Delora, beaming.
"We wouldn't have brought him here if he wasn't supposed to win," said Nick. "We didn't come here to just compete. We came here to win."
LATEST NEWS