Timetable for closing Pimlico to training remains unclear
Frank Vespe

September 7, 2023
The agreement that will allow the Maryland Jockey Club to close Pimlico to training and stabling has led to a lot of frustration among Pimlico-based horsemen, some directed at 1/ST Racing, the parent company of the MJC, and some at the Maryland Thoroughbred Horsemen's Association. It also occasioned a horsemen's meeting that one participant described as "at times, nasty and personal."
The agreement between the MJC and the Maryland Thoroughbred Horsemen's Association was first reported by The Racing Biz. It permits the MJC to close Pimlico once it has received "proper governmental approvals for horses to be stabled at Tent Barns 1, 2 and 3" at Laurel Park; it also calls for Pimlico's backstretch housing to remain open "unless and until the MTHA and MJC have agreed and implemented a suitable plan for alternative housing" for affected workers.
When that might be, however, remains uncertain.

"The reason why I say that [there is no timetable] is I've had so many delays in getting things done here," MJC acting president Mike Rogers said in an interview following the Sept. 5 Maryland Racing Commission meeting. "I don't want to put a timeline, which I tried to do in the past, until everything is done. And then once everything is done, I'll give everyone enough notice period [to plan for transitioning to Laurel]. And then I'll have answers for everybody."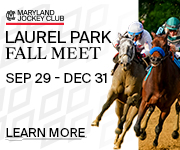 He noted that with about 800 horses currently on Laurel's backstretch, that track is currently large enough to house all of the horses located at the two tracks but, because doing so would require some trainers' operations to be split up among different barns, it's "not efficient to do that." Rogers said that enough work remains to be done prior to Old Hilltop's closure that "to give a timeline would be just guessing."
"I still have to move horses out of Tent Barn 1 [at Laurel Park] to finish the sprinkler system in there," he explained. "Then I've got to do the sprinkler system in [Tent Barn] 2, and then I've got to make sure the housing accommodations are in line."
Rogers said he didn't expect the work to ready for the transition "will be done in October," adding, "I've been here three years, and it's still not done. It's just frustrating, the delays that we've had."
Meanwhile, Pimlico's fall race meet is scheduled to kick off Sept. 8. The track will host nine days of live racing over three consecutive weekends.
CHECK OUT THE LATEST OFF TO THE RACES RADIO!
The closure of Pimlico to training is not expected to impact the Preakness, Rogers told the Commission in response to a question from commissioner Ernie Grecco.
"There is no desire to move the Preakness from Pimlico," Rogers said.
The end of this year and the beginning of next could see dramatic developments in Maryland's racing landscape.
The newly created Maryland Thoroughbred Racetrack Operating Authority is scheduled to deliver its report to the General Assembly December 1. That report is to provide a "review of best practices for thoroughbred racing industry operating models and recommendations for operating models in the State," as well as examining the feasibility of establishing two or more "alternative thoroughbred training facilities."
The Authority began its work earlier this summer, and its next scheduled meeting is Sept. 8. Some predict that it could recommend a dramatically different operating model than Maryland's current one, in which a private, for-profit corporation owns and operates the state's primary racetracks.
Meanwhile, the most recent contract extension between the horsemen and racetrack expires at year's end. If the sides are unable to reach accord by that time, that could lead to a temporary cessation of racing, though Rogers said he is planning for business as usual.
"We don't have a deal with the horsemen — that's true. But I'm the acting president here at the Maryland Jockey Club, and I'm acting as if we're running," he said. "Those discussions [with the horsemen] can be challenging from time to time, but I have no indication that they're not going to get results."
LATEST NEWS