Chambeau, Determined Kingdom star in Colonial stakes
The Biz

September 5, 2023
The best and brightest horses representing the Virginia breeding and certified program were on display Saturday in Commonwealth Champions Day at Colonial Downs. Five stakes were presented as part of a 10-race card at the New Kent track. Among the top performances were a stakes riding double for jockey Horacio Karamanos and second stakes wins of the meet for both Chambeau and Determined Kingdom.
In the first of the day's stakes events, Reilly McDonald's Passion Play ($6.20, $2.80 and $2.10) took the lead on the far turn and was relentless in holding off the late challenges from DARRS, Inc.'s Palio and Jeremy Brooks's Wow Whata Summer to prevail by a neck in the $131,500 Bert Allen Stakes.
Horacio Karamanos was aboard the Virginia-bred, Mary Eppler-trained son of Hold Me Back who covered the 1 1/16 miles over firm turf in 1:43.67. The win was the sixth in 29 starts for the 7-year-old gelding who earned $90,000 for the effort to boost his lifetime bankroll to $327,497.

"This horse deserved to win," said Karamanos, who has ridden Passion Play in nine of his last 10 starts including a win in the 2021 edition of this race. "He always tries. His last race (a seventh-place finish) was so tough for him. Today, I just wanted him to break ok and see how the race unfolded. After a couple others went to the front, I sat back a bit and relaxed until the eighth pole. When I asked him, he fired so nicely all the way to the wire."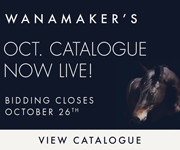 O'Sullivan Farms' Unruly Julie ($30.40, $10 and $5.60) changed tactics and ran to a front-stepping, half-length tally over Naval Empire in the $105,500 Nellie Mae Cox Stakes under jockey Wesley Ho. The Javier Contreras-trained mare ran the 1 1/16 miles in 1:42.77 to score her seventh victory from 36 trips to the post. She added $60,000 to her lifetime earnings which now stand at $225,819.
"She's been training the best she ever has. She ran in this race last year (finishing second). Coming into this race she's really been a different horse. Honestly, she took me to the lead," Ho said when asked about the change in running style. "She was so keen in taking the lead, she pulled me there. I just tried to save as much as I could for the stretch run and she still gave me everything she had. I'd have rather been mid-pack but she had other ideas today."
D Hatman Thoroughbreds and Kingdom Bloodstock, Inc.'s Determined Kingdom ($3.60, $2.60 and $2.40) improved from a sixth-place finish in the 2022 edition of the Meadow Stable Stakes to notch a wire-to-wire neck victory as the 4-5 favorite in the $130,000 2023 renewal of the 5½ furlong dash. Victor Carrasco rode the gelded son of Animal Kingdom for trainer and co-owner Phil Schoenthal who sprinted the distance in 1:02.08.
CHECK OUT THE LATEST OFF TO THE RACES RADIO!
"He's certainly taken a step forward as a 4-year-old," Schoenthal said. "He's a lot keener horse. It's a beautiful thing to have a Virginia-bred who loves the grass at Colonial. We'll give him a couple of starts in the fall and then turn him out on the farm like we do with all our grass horses. As long he's doing good, we'll make this a regular stop every year."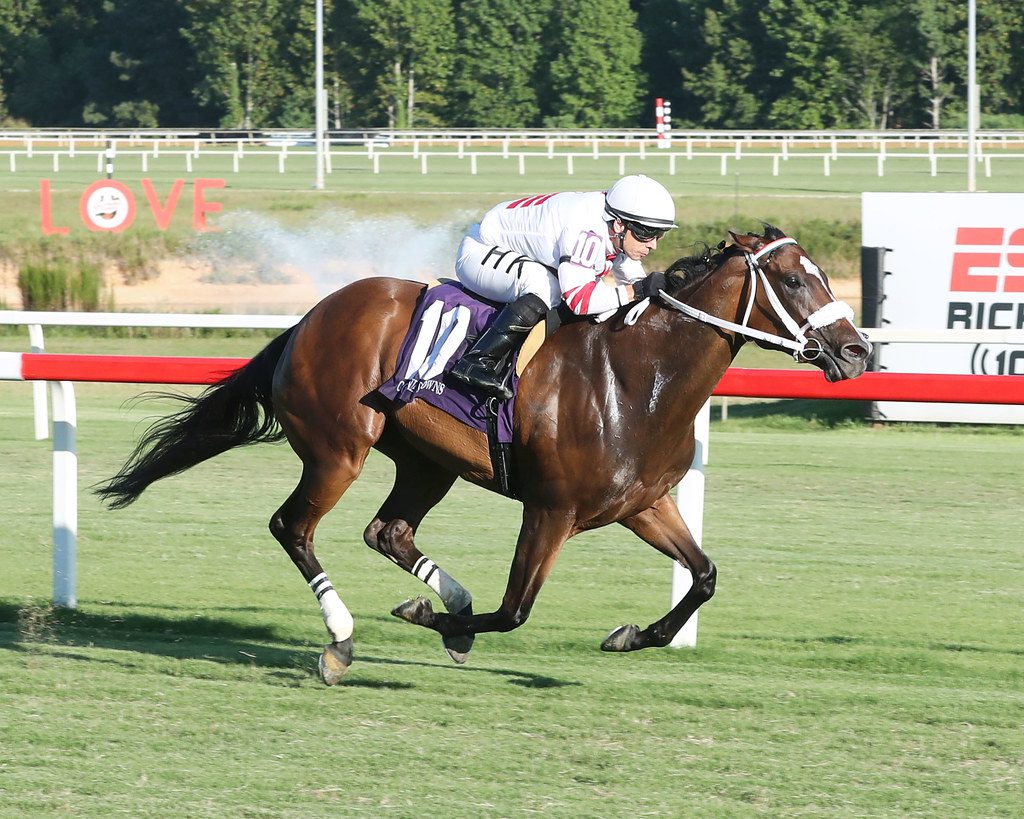 The Meadow Stable was the sixth win in 18 starts for Determined Kingdom, who previously won the Punch Line here in July. The $90,000 winner's share Saturday elevated his earnings to $442,189.
Bird Mobberly LLC's Low Mileage ($8.40, $4.60 and $3) rallied along the rail to take command mid-stretch and draw off to a 3¼ length victory in the $125,000 Jamestown Stakes for Virginia-bred/sired 2-year-olds. Jevian Toledo was aboard the John Salzman trainee, who recorded her first stakes tally and second win in four starts overall. The daughter of Mineshaft covered the 5½ furlongs in 1:04.22 and earned $75,000 for the score to push her bankroll to $121,500.
Wrapping up the stakes action was the $130,000 Camptown Stakes which was taken by Sam English II's Chambeau ($4.60, $3 and $2.40) who picked up her third win of the season after capturing the Tyson Gilpin/Glenn Petty Stakes in July and an allowance race last week.
"I wasn't as confident today as I was last week," English said. "We only started her (for the first time) as a 5-year-old, and she's only run eight times in her life. She's a special horse."
LATEST NEWS