No looking back for chef-turned-jockey Gavin Ashton
Now he has six wins in the United States, all at Colonial Downs, and is opening some eyes. The kitchen may be an unlikely location to search for the next up and coming jockey, but after the meet at Colonial Downs, agents may start coveting the canteens.
Six years ago, at the age of 20, Ashton enrolled in the British Racing School, outside of Newmarket, to learn a craft he knew nothing about.
"I went down there (British Racing School) when I was twenty years old having never sat on a horse before," recalls Ashton, who is also a personal trainer. "Fitness-wise I was OK because obviously I played a lot of soccer and I'm a very sporty person. In the gym, I'm very, very fit. The problem was when I first sat on a horse, I didn't have any rhythm. I didn't know how to ride at all. When I was trotting, I was just bouncing around in the saddle and I had no idea how to trot or anything. It was my fitness that actually, really helped me riding, and I was quite strong naturally. That helped me when I first started riding. It came naturally to me after the first couple of weeks."
After 14 weeks, the new jockey came under the wing of the one of England's most experienced horsemen, Sir Mark Prescott, with over 51 years of experience. For the next three years, Ashton was being instructed by a knight. In a year-and-a-half, he held a license.
"That speaks volumes in itself, "notes Ashton of Prescott. "He taught me everything. He was incredible."
Just last year, Prescott's horse, Alpinista, won prestigious Group 1 races in Europe, capturing the Prix de l'Arc de Triomphe, the Darley Yorkshire Oaks, and Grand Prix de Saint-Cloud. Ashton has had the privilege of galloping the horse.
CHECK OUT THE LATEST OFF TO THE RACES RADIO!
Ashton's official riding career in England started with three wins and a second in his first five mounts. A career on horseback fell into his hands, pulling him from chasing a game where you can't use them.
"I wasn't good enough to play at the top level like the best players who are out there and are incredible," says Ashton. "I wanted to be a professional athlete at the top level and that's what I always tried to go to achieve. When it became a choice between football and horse racing, I thought that would give me the best chance of making it professionally."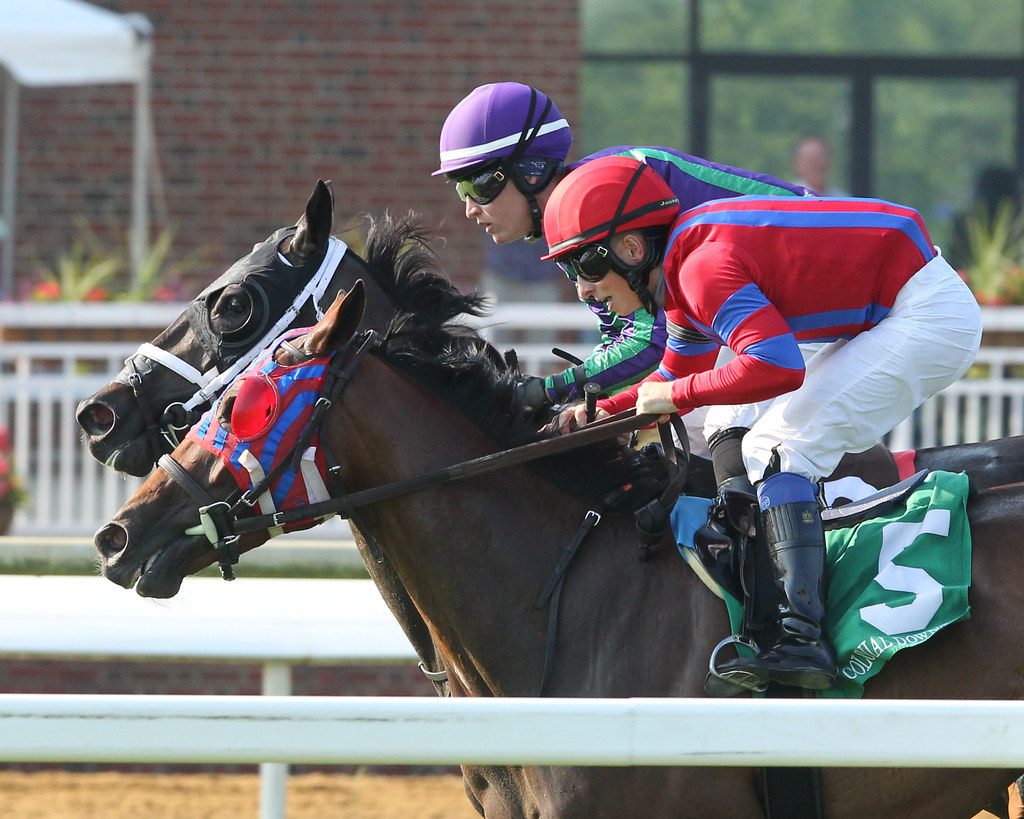 While Ashton abandoned the football quest of his hometown clubs in Manchester, the faithful backer of Manchester United maintained another unlikely interest for jockeys: cooking. His metabolism and natural weight that sits around 113 pounds allowed him the opportunity to perfect the craft.
"If a chef isn't eating much of his own food, he's not very good," says Ashton, who prepares most of his own food. "I never wanted to do that in the long run. I loved working in the kitchen in the time I did it and I still love cooking now. I cook every single night for family and friends."
Still, the transformation from footballer to jockey, from food to fitness, wasn't going to come that easily. When the number of mounts weren't enough to feed the Ashton's appetite in the competitive colonies in England, he headed to another country known for its rich food, Germany.
"I took my chance to go over there and that really improved me as a rider," explains Ashton. "I went and spent two full seasons and rode in some Group 3s and 2s.  I got a chance to race in France. It taught me how to ride [a wide variety] of horses." 
Ashton's adventure could have continued in Germany, but he was intrigued with coming to the United States, where he had spent several Disney vacations in Florida.
"I've always loved America since I was a kid," says Ashton. "The country, the food, this was even before I was sitting on a horse."
However, making the leap to America wasn't as easy as all that. It wouldn't come without a cost.
"It was a lot of hard work getting over here," observed Ashton. "I was taking a big risk in leaving. I was riding in Germany and was doing very well over there. Things were going extremely well, and I had a very good job that was very well paid and I made the decision halfway through the season to put my trust in the people over here."
Ashton had a brief period of racing in Australia for Prescott that didn't pan out but found America as a place where, well, where dreams can come true.
"When I came to America, I absolutely fell in love with the place," he says. "I loved America, and the prize money over here is huge compared to the prize money in Europe."
The last couple of years, Ashton spent his summers racing in Germany and his winters in America. Ashton's first job in American was to exercise horses for trainer Graham Motion at Palm Meadows in Florida, largely to determine if he liked the racing and the lifestyle.
"I understand you can't just come over here and make it. I knew If I worked hard enough that I could achieve my goals, and obviously America is meant to be the land of opportunity and everything," he explains. "I always knew deep down that my weight is very good, so I could ride over here competitively."
This past winter trainers Joe Sharp, Michelle Lovell, and James Ludwig placed him on eight total mounts over a period of three months at the Fairgrounds, all but one a maiden. Ashton rode Ice Time to a second-place finish in his first US start, but it didn't produce the same results as the start of his career in England. Even in New Orleans, Ashton wasn't exactly cooking. While Ashton left New Orleans without a win, he wasn't discouraged. It was incubator time for Ashton and his agent Liz Morris, who has handled handles the books for riders like Gabriel Saez, Deshawn Parker, and Adam Beschizza.
"It was sort of like a trial period for me here in America," Ashton says of his the time in New Orleans. "She (Morris) took me on at the Fairgrounds with the incentive I was going to be big in the future. She was getting a feel to know me and see how I rode. We were just working things out together."
After the Fairgrounds, he went back to Germany to earn some money and then the plan was to kick start things at Colonial Downs, where turf racing is more than prominent. Prior to the meet the turf emphasis and potential of mounts through Lovell, who had stable solid meets at Colonial before, made the Virginia track a promising venue for Ashton. When Lovell ran into a groom shortage situation, she had to cut back her Colonial ambitions. Ashton was left seeking mounts once again.
"I was working in the morning and getting on as many horses as I could and introducing myself to people," recalls Ashton about the start of Colonial's meet. "Honestly, I have fallen in love with the place. I love the people and the area. I'm absolutely delighted so far with the opportunities that I've been given here at Colonial. As a European rider, I understand that in America people don't really care about what you've done in Europe."
Ashton was counseled by another Colonial Downs jockey, Vincent Cheminaud, a French Derby-winning rider who traveled the same path that Ashton is currently on a year earlier.
"In America, it's a completely different story," says Ashton. "You have to prove yourself over here. I was fully aware that I was going to have to prove myself over here, and l really think that will come in the future. People have to see I ride well."
Trainer Karen Dennehy Godsey gave Ashton his first Colonial mount on opening day with Ida Boss. In a 13-horse field, Ashton finished eleventh. But Godsey liked what she saw.
"He just showed up one day at my shed row and introduced himself," remembers Godsey. "He seemed a bit worried [about mounts], and I just liked his attitude and he really cares about the horses. He had an excitement about him and rides with a lot of heart and try."
Business was slow in the early going, Ashton riding one on July 13, and then three more on July 21. Ashton got the mount on the Godsey-trained first-time starter Will I Play July 27. In another 13-horse field, nearly last out of the gate, Ashton came four wide to win the turf sprint at 58-1, the winner being the first of the meet for both Ashton and Godsey.
"Karen was incredible," praises Ashton. "She put her faith in me and having that winner for her meant so, so much. I could not be any more grateful to Karen for everything she's done for me over here. I was almost in tears. I was that happy. It really meant a lot to me, that winner."
The win took Ashton back to his very first career win in England, in his second career start. Sir Mark Prescott advised Ashton to take in the moment.
"'Gavin, you make sure you enjoy this first winner because you'll never ride another first winner,'" Ashton recalls Prescott telling him. "Now that didn't come true for me because when I rode that winner with Will I Play, it felt like my first-ever career win all over again. The only two winners that have given me such a joyous moment and absolutely incredible feeling was Will I Play and my first winner in England, Harmonica."
Since the Will I Play win, the mounts and wins have begun to tally. Ashton has delivered two wins for Archibald Kingsley, who legged him up on two horses that previously ran over jumps (Cainudothetwist and Fingal). He has two other wins with trainers Raymond Ginter, Jr. and Carlos Munoz. He's gone from three mounts a month at the Fairgrounds to three mounts a week beginning at Colonial. This weekend he's named to ride 16 horses for nine different trainers, including mounts in four stakes on Saturday.
"I want to ride him now on everything," says Godsey, who offers one critique. "He apologizes too much after losses, even when his horse runs way above his odds."
Ashton anticipates moving his tack to Kentucky Downs at the conclusion of Colonial's season. The ingredients are starting to blend perfectly for the onetime chef.
"When I met Lizzy Morris, everything fell into place and the time was right to come over here and we thought this was a great meet to start me off. I couldn't be anymore happier with how it's been," Ashton says. "Even though it was brand new to me, I was willing to learn, and six years later I find myself here in America. I've never looked back since the day I sat on the back of a horse."
LATEST NEWS