Nick Dilodovico carrying on family business
The younger Dilodovico has been working for the past month as Cash's assistant, running the Kentucky-based trainer's Laurel string, which numbers between 20 and 30 horses. Since late May, Dilodovico has been the trainer of record.
Dilodovico has posed in the winner's circle often at Pimlico and Laurel with his father, working as his assistant since graduating from college in 2013, but this meant something different for the Cobb Island, Md. native.
Saturday at Pimlico, Dilodovico will send out 4-year-old gelding Succeed in Race 5, a claiming event for maidens age 3, 4 and 5 going 1 1/16 miles. He also has horses entered at Churchill Downs Thursday and Thistledown June 5 with one of his Kentucky horses, Hidewright Away, cross-entered in Friday's $150,000 Penn Oaks at Penn National.
CHECK OUT THE LATEST OFF TO THE RACES RADIO!
"Eventually it'll be something that'll be a more permanent situation. Right now, I'm kind of doing private for Built Wright Stables. That probably is only going to be a short stint," Dilodovico said. "You'll definitely start to see me in the Form a little bit more, but it's something that I've always been conscientious of since I started.
"In this country, people are so keyed in on win percentage. I've been asked a lot to train horses and condition horses and I never really took the bait because I always felt that I had a lot to learn from my dad," he added. "You can always learn on other people's mistakes and good fortune and the decisions that they make. I'm only 32 so there's still so much to learn."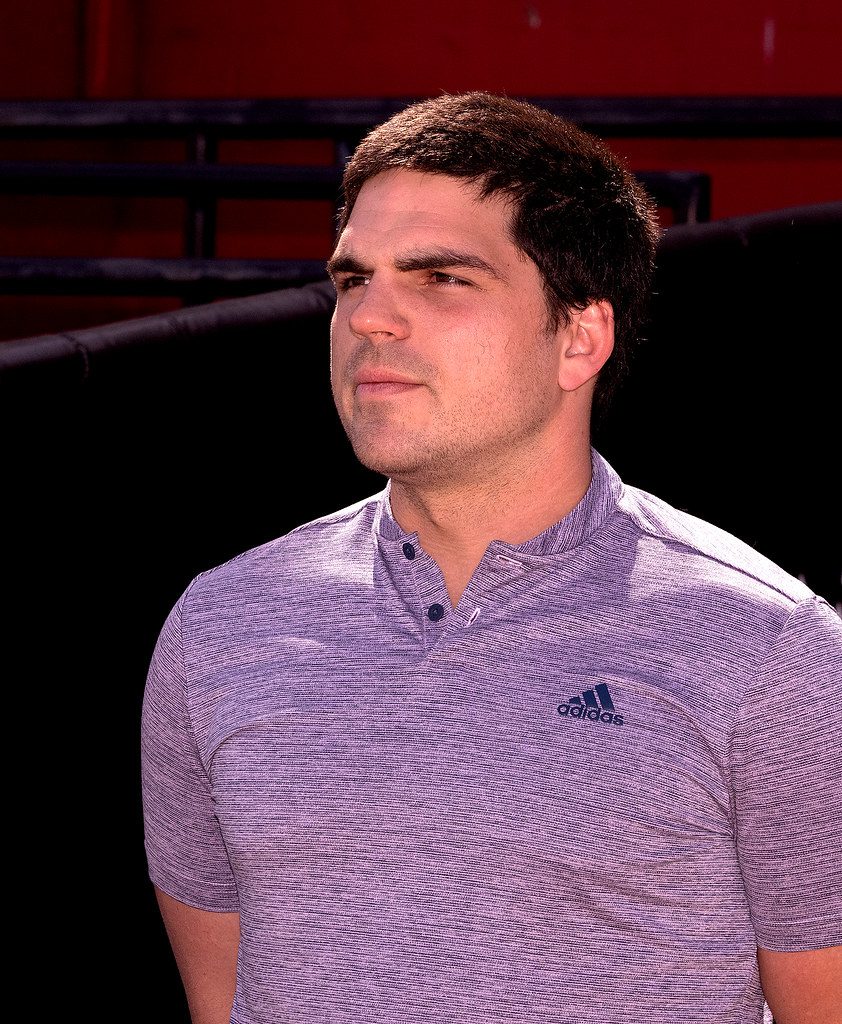 So far, Dilodovico shows four wins, two seconds and a third from nine starters, winning with each of his first two – Hippodrome May 22 at Thistledown and Miss Chamita May 24 at Parx, the latter claimed out of her race for $7,500. He also won with Maximum Impact May 26 at Churchill. Air Token was his first win in Maryland.
"They were in really good spots. Hippodrome performed really well at Churchill. We found him a nice spot. The other filly that ran at Parx, I was super happy with her. She had run second and she's kind of a plodder, but to see her accelerate late in the lane was great. I was almost upset to lose her to be honest, but it's fine.
"As far as the whole training gig, I've had the benefit of learning from my father and being under his tutelage. I worked for Tom Morley a little bit and I worked for Kent Sweezey, so I've been able to just kind of be a sponge and figure stuff out."
Damon Dilodovico, a winner of 835 career races including two runnings of the Frank J. De Francis Memorial Dash, with Laki in 2020 and with Immortal Eyes in 2013, has watched proudly as his son not only chose to follow in his footsteps training horses but been rewarded with early success.
"It's exciting. My wife, Christine, appreciates the fact that he's seeing that side of it instead of being an assistant for us for so many years. I would not say he took things for granted, but it's definitely different when you're the head of it or you're an assistant," Dilodovico said. "We're excited that he's kind of seeing it as the lead. There is a big difference.
"He's in charge of everything now. He scours the condition book. He's finding spots. He's not afraid to run."
Though no longer in the shedrow, Nick Dilodovico knows he can always turn to his father for counsel and guidance. Bob Klesaris, a winner of more than 2,300 races who returned to training in 2019 after working as agent for Hall of Fame jockey Edgar Prado, has also been a source of support.
"If you listen to those kinds of guys they have a lot of experience, just things to think about and take and move forward. I'm just not super eager to jump in and, for lack of a better word, be a loser," Dilodovico said. "You see some of the people out there that don't have the family tie to it, those people are incredibly brave to go out on their own. It's really hard. It's a very stressful job. It's hard to afford racehorses. It's very hard to keep really good help around you and surround yourself with people that are passionate about the sport.
"You can have a ton of success early on, and you can very easily run into a streak where you start to doubt yourself and doubt your program and doubt your methods," he added. "I've always felt truly that my dad was an excellent trainer. He does a really good job, especially with the stock that he gets. He's not force-fed really nice horses. I've always felt that it was my duty as his son and his assistant to just make sure that he can achieve what he wants to achieve in his life. He's not too far away from a thousand wins and he deserves it. I'm not super eager to 100 percent leave him, but Mr. Cash made me an offer, to quote The Godfather, that I couldn't refuse."
Dilodovico also draws inspiration from his time playing soccer at Randolph College in Lynchburg, Va. under coach Bryan Waggoner.
"Really good coach. Super, incredibly organized, always two steps ahead in a lot of different ways," Dilodovico said. "[Training] is a business, for sure, but if you run it like a team then you kind of get the most out of people. Despite being incredibly hard on us, he always got a lot out of us. We were like 18 to 21 or 22 years old, which is actually not that different from a 3-year-old colt or filly. You're starting to get the spot where you're an adult, but you're mentally immature. It's kind of an interesting parallel."
While largely influenced by his father, Dilodovico said he has taken something from everyone he has worked for to customize his own training style.
"Somebody said something to me a long time ago. I was asking him how he learned how to do something and he was like, 'A dead drunk taught me in 1991 how to do this, and that's a lesson to you that you can learn from anybody,'" he said. "So I've kind of actually internalized that lot. I watch what people do and I pay attention and I ask questions without being too nosy."
Six of Dilodovico's first nine starters have come at Pimlico. One race after Air Token's victory, he ran second and third with stakes winners Galerio and Double Crown in a stakes-quality optional claiming allowance for 3-year-olds and up.
"You're always going to run into a better horse almost no matter what, unless you're Todd [Pletcher] or Steve Asmussen. They tend to have the better stock," he said. "You just try to make sure things fall in place and do the best you can and, not to be cliché, but just treat the horses with respect and make sure they're happy and healthy."
LATEST NEWS