Jockey Arnaldo Bocachica reaches 2,500 wins
Both Muad'dib and Duncan Idaho are by Fiber Sonde and out of the Indian Charlie mare Holy Pow Wow. The former is the two-time reigning West Virginia-bred horse of the year and two-time West Virginia Breeders' Classic hero; he was also runner-up to Art Collector in the 2022 Grade 2, $1 million Charles Town Classic. The latter, by contrast, broke his maiden May 20 and has a win from two starts.
Bocachica guided Jayjaydee to a victory in a two-turn starter allowance race midway through the card to reach the century mark for the season. Bocachica has ridden at least 100 winners in nine straight years now and 13 overall, and he has twice eclipsed the 200-win plateau (2007 and 2021) while falling just shy last year with 193.
CHECK OUT THE LATEST OFF TO THE RACES RADIO!
"When I first got my bug, my goal was to win 100 races in a year," said Bocachica, who booted home a career high 260 winners in 2021, besting his previous high of 216 in 2007. "But now my goal is to win 200 races each year. I just missed last year, but I was hoping to get 100 [wins] this year by June and then reach 200 in the fall. So, I think that is well within reach."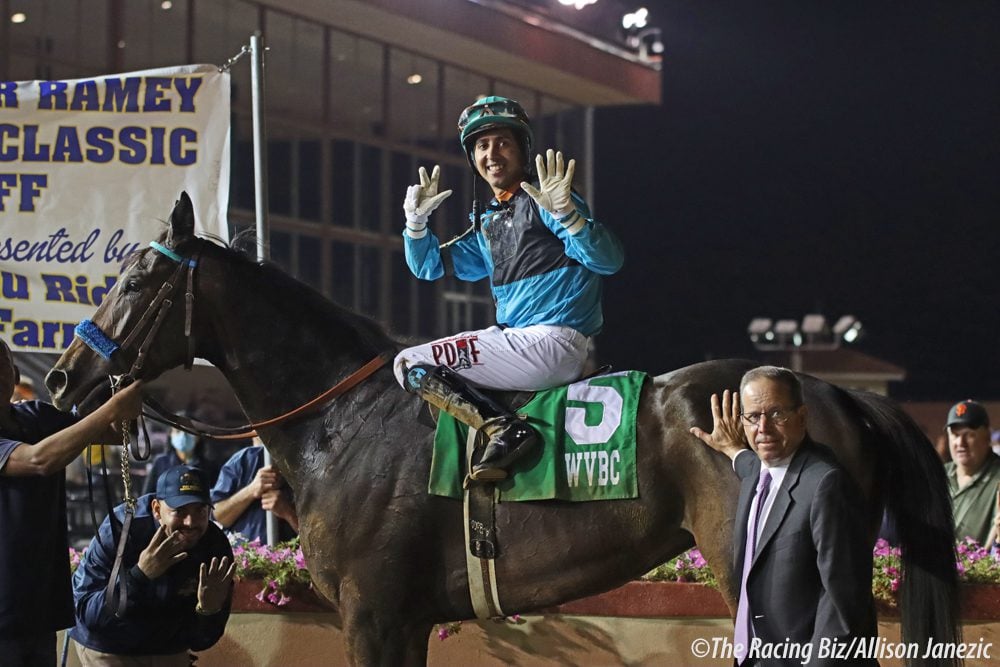 Bocachica often has first call riding for Runco and Anthony Farrior. Runco is the longtime leading trainer locally, while Farrior was the 2022 leading conditioner at Charles Town and so far in 2023 and is third nationally in terms of wins this year.
Which horses to choose? The talented jockey leaves those decisions up to his agent, Billy Kennedy, and trusts that his agent has put him on the right mount.
His older brother, Orlando Bocachica, who boasts a Grade I win aboard Lochte in the 2014 Gulfstream Park Turf Handicap, is often in the same race with Arnaldo. Now his son, Abnel Bocachica, is also in the irons and looking for the first winner of his young riding career. as a local apprentice.
"I have a lot of good mounts, but I let my agent choose the best ones for me when Jeff and Farrior have one in the same race," Bocachica said. "I don't like to choose. A lot of times it just comes down to who calls him first. I've been able to win a lot of races for them the last couple of years. They both have a lot of good horses to ride, so for me it would be difficult to choose. A lot of times you want to be on the best horse, but sometimes it just comes down to who calls [Kennedy] first and you hope to be on the right horse."
It is a formula has been working extremely well for the team. Bocachica has 86 wins at the meet to date, 30 more than his nearest competitor, Marshall Mendez. Now it's on to the next goal.
"I got number 2,500 the other night, now my next goal is 3,000," Bocachica said. "Maybe I can get that in a couple of years."
LATEST NEWS