Preakness profile: Blazing Sevens
Joseph Aiello

May 19, 2023
Blazing Sevens could have run in the Kentucky Derby May 6; he had earned that right via a win in the Grade 1 Champagne and a couple of other good efforts. But trainer Chad Brown didn't think his charge was quite ready and instead sat it out to await the Preakness.
Time will tell if that's a winning strategy, but Brown has used it to good effect previously. He has won the Preakness twice, both times with horses that skipped the Run for the Roses.
RACING CAREER

A $225,000 yearling price tag represents the high expectations that eventual owners Rodeo Creek Racing had for Blazing Sevens when he first entered his racing career at Saratoga last summer as a two-year-old. He effortlessly broke his maiden first time out for trainer Chad Brown, winning by six lengths and easing up in the final sixteenth.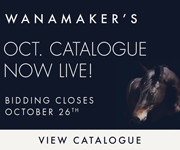 Brown next opted to step him up into the Grade I Hopeful, where he broke a bit slow and ended up closing to finish third well behind the eventual champion two year old Forte. After this somewhat disappointing effort, Blazing Sevens made amends in the Grade I Champagne, where he flashed his top form and bested future Derby runner Verifying by three lengths as the longest shot on the board.
After a respectable fourth-place finish in the Breeders' Cup Juvenile, it appeared as if he was heading towards the Derby trail. But Blazing Sevens threw in a clunker in the Fountain of Youth, finishing a never-involved eighth.
Brown still kept up hope, entering him in the Blue Grass where he still didn't break sharply, but had a bit more in the tank to finish in the money, this time behind Verifying and the winner Tapit Trice. Even with enough points to sneak into the Derby field, Brown opted to follow his path fo​​r Early Voting last year, holding this runner out to aim for the Preakness and giving him a bit more time to mature.
CHECK OUT THE LATEST OFF TO THE RACES RADIO!
LAST RACE TRIP NOTES
3rd, Blue Grass Stakes – Broke well enough and was among horses but in eighth while three wide entering the first turn while to the inside of favorite Tapit Trice. That rival moved one length ahead of Blazing Sevens in upper backstretch, and Blazing Sevens followed him while making up ground on the leaders, while two behind him and three to four wide. Entered the far turn two behind the leaders and was widest of all tipping into the lane. Was a bit slow to switch leads in the stretch and could not go on with the top pair while narrowly best of the rest.
BLOODLINES
Blazing Sevens was the most successful Good Magic offspring by career earnings prior to Derby day, now surpassed by Kentucky Derby winner Mage. Good Magic has already sired a half-dozen graded stakes winners, and his eldest are just three. Blazing Sevens is one of three Good Magics in the Preakness.
On the dam side, Blazing Sevens is the first foal out of the winning Warrior's Reward mare Trophy Girl, who was a half-sister to the graded stakes winner King David.
WHAT THEY'RE SAYING
Many trainers and owners have a hard time passing up the Kentucky Derby. But Chad Brown and Rodeo Creek Racing did exactly that with a horse they believed wasn't quite ready.
""When getting to the Derby, everything has to go right and that was more evident this year with scratches and such," Brown said. "You can have a perfect winter, but it just takes one or two days to really derail you. There's no room for error and you have one crack at it."
But the trainer likes the way his charge is heading to Baltimore.
"As you can see today, he's a horse with a full tank of gas and he's doing as well as he's ever done," he said. "I'm just trying to put the horse in the best position to be successful."
PHOTOS
LATEST NEWS