Cab Calloway and hi de ho Pimlico
When Cab was 11 years old, the Calloway family moved from Rochester, New York to Baltimore's Druid Hill neighborhood, then a 15-minute trolley ride to Pimlico Race Course. Calloway's deep love for horses flourished during this phase of his life when he sold racing forms on the trolley rides to and from Pimlico and hotwalked horses.
"According to interviews later in Cab's life, he mentions that when he was younger, he used to gallop racehorses," explains Joshua Langsam, the Sultan of Swing's grandson. "That was new information to us that he actually took them for a spin and got the inside track on what the jockeys see out there."
However, horse racing never drifted far off-course from the mind of the Jumpin' Jive Man. After becoming a legendary entertainer (singer, dancer and bandleader), Cab humorously said, "I won't work in any town that don't have a racetrack."
The racetrack played a role in his most famous song, Minnie the Moocher, which was the first single by an African-American to sell over a million copies. In an ode to a damsel in distress, Calloway sings in the last verse;
He gave her his townhouse and his racing horses
Each meal she ate was a dozen courses
She had a million dollars worth of nickels and dimes
She sat around and counted them all a million times
CHECK OUT THE LATEST OFF TO THE RACES RADIO!
Sing along as you should know the hi de hi de words after that lyric.
When opportunities arose to combine Calloway's professional gift with his amateur interest, it appears that the Sultan of Swing took advantage of them. Joshua Calloway is looking to verify by means of footage, posters or pictures, several passing references that his grandfather was the first headliner to perform at the Preakness in 1962.
Joshua added that later in his career Cab lived in White Plains, New York, and he mostly frequented the New York tracks. His den was filled with memorabilia typical of racing fans.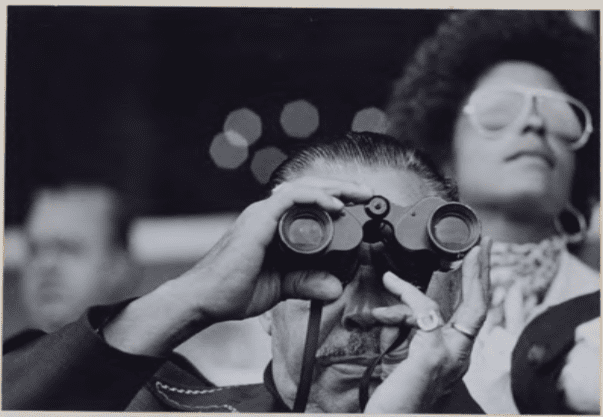 "He was always at these parks, and everyone knew him at the clubhouse. There are many pictures with him in front of the bugler and winner's circle pictures and in front of many horses with him holding the bridle," recalls Joshua. "He was always involved. His wife, Nuffie, called the racetracks 'Cab's second office.' If he wasn't at home, he was at his second office. In Cab's den, he would have pictures of winning horses in the winner's circle, and he always had watercolors of various horses. He was a fan. He had the images on his wall and pins on his desk."
One printed comical account speaks to Calloway's frustration later in life when weather and health issues separated horse racing from him.
"This weather is killing me," he said looking out the window at trees covered with ice. "No racing yesterday. No racing today. If this cold doesn't let up, I'll have to go south."
Previously, when he did go south, the welcome wasn't always warm. A story authored by Corey Johnsen in the Thoroughbred Daily News recalls the day when Calloway and Mr. Preakness himself, Chick Lang, broke the color barrier in the Jockey Club at Hialeah Race Track.
Lang was the agent for jockey Bill Hartack, who won the Kentucky Derby four times and the Preakness three times. Lang provided Calloway a pin to sit at his Jockey Club table after the Marquis of Harlem's regular seats were unavailable. Soon after, Calloway returned the pin to Lang, denied entry because of his race. Infuriated, Lang threatened to pull Hartack from Hialeah and boycott all future races. Calloway was promptly seated.
Things were smoother in New York, where Cab's horse racing legacy is celebrated every summer at Saratoga with the renewal of the $100,000 Cab Calloway, a New York-restricted race for three-year-olds going a mile on the turf, first run in 2003.
While Pimlico may have been where his love of racing blossomed, the NYRA circuit of tracks would later become his regular venues. He is believed to have held the record for most trophy presentations at Aqueduct and Belmont.
Tales of his grandfather's horse racing interest weren't only passed down to Joshua. He also lived them.
"As a child I would go to Delaware Park with Cab and sit in the clubhouse with him," Joshua remembers. "We would usually leave before the last race. He would place a bet on his way out and watch the replay when he arrived home. I was 10 years old taking cash up to the teller placing bets for myself and Cab. They only let me because I was Cab's grandson – clearly, it was illegal. He would look over the ticket and make sure it was correct. He taught me his formula for handicapping each race."
In fact, Joshua says his grandfather joked in a late-in-life interview that he "developed a system of handicapping that was more or less infallible. Less, than more."
The family estate of Calloway, Creative Arts by Calloway, LLC, has done extensive research on the life of the Original Hip Talk Master who passed away in 1994 and found value outside of possessions.
"His real legacy is the story telling and the narrative that his career encapsulates. He comes from a place of Reconstruction to the great Migration, all the way into the Harlem Renaissance, that's where Cab picks up the mantle, and moves forward black culture and creates into American culture. It's one of the greatest times of American history in term of arts and Cab was at the forefront of that," observes Joshua. "He was always looking to expand the way he could interact with audiences and perform. The legacy is really to elevate and celebrate Cab's entertainment legacy but also his social and cultural influences and achievements. He was very instrumental in influencing people that became superstars."
Calloway graduated from Frederick Douglas high school in Baltimore in 1925 and has been honored by several racetracks, including Belmont Park and Delaware Park, where he went often while visiting family.
"Cab's legacy was taking opportunities and innovating and creating a new space that didn't exist before and horse racing wasn't going to be an exception for him," continues Joshua. It was a great honor to be part of the trophy ceremony."
Joshua remembers his time spent alone with his grandfather differently than most, but appreciates that impact the Professor of Jive had on other people.
"When it was person to person, he was just a regular guy," recollects Joshua. "When he was out there with the charm and charisma, he always had one-liners and knew how to interact with audiences and fans to make people feel appreciated and seen. He would light up when someone approached him for an autograph, hug, or picture."
When it came to horse racing, the King of Scat was also the World's First Superdude. Hi-de-Ho, Pimlico.
LATEST NEWS