Coffeewithchris "awesome opportunity" for Jaime Rodriguez
Mike Valiante

May 18, 2023
Over the past two years, jockey Jaime Rodriguez has solidified his standing as one of the top riders in the Mid-Atlantic region. His accomplishments include back-to-back riding titles at Delaware Park as well as being the leading jockey for this year's winter meet at Laurel Park.
Saturday he'll get a chance to make a national splash.
Rodriguez garnered a little attention on the national stage last September when he rode eight consecutive winners over a three-day period at Delaware Park. That was just one shy of the North American record for consecutive wins. In March of this year he won seven races on one card at Laurel which tied the record at that track. 

But the national spotlight does not get any brighter than competing in a Triple Crown race, which Rodriguez will do when he pilots Coffeewithchris in the Preakness Stakes.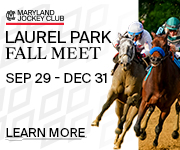 It's a pretty long way from where he had been. Rodriguez spent much of the 2010s as a dominant rider at Finger Lakes Race Track near Rochester, NY.
"When I rode there, I used it as a chance to learn and improve so that I could open future doors," Rodriguez explained. Now, he said, he has an "awesome opportunity" to ride in the Triple Crown's Middle Jewel.
CHECK OUT THE LATEST OFF TO THE RACES RADIO!
Rodriguez has been aboard Coffeewithchris the last five times the Maryland-bred has gone to the post. Two of those five outings resulted in stakes wins, and the jockey described the efforts of the Ride On Curlin gelding as "strong and impressive."
Trainer John Salzman, Jr., set to saddle his first Preakness runner, says the addition of the rider "helped" improve the horse, as did, he said, the addition of blinkers.
As far as his Preakness strategy Rodriguez said he would "have to talk with the trainer and look at the entries first," but he felt that at the Preakness distance of 1 3/16 miles "it might be best to break clean and stalk the leaders. I think the pace will be fast and if I can break well and settle, the best chance will be to have patience and make one move."
Followers of Rodriguez know that he is one of the best finishers around. He says that his ability to finish strong "is a God-given talent with which I have been blessed."
The chance to ride Coffeewithchris in the Preakness came about suddenly after the Salzman trainee scratched out of the Long Branch Stakes last week at Monmouth for this bigger contest. Nevertheless, he seemed relaxed and was on vacation with the family, showing no outward signs of nerves..
"Not much fazes Jaime. He seems to take everything in stride," said agent John Weilbacher.
This will only be the second Grade 1 for the jockey/agent combo. Rodriguez rode 92-1 outsider Alma Rosa to a ninth-place finish in the 2022 Breeders Cup Juvenile Fillies. 
"It will be good for Jaime to get some more exposure." Weilbacher said.
At morning line odds of 20-1, Coffeewithchris figures to be a longshot. With the local connections and Rodriguez's talent, agent Weilbacher may have put it best when he said, "It's horse racing, so you never know."
One thing that seems certain is that this will not be Rodriguez's last opportunity. "I have always told my wife, you have to go where you can ride," the rider said.
LATEST NEWS