With Preakness starter Coffeewithchris, Salzman taking his shot
Foaled at Shamrock Farm in Woodbine, Md., Coffeewithchris was bred by Tom Rooney, the president of the National Thoroughbred Racing Association. His pedigree includes multiple generations of horses bred by the Rooney family. The sire of Coffeewithchris's fifth dam, Molly, is Christopher R., the Shamrock-bred 1975 Maryland-bred Horse of the Year. 
He had a similar plan in mind with Coffeewithchris, purchased for $2,000 at the Fasig-Tipton Midlantic Fall Yearling Sale in 2021. The Ride on Curlin gelding debuted at Laurel Park on May 1 with an eighth-place finish but broke his maiden via disqualification at Pimlico eleven days later. He concluded his 2-year-old season with a win in the seven-furlong Heft Stakes at Laurel Park on Dec. 30.
CHECK OUT THE LATEST OFF TO THE RACES RADIO!
At that point, he had two wins from eight starts and had not tried a distance longer than seven furlongs. Salzman did not think of him as anything more than a sprinter and did not originally nominate him to the Triple Crown.
As his 3-year-old season progressed, Coffeewithchris was asked more distance questions, and he kept answering them in the affirmative. He won the Miracle Wood Stakes at Laurel at one mile on Feb. 18, then handled two turns well with a runner-up finish in the Private Terms Stakes on March 18. It was after that race that Salzman and his partners decided to pay the $6,000 supplemental fee to make him Triple Crown eligible.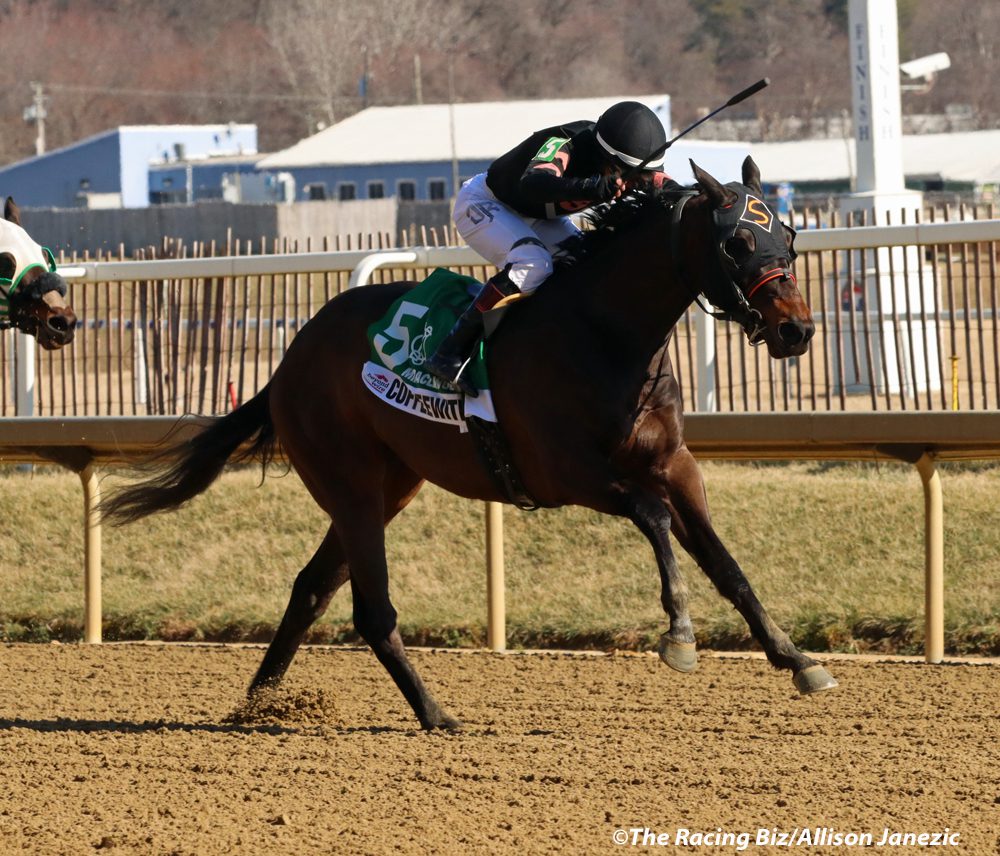 "We were heading for the Tesio Stakes (on April 15), and it's a 'win-and-you're-in' for the Preakness, so we decided to pay the $6,000 late fee", said Salzman. Coffeewithchris finished fifth, beaten 2 1/2 lengths that day, but Salzman was impressed with the effort.
"He ran big in there, he got beat two lengths," Salzman said. "He didn't get everything his way; he was on the lead, and that's not necessarily where he wants to be."
Salzman entered Coffeewithchris in the Long Branch Stakes at Monmouth Park on May 13, but astute fans may have realized Salzman was having second thoughts when he worked the gelding four furlongs in 49 seconds flat the day before. Unsurprisingly, the trainer scratched his charge from the Long Branch, and news broke that afternoon of the Maryland-bred's bid.
"He's been showing me (he can handle more distance); he's like the Energizer Bunny." said Salzman. "He comes out of his races bucking and kicking. If he came out of his last race and he laid down for a week or something and showed me he was tired, that it took too much out of him, I'd have rethought it. But he just keeps going, and I'm gonna give him the chance."
Eight Maryland-breds have won the Preakness, including racing Hall of Famer Challedon (1939) and Kentucky Derby champion Kauai King (1966). Deputed Testamony was the most recent Maryland-bred to win it, doing so in 1983. Magic Weisner was the last one to hit the board, finishing second at 47-1 in 2002. Four Maryland-breds have tried the race in the last 20 years: Water Cannon (tenth in 2004), Malibu Moonshine (eighth in 2005), Concealed Identity (tenth in 2011), and Alwaysmining (11th in 2019).
"He's a cool horse." said Salzman of his stable star. "He was a bit of a handful at first, we did a little work with him, and he settled down. He's the class clown of the barn."
Coffeewithchris drew post position four, which suits Salzman just fine.
"I don't think it's a problem, I'm happy with it," he said. "Usually, they load doubles, so I'll be late to load. We have enough natural speed that I think we'll get into a good position on the first turn."
Salzman noted National Treasure, who will break from the rail, and First Mission, leaving from the outside post position, as possible speed horses.
"I hope somebody does decide to go in front of me. I don't care, as long as I'm up close and laying there," he said.
He's impressed with Mage, the Kentucky Derby winner who is the 8-5 morning line favorite for the Preakness.
"Believe me, I bet on that horse in the Florida Derby, and the move he made around the turn…that's a really nice horse," the conditioner allowed. "It's gonna be hard, but he comes from far back, and at Pimlico, it's tougher with the sharper turns, and with the lack of speed, it seems to be a little in our favor. I'm not saying we're gonna beat him, but he's gotta come back in two weeks, with the shipping and everything. I'm here waiting and I'm fresh."
Jaime Rodriguez, who has ridden Coffeewithchris in each of his prior five starts, has the mount.
"If they don't want the lead, I got a good rider, he's a great speed rider, and he knows the pace," he said of Rodriguez.
Salzman's attended many Preaknesses, but this is the first time he'll be there with a participant.
"I've been around this my whole life, so I do remember them all," he explained. "I've done the infield, I've done the outfield. I've been very fortunate to have been to a lot of them, but this is the one I'll remember the most."
Win or lose, Salzman's thrilled to have a horse in his home state's biggest race. "I never thought I'd be in this position, but I'm glad to be here. We're 20-1 (on the morning line), it's an eight-horse field, so we're gonna take a chance at it. I'm hoping for the best."
Coffeewithchris will ship to Pimlico from his Laurel base on Wednesday morning. Post time for the Preakness is 7:01 p.m. on Saturday.
LATEST NEWS