No Preakness for Two Phil's, Forte
Frank Vespe

May 9, 2023
The long arm of the law extends all the way from Louisville to Baltimore.
That's one obvious conclusion from l'affaire Forte, the only-in-racing brouhaha over the soundness of the two-year-old champ, who would have gone favored in Saturday's Kentucky Derby. If only…
If only, that is, he'd been allowed to run. He wasn't, of course, because he did not pass the state veterinarian's morning soundness check, felled by a foot bruise. His connections – vocally – believed he was sound, and reportedly their veterinarians thought so, too.

But the state vet's vote is the only one that counts, so no Derby for Forte.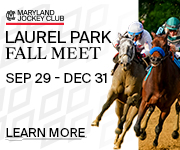 So, yeah, never mind about that "on to Baltimore" stuff.
If there's doubt about the soundness of a horse, it's always better to scratch. As much as racing has adopted the "there's only one first Saturday in May as a three-year-old" mantra, the truth is there are always other days and other races. Better to live to see them than gamble the future.
CHECK OUT THE LATEST OFF TO THE RACES RADIO!
That said, a mandatory two-week sit-down period for a horse whose connections and veterinarians believe was sound May 6 feels less like appropriate concern for the well-being of the animal and more like the sluggish grinding of bureaucratic gears. Is it not possible to build in some flexibility?
That a state vet in Kentucky can knock a horse out of both the Derby and the Preakness seems to offer yet one more argument for lengthening the time between the first two legs of the Triple Crown.
Speaking of which, comes word that Derby runner-up Two Phil's, who ran a monster race Saturday, will bypass the Middle Jewel.
Why?
"Too soon," trainer Larry Rivelli told the Daily Herald newspaper. "'Phil' came out of the Derby great. We shipped back to Chicago Sunday but the Preakness is just twelve days away. That's just too soon."
Ahh, the trials of a middle child. Such is life if you're the Preakness.
A handful of Derby runners are still under consideration for the Preakness. Winner Mage and fourth-place finisher Disarm, who ran a sneaky good race, are among them, as is 10th-place finisher Confidence Game.
But the home run for the Maryland Jockey Club was going to be a rematch of Mage and Two Phil's with the addition of new shooter Forte. That was going to make for one spicy Preakness.
Now, for the moment, it feels like one crabcake, hold the Old Bay.
LATEST NEWS