Golden Angel is "one for mom"
Teresa Genaro

April 23, 2023
"This one's for you, Mom," posted James Blackwell on his Facebook page on the afternoon of April 2.
A few hours earlier, Blackwell's homebred filly Golden Angel had won the first race at Laurel Park. Any win is exciting, but a win in a maiden claimer by a four-year-old making her first start might not, at first glance, seem noteworthy enough to dedicate to one's mother.
But that was no run-of-the-mill maiden claimer, and Golden Angel was no run-of-the-mill maiden.

Blackwell's mother Susie had died on June 29, 2020, in the early, unimaginable days of the pandemic. With her husband Michael, she had hunkered down at their home in Annapolis, barely leaving the house. Especially vulnerable because she suffered from lupus, Susie knew, as did her family, that contracting the virus would be dangerous.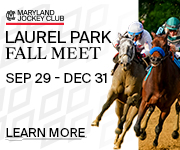 She started making masks for her family and friends, carrying on her role as a nurturer and "prototypical grandmother," as Blackwell put it.
"She relished her role as a grandmother," he said. "She loved baking cookies with our daughters Katie and Raegan."
After falling ill with a non-covid illness, Susie tried treating herself at home with antibiotics but ended up on intravenous antibiotics at the hospital, which is where, her son suspects, she contracted covid.
"My dad got it, too," recalled Blackwell. "My family and I live about 20 minutes away from them, and we'd leave cold medicines and drinks and soups on their doorstep."
Blackwell's father recovered fairly quickly, but Susie was hospitalized and put on a ventilator.
"That was a pretty emotional phone call," said Blackwell, "when she called to tell me that she was going on a ventilator. The last thing I told her was what a wonderful mom she was to me."
Two weeks later, Susie's lungs were so damaged that her doctors deemed them irreparable. Blackwell and his father were permitted to be present when they took her off the ventilator and when she died.
Two years earlier, Blackwell had bred his Not For Love mare Frivolous Pal to the Maryland stallion Golden Lad. He intended to sell her at the 2020 Midlantic fall yearling sale in Timonium, but the day she got to the sales grounds, she kicked a wall and bruised her foot and ended up being withdrawn. Blackwell decided to keep her.
"We figured it was probably meant to be," he said.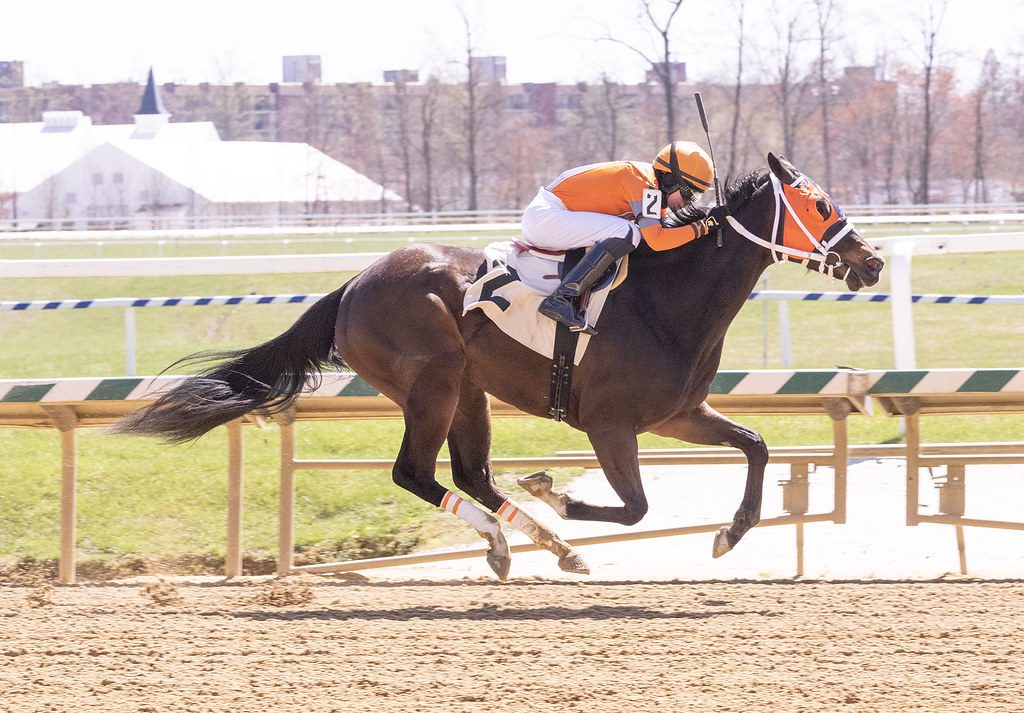 Sitting around the dinner table with his family, he told them that they needed to come up with a name for the filly, and his wife Sonia suggested that they name her after his mother.
"My son Matthew was only four years old at the time," he said. "He had no concept of death and he didn't understand what was going on with grandmother, so he'd always say that his grammy was an angel now."
It was Sonia who came up with "Golden Angel," playing on the horse's pedigree and honoring Susie, who had, according to her son, "golden blonde hair."
If keeping the filly had seemed fated, getting her to the races often felt cursed. She had surgery for kissing spine syndrome (a painful condition in which bony projections at the top of each vertebrae overlap or touch) at two and a chip taken out of her knee at three.
"We knew she could run," said her owner. "When she was three, she worked with a four-year-old colt in Middleburg, and it was everything he could do to keep up with her. She has talent."
On April 2, Golden Angel, trained by Hugh McMahon, broke from post two under jockey William Humphrey, who let her go right to the lead, and that's where she stayed, winning by four lengths and running the six furlongs in a final time of 1:13.26.
"My dad was there, the whole family was there," said Blackwell. "The win certainly made it feel like all that time, energy, and effort was worth it."
The win was also significant for the equine family. Golden Angel's dam Frivolous Pal has thrown five foals, all of which have made it to the races, all of which have won.
"That was important to us, too," said Blackwell, "to keep the streak alive for Frivolous Pal. We wanted to win for my mom, and we wanted to win for the mare. Mission accomplished."
Blackwell has owned horses for more than two decades, and while he knew it was risky to run his mother's namesake in a claimer, he also felt fairly sanguine that his four-year-old first-time starter would be safe. Fortunately, he was right. Higher-level claiming races in Maryland are options for Golden Angel's next start, as is a starter allowance in New York.
"I don't want to lose her, but I've been in this business a long time, and you have to run them where they're going to be competitive," he said. "It's a tough decision, and she certainly means a lot to our family.
"We'll run her until she tells us not to, and then we'll take her home."
LATEST NEWS