Coastal Mission sails to Confucius Say victory
Muad'dib, the two-time West Virginia-bred horse of the year for trainer Jeff Runco and owner David Raim, went off the 5-2 favorite with regular pilot Arnaldo Bocachica aboard, stablemate Coastal Mission (Denis Araujo) was the 3-1 second choice from post 10 and Free Sailin, last year's champion West Virginia-bred three-year-old male, was the 7-2 choice for owner-trainer Jason DaCosta off a pair of victories at Mahoning Valley.
Coastal Mission put away that rival on the far turn – Free Sailin eventually settled for fourth – but then had to hold off the late bid of No Change, the defending champion of this event but dismissed at 14-1. Coastal Mission held on to win by a half-length in 1:24.99 for the seven panels, with No Change, who was last early, second and Social Chic third.
A four-year-old Great Notion gelding trained by Runco for owner-breeder Coleswood Farm, Coastal Mission notched his second straight win, fourth win in five seasonal outings, sixth tally in seven outings over the strip, and seventh win in 12 career tries, pushing his lifetime earnings to nearly $250,000. His stakes tries have come for the most part against Maryland-bred and -sired rivals at Laurel Park. A full-brother to the talented Lewisfield, a past Maryland Million Sprint champion, Coastal Mission impressed his rider and trainer and likely earned a well-deserved vacation until the next round of stakes later this summer.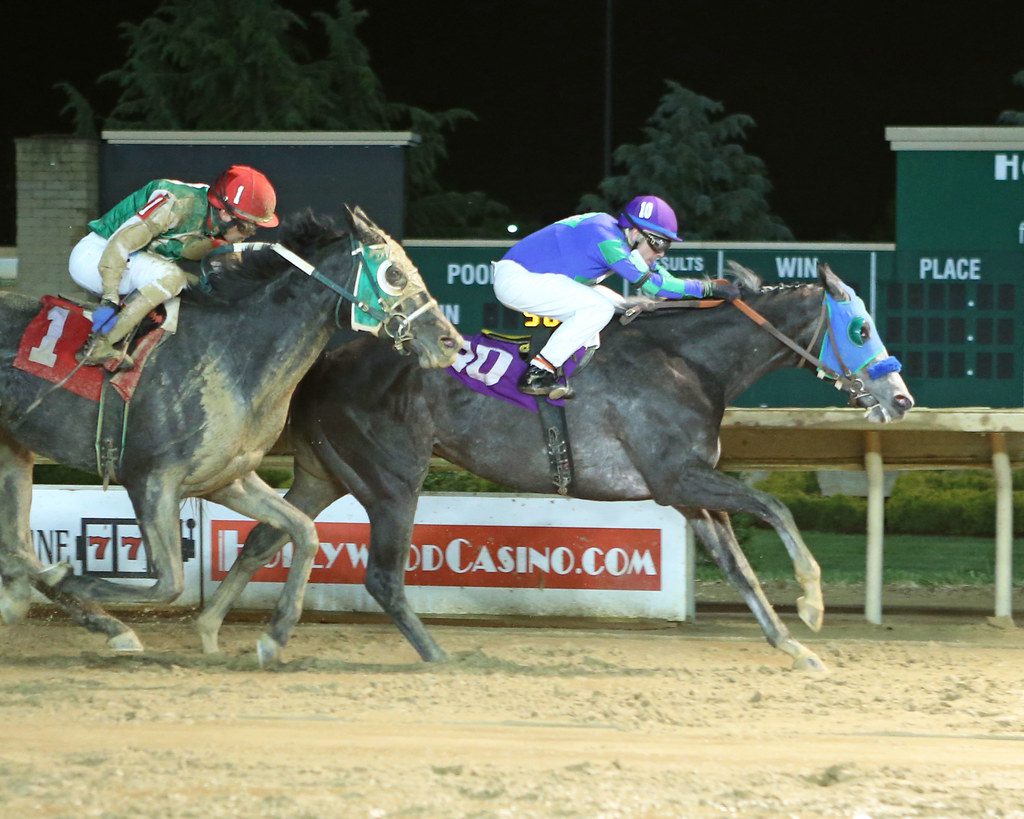 "I was a little hesitant to run him back so quick, but he came out of that last race [on April 8] so good that I decided to take a shot in here," Runco said. "I really didn't want to put three in there, but they don't get many shots to race for that kind of money. When he drew post 10, I told Denis just to let him settle and don't be in too much of a hurry to make the front. When you draw inside you pretty much have to go, but from the 10 hole you get a chance to dictate the trip a little. He'll get some time off now and then I will bring him back for the Frank Gall and go from there."
"I knew there was not a lot of speed inside of me, so I knew he could work his way to the front and not have to get used too hard early," Araujo said. "He was going pretty easily down the backside. I didn't want to set him down too soon, but going into the far turn I let him out a little and he responded. He's a nice horse and he's always done well up here. I was glad to finally get the chance to ride him."
One race earlier in a one-turn maiden special weight dash for state-bred three-year-olds, Juba's Hat Trick (Gerald Almodovar) forged an 11-1 upset when he gained command on the far turn and held safe the late bid of 1-5 favorite Duncan Idaho for a neck score. A sophomore son of Juba trained by Ronald Sigler for owner-breeder Taylor Mountain Farm, Juba's Hat Trick prevailed at first asking while getting the 4 1/2-furlongs in 52.66 and foiled the career debut of Duncan Idaho, the full-brother to Muad'dib and Late Night Pow Wow.
"This horse had been doing really good in the morning," Almodovar said. "We knew [Duncan Idaho] had the pedigree to be something special and he had been working good, too. But this horse is quick out of the gate and we got the jump on that other horse early. I think this guy's got a bright future."
Two races earlier in a two-turn allowance for state-breds, One Night Mike (Wesley Ho) forged a very mild upset as the 9-5 second choice when he swept to command entering the far turn then edged clear late to a three-length score over Spanglish, with 4-5 favorite Honeyquist settling for third. A four-year-old Golden Years gelding trained by Javier Contreras for owner-breeder O'Sullivan Farms, One Night Mike bypassed the Confucius Say to compete in the allowance instead and notched his first win in four seasonal tries and now owns a 4-4-1 slate and over $120,000 banked from 13 career outings after getting the seven furlongs in 1:26.49.
In the Saturday night opener, Icing appeared to forge a one-length victory in another two-turn allowance for state-breds when he prevailed going 6 1/2 furlongs in 1:19.26, but following an objection and lengthy inquiry he was placed fourth behind Hot Fudge Sonde and Noid was elevated to first place. A five-year-old Windsor Castle gelding owned and trained by Elizabeth Meehan and bred by former local rider Leslie Cromer, Noid recorded his first win in four starts this year and now owns a 5-1-3 slate and over $130,000 banked from 19 lifetime tries after benefiting from the promotion on Saturday.
LATEST NEWS