Off to the Races Radio features Dubyuhnell owner Connolly
Nick Hahn will host with support from Frank Vespe. Derby Bill Watson will join each week to provide his handicapping insights and special brand of humor.
Connolly's runner, a colt by Good Magic, won twice as a two-year-old, including a score in the Grade 2 Remsen to earn 10 points on the Derby trail. But in his sophomore debut in the Grade 3 Sam F. Davis Stakes, the Danny Gargan trainee finished eighth as the favorite. That means he'll need a big effort in Saturday's Grade 1 Florida Derby, in which he is 6-1 on the morning line, to secure a spot in the Kentucky Derby.
Also on Saturday's program will be Seth Merrow. Merrow, founder of the Equidaily racing journal, is a host on Capital OTB-TV in upstate New York and a longtime handicapper and analyst. He'll speak to us live from South Florida where he is attending the Florida Derby.
We'll also have plenty of other features, including Derby Bill, Darrell Wood to talk harness, and chatter about Secretariat-related events this weekend in Ashland.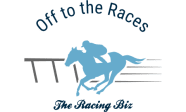 Sponsors of Off to the Races include the Virginia Thoroughbred Association, Virginia Equine Alliance, Virginia Harness Horse Association, and others. The program will air each Saturday through early November's Breeders' Cup.
"We appreciate our sponsors who support Off to the Races," Vespe said. "And we especially appreciate all of our listeners."
Each week's show will be archived on TheRacingBiz.com.
LATEST NEWS