Off to the Races Radio adds Maryland outlet
Frank Vespe will host the Maryland program, which will have some overlap in personnel and content with its Virginia sister but will have a decidedly more Maryland flavor. It will be the first Maryland racing radio show in several years.
Saturday's show will feature a lively group of guests, plus news, handicapping and more. Guests will include Cindy Deubler of the Maryland Horse Library and Education Center; attorney and horse owner Richard Hackerman discussing some of the legal issues folks may encounter in racing; Maryland Jockey Club racing analyst Kali Francois; Nick Hahn and Derby Bill Watson to talk about this weekend's Triple Crown preps, and more.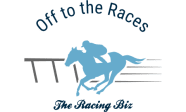 Sponsors of Off to the Races RIchard Hackerman-Attorney at Law, the Maryland Horse Breeders Association, and others. The program will air each Saturday through early November's Breeders' Cup.
"We appreciate our sponsors who support Off to the Races," Vespe said. "And we especially appreciate all of our listeners."
Each week's show will be archived on TheRacingBiz.com.
LATEST NEWS