Taylor: Xtra Heat "could change your life"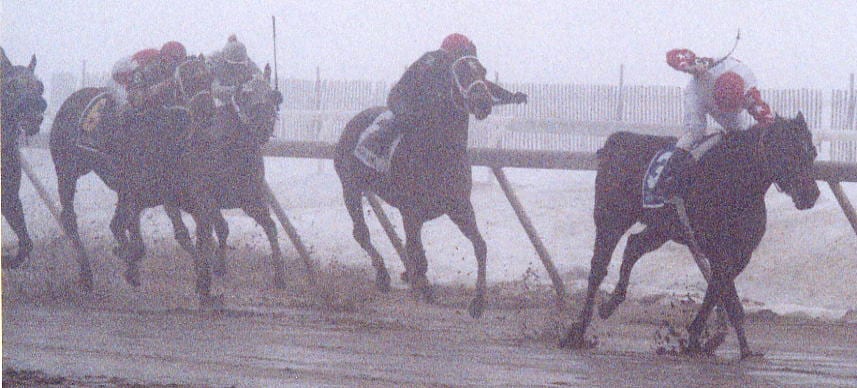 "To be real honest, you won't find another Xtra Heat. So you're just wasting your time," he said on Saturday's Off to the Races Radio. "I won a lot of races with John Salzman; he's been my partner forever, will always be my partner. I don't have as many horses that I had. But hopefully that I can continue to always own horses. But there are no more Xtra Heats to be made. Forget about that."
"We said, 'Let's just run her for maiden 25 and hope we get lucky and somebody will claim her," he remembered. "In a month, we'll make $20,000 minus expenses. That was our thought at that point. We never thought she was a superstar."
She won that debut, narrowly, and didn't get claimed – another trainer intended to grab her, Taylor said, but didn't get the claim slip in in time. Remarkably, every one of her next 34 starts came in stakes company.
She fashioned a five-race win streak before the connections took their first big swing with her, sending her to New York to compete in the Grade 2 Astarita at Belmont Park. The betting public wasn't too impressed, making her, at nearly 8-1, the fourth wagering choice. But under Mark Johnston, she took the lead a half-mile in and gamely held off favored Gold Mover for the first of her 11 graded wins.
[VIDEO: Xtra Heat wins the 2002 Fritchie at Laurel Park]
"I was there, and I was on the turn when she was coming down the turn," Taylor remembered. "I tried to run down [the stretch] the whole time with her, and of course, she left me in the dust. But that was the biggest thing that's ever happened to me in the world of sports, except for my family and my grandkids and my great grandkids and my kids. That was the best thing that ever happened to me that day, in the world of sports or anything else."
She met defeat in her next start, when the Breeders' Cup Juvenile Fillies proved, at 1 1/16 miles, to be a bridge too far. But less than a month later, she was back at it, easily winning Charles Town's $40,000 Snow White Stakes.
"People said, 'Why you going up to Charles Town?'" Taylor said. "Because we wanted to win. Why do you think we're going up there?"
The following year, as a sophomore, Xtra Heat fashioned her best season, winning nine of 13 starts while earning more than $1 million. She won her lone Grade 1 that year, taking the Prioress on July 4 at Belmont Park, and added three other graded wins to the resume.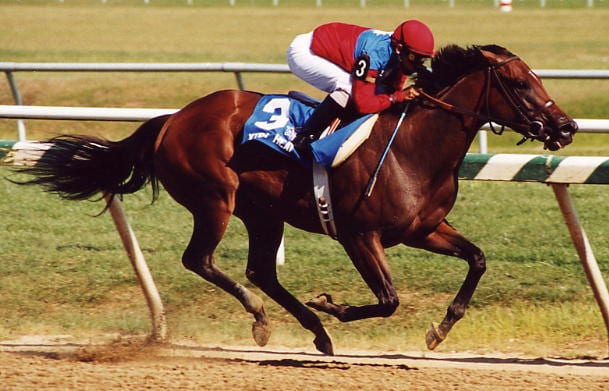 Yet it was in defeat that Taylor took the most pride. Salzman decided to take a big swing, and he sent the filly to New York to run in the Breeders' Cup Sprint that fall.
"On that day, it was cold in Belmont," Taylor remembered. "They didn't have any heat in the whole building. And I said, 'OK, I think she's got a shot. I don't know if she's going to beat these boys, but she's got a shot.'"
When the gates opened, she sped to the lead, hounded every step by Caller One. Those two set wicked fractions, Xtra Heat leading by a length after a 44.75-second half-mile. As the field turned for home, Caller One drifted out slightly, creating a seam for Squirtle Squirt, and that runner ran down Xtra Heat late to win by a half-length, the filly holding second.
"When she turned that corner, I thought she was gone," said Taylor. "And I was standing in a corner trying to peek through my hands and not look. Squirtle Squirt ran by her at the end, but she ran a hellacious race and I was as proud of her is I've ever been of anything."
Taylor said it's not "my style" to worry about the woulda-coulda-shouldas, but he does allow that, had there been a filly and mare sprint back then, "she would be a monster in the Breeders' Cup."
Xtra Heat won the Eclipse Award as champion three-year-old filly following the season. She would go on to run another season-and-change before retirement to the breeding shed, adding a half-dozen more graded stakes wins to her resume, including two triumphs in the Grade 2 Barbara Fritchie at her home base of Laurel Park and a win over the boys in the Grade 3 Phoenix at Keeneland.
HEAR KENNY TAYLOR'S MARCH 11 INTERVIEW
Salzman and the connections never shied away from taking the easy money – for which some derided her – but they didn't duck anybody, either, and her record against top competition was stellar. In 19 graded stakes starts, she won 11 and finished in the money 17 times, her only out-of-the-money finishes coming in the too-long Breeders' Cup Juvenile Fillies and in the '01 Breeders' Cup Sprint, when she finished sixth. Against ungraded company, she won 15 of 16.
In all, that's a remarkable tribute to the consistency of the runner and the work of trainer Salzman and his team.
"John Salzman is as good as they get when it comes to training babies," Taylor said. "For spending a little bit of money, to get as many wins as he gets and how many horses he gets to the racetrack: a lot of people don't understand, a lot of horses don't even get to the racetrack, and his percentage of getting horses to the racetrack is much better than others.
"John just trained her as well as anybody can train a horse and put her in the right spots."
She was a modestly bred filly who had OCD lesions in her stifles that some thought would limit her career. She went through the sales ring three times by the middle of her two-year-old season, never once fetching even $10,000. She raced her whole career for a blue-collar barn at a blue-collar racetrack. She was nobody's idea of a star.
And yet Xtra Heat proved herself to be one of racing's brightest stars, and in 2015, she was inducted into the Hall of Fame.
"You have bad times, you have good times. A lot of things go wrong, illness, you know, different things," Taylor said. "With her, she could change your life. You could wake up in the morning and be in as bad shape as you can go, and you go to the racetrack and look at her… She would make my life easier with some tough times I've had…
"She made life very exciting for a lot of people."
LATEST NEWS