Photo Essay: Best of 2022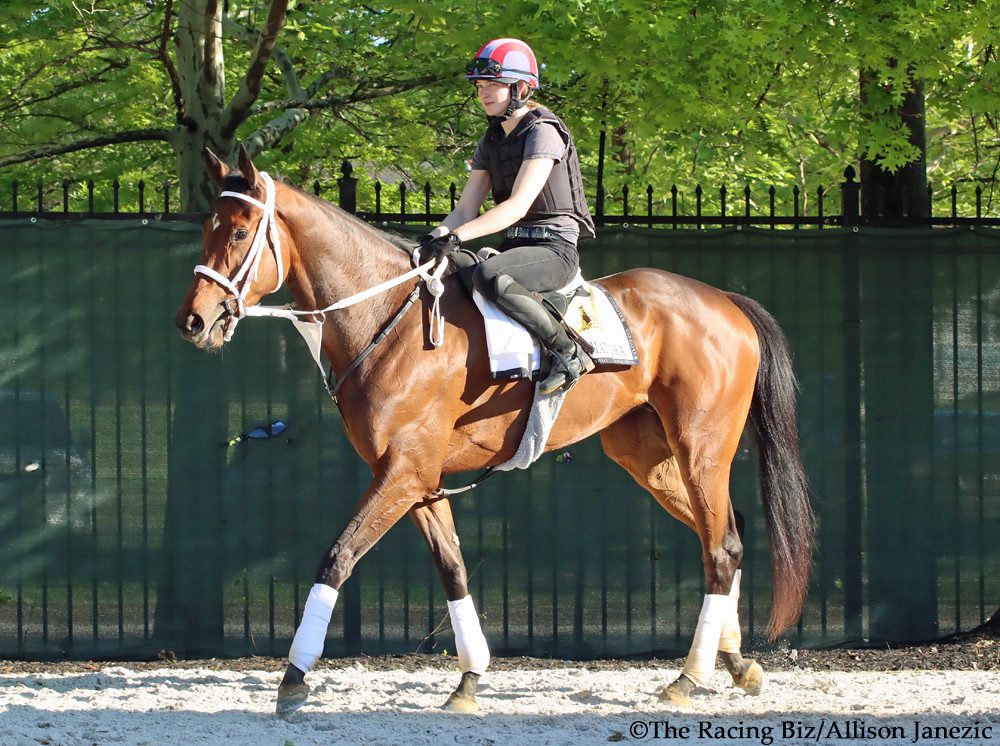 I started as a horse-obsessed child in a home that did not have horses. The closest I came was a large dog. My father saw that was never going to change and took me to my first horse race on April 4, 1987. The horse was Broad Brush, the race was the John B. Campbell Stakes and the weather was wet. Broad Brush won convincingly, and I was forever hooked.
Over the years I got the opportunity to go to the races, and in 2003, on a trip to Kentucky, I took some pretty awful photos with a cheap camera to use as a reference for drawings that I was doing. Seeing the greats of racing had me excited and in some cases in tears being so close to the athletes that I had admired and followed for most of my life.
When I returned to Maryland, I took a photo of a horse named Americelebration because she was pretty. I then used her as my avatar on a message board. Her owner – racing photographer Lydia Williams — reached out to me and offered to let me to hang out with her and fellow racing photographer Maggie Kimmitt. My answer to that was certainly yes!
Soon, I was allowed to photograph the races alongside Lydia and on occasion Maggie for Mid-Atlantic Thoroughbred. My first published photo was of Cherokee's Boy for an ad for Maryland Stallion Station, and that led in time to my first real assignment years later for the Maryland Million under the tutelage of Lydia.
Soon, I started being credentialed for some of the Mid-Atlantic's biggest races. My work was published by Mid-Atlantic Thoroughbred, The Racing Biz, and The Blood-Horse. I am forever in the debt to those who have encouraged me, taught me, and helped me go places that I never dreamed I would be.
Here are some of my favorite photos of 2022:
The first is a photo that I truly enjoyed taking because it was on a very hot Black-Eyed Susan day. Everyone was melting and it seemed that it was never going to let up. As I was waiting for the next race, I turned to my left to see four beautiful ladies having the best time. I asked if they would pose for a photo, and they gladly agreed. Normally, I take candid shots, but in this case, I just had to snap their photo. It makes me smile.
BIG
During the Preakness, fans have the opportunity to get up close and personal with the ponies that escort the racehorses to the post. One of these horses is named Big. Big is one of the outrider ponies that lead the post as well as catch loose horses on the racetrack. He is owned and piloted by Lisa McKlveen. Here he is getting a pat from a young lady as he is a well-mannered boy who loves attention. The girl reminds me why I do this. I was her once, a girl who loves horses.
PIGGYBACK RIDE
Being in the right place at the right time is important. After a win at Laurel, jockey Victor Carrasco decided to get a ride back to the jock's room and racing secretary Jillian Tullock was happy to oblige. I saw them heading my way and had to take this shot. It was just a lucky one and I'm glad I was standing in the right spot.
HIGH FIVE
Charles Town has been the scene for some of the best moments in my memory. This one is one of them. It was after the very talented Maryland-bred Alottahope won the Robert Hilton Memorial. In this photo, Jevian Toledo gives groom Onix Geraldino a high five after a convincing win. As good as the fates are, Alottahope passed away in the fall after succumbing to an illness.
SECRET OATH
Secret Oath was the only filly in this year's Preakness. She was the winner of the Kentucky Oaks and had quite the fanbase going into the race. Trained by the Coach, D. Wayne Lukas, she was looking to become the 7th filly in history to win. As everyone raced to get their spot for the winner's return, I decided to wait for the filly to gallop back to be unsaddled. The light was dark down by the finish but on the turn, there was a bit of light between the grandstand and the seats on the turn. She galloped back and I cropped the photo to show the crowd that awaited the return of the victor. To me, she was gallant in defeat and will always be one of the best 3-year-olds of 2022.
HIGH SOCIETY
Lighting can be tricky especially at Charles Town at night. There isn't much of an opportunity to move around like there is at other tracks, but sometimes that artificial light can give you something interesting. That is what happened when the flaxen beauty Society won the Charles Town Oaks. As she passed under the wire her blonde tail was illuminated, giving a unique glow to her dominating win.
KISS
The backstretch at Pimlico allows us to get up close and personal with some of the best horses in the country. In a sweet moment after a bath, Preakness runner Simplification gets a kiss from owner Tami Bobo. It's a moment that happens often in racing but the public is often unaware of the connection between humans and animals.
STOP TIME
Usually, I take photos of the horses running past the stands because it's an opportunity to get something unique or unusual. It's the heat of decision-making for jockeys and there can be some fun frames that emerge. Here during a stakes race on the Preakness undercard, the field passes us for the first time. Part of the field is in this frame and the composition of the photo is what I find interesting. Spectators look on and it gives the feeling of motion while being suspended in time.
SOMETIMES A GREAT NOTION
Sometimes I am lucky enough to see these wonderful animals in their careers after they have raced. One trip took me to Northview Stallion Station to see their roster for the 2023 breeding season. At the very top of that roster is the 22-year-old stallion Great Notion. Here he is with his farm manager Francisco Torres, who, when asked his favorite stallion, replied, "Everyone." Maybe, but you can see he is a big fan of the flagship stallion in this shot.
SPIRITED LADY
Winning isn't everything. Sometimes giving your all is enough. In this photo, I was following local favorite Fille d'Esprit. Her rider Xavier Perez certainly has a fondness for her and has piloted her to five stakes wins this year. She put on an amazing performance against top competition from across the country in this year's edition of the Skipat Stakes. While she did not win, she finished a very strong second and received a loving pat on the head from her rider while crossing the finish line. It was a special moment and her team was super-proud of their girl.
TO THE VICTOR
At Charles Town, the flowers were in bloom, and the trophy awaits the winner of the race yet to be run. I tried to get both in this shot since the colors of the flowers complimented the bronze of the horse and rider.
MARYLAND'S DAY
Jim McKay Maryland Million Day is "Maryland's Day at the Races" and celebrates all that goes into racing in this state. This is the first race of the day. It's not a big stake, but it's an opportunity to get a shot that is different from a general win shot. With a full field, it makes for a nice wide-angle photo that encompasses the spirit of the sport while allowing the grandstand to be a backdrop.
FOCUS
As the horses go past the stands for the first time, I like to pick out one to focus on for a picture that will capture the feel of a race in progress. In this case, Nathan Detroit and William Humphrey seem focused as they settle into rhythm. Originally in color, this picture works much better in black-and-white, I thought.
JUST A GUY NAMED JOE
Who's Joe? That was the question people were asking when Maryland-bred champion Joe won at Pimlico on Preakness day. Going past the stands for the first time in the James W. Murphy Stakes, Joe and jockey Victor Carrasco look as cool as a cucumber. In the stretch, he battled Ready To Purrform to out game his rival to the wire. Sometimes a horse just captivates my attention. It was my pleasure to tell everyone who Joe is, and it made battling the heat so much easier with a smile on my face.
PONY PEOPLE
Pony people are essential to the racing industry in the United States and work hard for little applause. At Preakness time there is a call for these folks and their ponies to help with the large fields that are typical. Between races, they wait for their turn to escort the athletes to post. Often the horses they ride are ex-racehorses and know the drill. The riders are seen to be engaging the crowd and, in this case, sharing small talk. It was a bonus that the horse stuck out his tongue which makes this photo so much fun. It shows the carefree atmosphere that is seen in the wings of such a hectic day.
HAPPY COUPLE
This photo was taken as a favor to Kaymarie Kreidel, an outrider for the racetracks in Maryland. She asked me to capture a photo of her on her pony Wolftrap, along with her son trainer TJ Aguirre and his fiancée Ashley as a wedding gift. I'm so happy she asked me to take this photo, and it is one of my favorites from last year. It's a busy day for all of us during the Preakness, but sometimes we get a moment to stop and smell the black-eyed susans.
LATEST NEWS