Rich Strike, the pony, the bite, and the controversy
Frank Vespe

May 12, 2022
Moments after the upset heard 'round the world – Rich Strike's shocking Kentucky Derby victory – came the chomp – or maybe the shove — seen 'round the world.
While outrider Greg Blasi ponied a keyed-up Rich Strike back towards the finish line for the post-race celebrations, the Keen Ice colt tried to take a bite out of Blasi's pony's neck, grabbed the reins in his teeth, and succeeded in biting Blasi himself.
That all prompted Blasi to respond forcefully – some claim excessively – to regain control of the situation.
Social media being what it is, and things in racing being what they are, the response was immediate, forceful, and in many quarters ill-informed.
"Whipping horses in a race is abuse and should be eliminated, but punishing a horse who was in a frenzy as the crowd roared is inexcusably cruel. PETA will be filing a complaint about the outrider Greg Blasi, who appeared to hit Rich Strike," the group's Senior Vice President Kathy Guillermo said in a hyperbolic statement.
We were curious about how other outriders – the folks who do that work for a living – saw the situation. So we reached out to the woman who, for a time, was the most famous outrider in America: Kaymarie Kreidel.
"From what I saw, I think he did the right thing, and I would probably do the same thing," Kreidel explained. "I think he did what he needed to do to protect himself and his horse and the other horses."
But it's the why of her answer that's most interesting. We'll get to that in a moment.
Kreidel, 50, received widespread accolades after she and her pony Witch Hunter, aka Hunter, caught the loose Bodexpress after the 2019 Preakness. That catch averted what could have been a disaster.
[VIDEO: Kaymarie Kreidel captures Bodexpress and averts disaster]
"It's just one of our days," she said of that nerve-wracking Preakness. "It just happened to be a big race, so it was a lot of publicity behind it."
FTC urged to reject HISA rules

Ten members of Congress — five Senators and five Representatives – have urged the FTC to reject HISA's proposed drug rules
She's been on horseback virtually her whole life, starting at a year-and-a-half old, progressing to the eventing world and eventually – "literally by accident," she says – to flat racing, winning 190 races during about 15 years as a jockey. She's now coming up on 20 years as an outrider at the Maryland tracks.
During Saturday's incident, which was broadcast live on NBC for more than a minute, Rich Strike tried repeatedly to bite the pony up on the pony's neck. Rich Strike at one point actually got the pony's reins in his teeth, and twice the pony reared up on his hind legs.
And, of course, Rich Strike also took a chomp out of Blasi's leg, for good measure.
"When a horse bites you, that's 500 PSI (pounds per square inch) hitting you," Kreidel points out. "I mean, that's a lot of pressure."
Some have suggested that Blasi should have responded less forcefully. Having humans hitting horses isn't a great look, after all. But Kreidel, who talked this reporter through the video of the situation, believes that an immediate and forceful response appeared necessary to avert a worse situation.
"I do know at one point he did grab the pony's reins, which is very dangerous because grabbing the pony's reins, you can actually flip the pony over on top of you," she said. "And that's where the pony's rearing right there. That's where the horse has actually gotten his reins and is pulling on it. So that would be kind of like somebody coming running up to your horse while you're on it, and you can't get on that rein from a different direction."
Alternatively, some, such as PETA, suggested that he should simply have let Rich Strike go, the assumption being he would amble off on his own.
Chromatic Lass on the ascent

Chromatic Lass got a belated start to her career, but she's opened some eyes with back-to-back dominant scores at Charles Town Races.
But Kreidel said that simply trying to let the horse go could, in that circumstance, lead to much bigger problems.
"Sometimes when they're that persistent, which that one looks like it was, if you try to get away from them and let go of them, he's going to have his front legs in your lap, he's going to be on top of you," she said. "I've actually had horses mount me before. So that one looked like he's on the borderline that if he let go, if you push them away and didn't get him far enough away, he was gonna end up jumping on top of him and causing more injuries."
[VIDEO: Rich Strike tries to bite the pony]
On a normal day, of course, the winning horse and rider make their own way back to the winner's circle. But Derby day – and for that matter Preakness day – aren't normal days. For one thing, the Derby and Preakness winners don't return to the regular winner's circle but head onto the turf course for a more elaborate ceremony – a departure from routine where it helps the winner to have a pony present.
And then there are the people: not just the 100,000-plus in the stands but the dozens and dozens milling about on the racetrack: photographers and camera operators and reporters, to go with winning connections and others, many unaware of their surroundings or unused to being around horses.
"We don't have to do this on normal days but at the same time on normal days, we don't have a billion people out there," Kreidel said.
All of those people, she said, can intimidate a horse to the point "where he'll wheel and run the other way."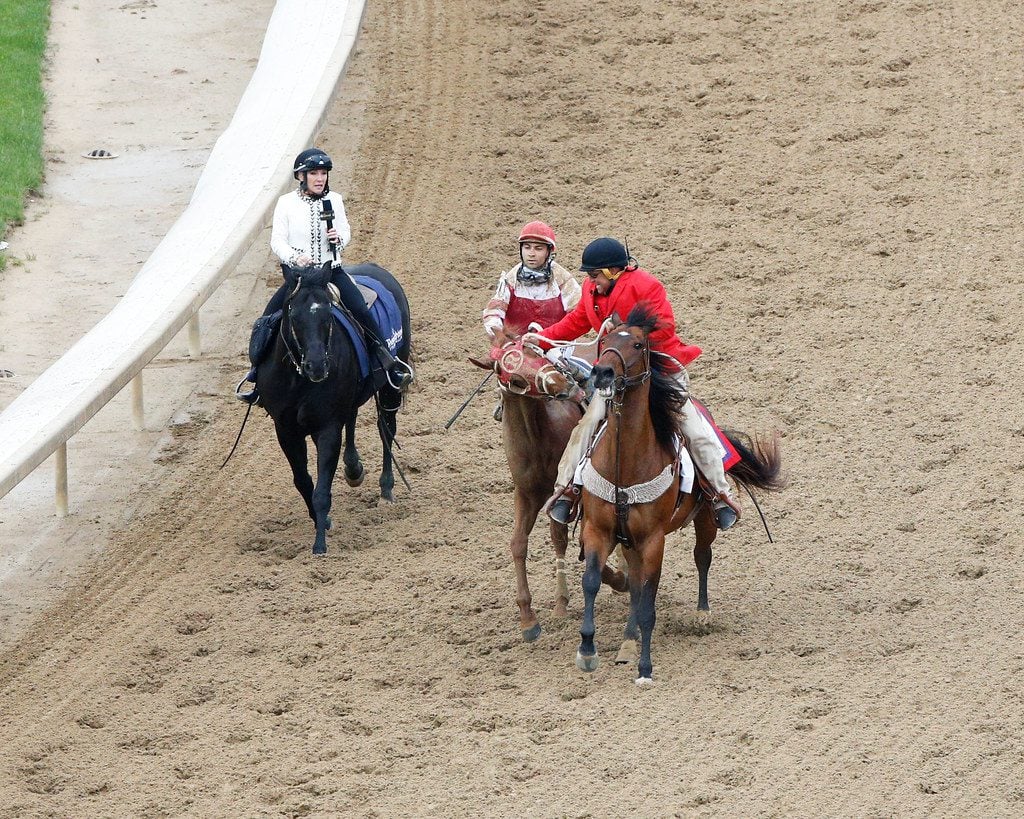 Which in a sense, brings us full circle: back to Bodexpress in the 2019 Preakness.
Bodexpress, then still a maiden, reared at the break and unseated rider John Velazquez. He then made a circuit of the course, chasing the race, while far removed from the inner rail. When the race ended, it was Kreidel who ultimately snagged him before he could run either into his fellow racers or the crowd out on the track.
"I get in a zone, and my zone is just to catch that horse, and same with my ponies," she said. "My only worry was because there were so many photographers and press people [on the track] that were forgetting that there was a loose horse. I had to do a lot of yelling to get people out of the way."
And of course, that's where Saturday's real danger lay. What if Rich Strike had gotten loose? What if another horse had been loose on the track? What then?
It's why, in spite of the optics, Rich Strike's trainer, Eric Reed, said he was grateful to Blasi. "That man saved my horse from injury," he said.
Come Preakness weekend, Kreidel and two of her four ponies will be plenty busy. Pimlico hosts 14 races on Black-Eyed Susan day May 20 and another 14 the following day, Preakness day. Witch Hunter will work the first half of Black-Eyed Susan day and the second half of Preakness day.
Another pony, Wolftrap, who won once in 28 career starts as a racer, will accompany Kreidel for the second half of Black-Eyed Susan day and the first half of Preakness day. And it'll be with Wolftrap that she'll pick up the winner of the Black-Eyed Susan and escort that runner back to the turf course winner's circle, through the narrow gap and the tunnel of people, and up to the cupola.
"They each get their own limelight of the day," she said.
If all goes to plan, there'll be no loose horses to run down, no amped up runners trying to take a bite out of Wolftrap or 'Hunter. But if there are, Kreidel and the other outriders will do what they need to do protect the public and the animals themselves.
"None of us wants to hit a horse. I mean, we respect the horses," she said. "We love the horses. If not, we wouldn't be here working seven days a week taking care of these animals."
PHOTOS
LATEST NEWS