With "maturity, confidence," Jeiron Barbosa an Eclipse finalist
Barbosa won with 184 of 1,033 mounts (18%) in 2022 with purse earnings of nearly $5.7 million. He's joined as finalists by Vicente Del-Cid and Jose Antonio Gomez. Del-Cid, based primarily in Louisiana, won 277 races during the season to lead all apprentice riders, while the New York-based Gomez generated purse earnings of more than $7.6 million, more than any other bug rider.
That's a pretty strong resume for a rider who didn't debut Stateside until March 25.
Barbosa, a native of Puerto Rico, had trained to be a jockey at the island's famed jockey school, the Escuela Vocacional Hipica. Most young riders who come through that school, Stift said, are raring to go come January 1. But shifting from the warmth of Puerto Rico to midwinter Maryland didn't seem to Stift like it would be a recipe for the young rider's success. So he counseled patience.
"He's in Puerto Rico; he's never left Puerto Rico. If he comes up here, it's snowing," Stift explained. "I said, why doesn't he just stay down there and then come up when it warms up, when the weather breaks."
So Barbosa remained in Puerto Rico, won three races, and arrived in the mainland U.S. with two wins still to get before the one-year apprentice period kicked in.
"That takes a lot of maturity and confidence," Stift said. "I mean, I never talked him into it."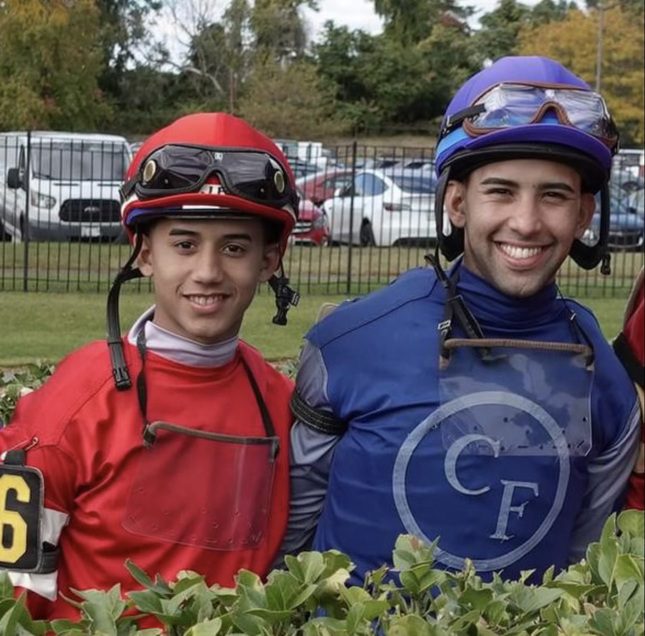 Barbosa, 19, looks younger than his relatively few years, but he certainly doesn't lack for either maturity or confidence. He won aboard his first two mounts at Laurel Park. By the time won his first stakes race, in August, the kid who arrived in Maryland speaking no English was willing to be interviewed on camera.
"Muy happy," he pronounced himself. "It's my first stakes win."
And while staying at Stift's house soon after arriving here, Barbosa stumbled on a photo album of Stift and Victor Carrasco when the latter won the apprentice Eclipse following a 215-win season in 2013.
"He's looking at that, and I can see his eyes," Stift recalled. "And he goes, 'Next year, me and you.'"
Those traits helped Barbosa to get off to a fast start, which, Stift said, is one key to making a run at an Eclipse Award – and building a sustainable career.
"Trainers give you a shot, but you're not always the favorite," Stift said. "Because they want to see you ride first, everybody's kind of watching. So when he won his first couple, it helps, obviously. But you have to follow that with the talent, and he's got that."
Barbosa won the meet title at the Laurel Park spring stand and subsequently took the riding title during the Pimlico fall meet prior to Laurel's season-ending meet.
Now he's an Eclipse Award finalist. And, as an established young rider with a thriving business, he still has the bug – the five-pound weight allowance – for three more months.
"That's a pretty good tradeoff if he doesn't win the award," Stift said. "But I'm hoping for a three-way tie."
LATEST NEWS