Angel Cruz, Jeiron Barbosa deadheat for Laurel title
Press Release

January 1, 2023
Angel Cruz won twice on Saturday's closing day program to tie his protégé, 19-year-old apprentice Jeiron Barbosa, and share Laurel Park's fall meet riding title, while Brittany Russell capped her historic year by leading the trainer standings for a third time this year.
It is the first career riding title for Cruz, 27, who won five races over closing weekend to finish in a dead heat with Barbosa at 44 wins. Cruz's wins Saturday came with No Me Digas ($19) in the opener and Quick Tempo ($6.40) in Race 6.
Barbosa, a contender for the Eclipse Award as North America's leading apprentice of 2022, earned his third meet title in Maryland following Laurel spring and historic Pimlico Race Course's boutique fall stand.
Both riders, represented by agent Tom Stift, are natives of Puerto Rico. Cruz first became acquainted in Puerto Rico with Barbosa, whose sister is best friends with Cruz's wife.
"Angel is the reason at Jeiron became a jockey. They've been talking about it for a month. They wanted to finish 1-2 [in the standings], and it worked out even better," Stift said.
"When [Barbosa] was still in Puerto Rico, Angel asked me to take his book so it was all Angel's idea. I was like, 'You don't want me to take a bug boy because if he's any good, he'll take all your business,'" he added. "And Angel was like, 'I don't care. He's family, so let's help him out.'"
Barbosa launched his pro career Jan. 1 in Puerto Rico and won three of 72 races before coming to the U.S. Just two days after arriving, he earned his first domestic wins on each of his first two mounts – Heliacial Rising and Ludicrous Mode – March 25. Barbosa picked up his first career stakes win with Music Amore in Laurel's Searching Aug. 6.
Cruz, who grew up with Eclipse Award-winning brothers Irad Ortiz Jr. and Jose Ortiz, came to the U.S. at age 11. He won his first race April 8, 2014 at Charles Town and was a finalist for the 2014 Eclipse Award as champion apprentice.
During the fall meet Cruz won the Twixt with Battle Bling, the James F. Lewis III with Recruiter, the Howard and Sondra Bender Memorial with Alwaysinahurry, Maryland Juvenile Fillies and Gin Talking with Malibu Moonshine and Dave's Friend with Factor It In.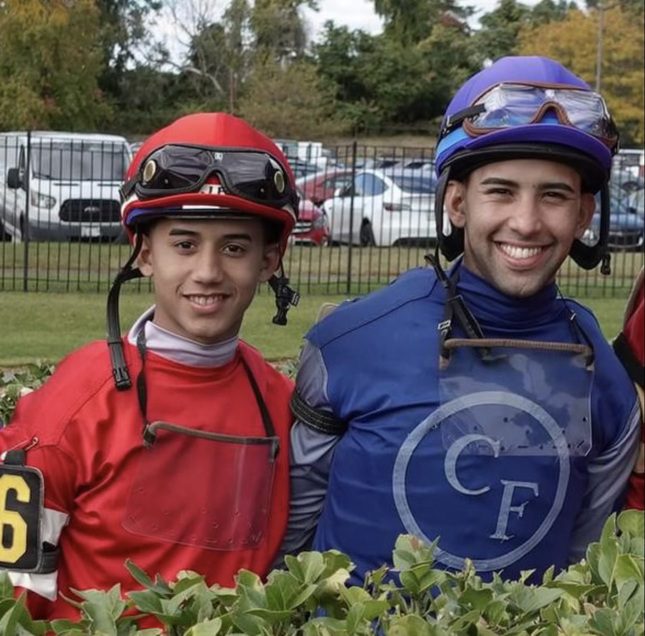 "It feels great to share the title with my brother. I brought him here. I was his mentor coming from Puerto Rico. Not knowing English, coming here to conquer like he did is a great accomplishment," Cruz said. "I've known him since he was 8. He's seen me ride since I started, and he looked up to me."
"I looked out for him since the Day he got here. It's such a blessing to share it with him. It was hard. It wasn't easy, but we made it happen on the last day," he added. "That's the thing with this game. If you work hard, you get winners. That's how you have to do it. If you work hard, you're going to be good and that's what he's done. He listens to me, and he's done a good job."
Barbosa finished with the second-most wins at Laurel and Pimlico this year, trailing only Jevian Toledo, while Cruz finished fourth overall.
"He's really happy. He was blessed this year," Cruz said. "He's going to go to the Eclipse Awards if he wins it. To come from Puerto Rico not speaking English and to win three titles is a great accomplishment for him. It's been a great year. We've been blessed with Tom Stift. He's done a great job."
Russell had one winner over closing weekend and held off Jamie Ness, who won three times, to finish with a 29-24 advantage. Previously this year, she won Laurel's spring meet and tied for the lead at the Preakness Meet at Pimlico.
Married to champion jockey Sheldon Russell, with whom she shares 3-year-old daughter Edy and 1-year-old son Rye, Brittany Russell clinched her first career training title on Mother's Day and became just the fourth woman to lead the meet standings in Maryland following Karen Patty, Mary Eppler and Linda Rice.
Overall, she wound up second to now six-time defending Maryland state champion Claudio Gonzalez, 74-73, in 2022 wins at Laurel and Pimlico. Russell set career highs with 453 starters, 100 wins and more than $4.3 million in purse earnings.
Russell won two stakes during the fall meet, the Thirty Eight Go Go with Hybrid Eclipse and Maryland Juvenile with undefeated Post Time.
"I'm so proud of the whole team," Russell said. "It's a great way to end what has truly been an amazing year, and we hope to keep things rolling in 2023."
LATEST NEWS