Post Time romps to Maryland Juvenile score
Frank Vespe

December 3, 2022
The last time Eric Camacho rode a stakes winner – prior to today – was 2013.
The last time he rode a horse like Post Time? That might be never.
Camacho, who stepped away from riding races in 2016, piloted Post Time, now three-for-three in his career, to an eye-catching 3 ¾-length score in Saturday's $100,000 Maryland Juvenile Championship that, as they say in other sports, was not as close as the final score.
"It's super-special. I mean, who gets to ride once a month and win three races in a row?" Camacho said afterwards. "He's amazing, and he's only getting better."
Camacho has ridden just three races this year, all on Post Time, and all wins. He gallops Post Time in the mornings, and the partnership is certainly bearing fruit.
"He's done a great job with him," winning trainer Brittany Russell said. "This horse was a monkey in the morning, and he got on him, and he did a great job and he was confident."
Post Time – the name honors owner Ellen Charles' grandmother, Marjorie Meriwether Post – was bred in Maryland by Dr. and Mrs. Tom Bowman, Dr. Brooke Bowman, and Milton Higgins. An $85,000 purchase at last fall's Fasig-Tipton Midlantic yearling sale, he is a Frosted colt out of the stakes-winning Fairbanks mare Vielsalm.
He now has $133,140 in earnings.
One of the top horses Charles, who races as Hillwood Stable, has owned was Bandbox. When Bandbox, who later became a Grade 3 winner, earned his first stakes win, in 2010, Camacho was the pilot.
Camacho has won nearly 800 races and three graded stakes in a career that began in 2004. He won over 100 races three times, but by 2016, he said, he'd begun to "get a little sour with it.
"Towards the end, opportunities were becoming less and less, so I had to figure out what I'm gonna do with the rest of my life," he added.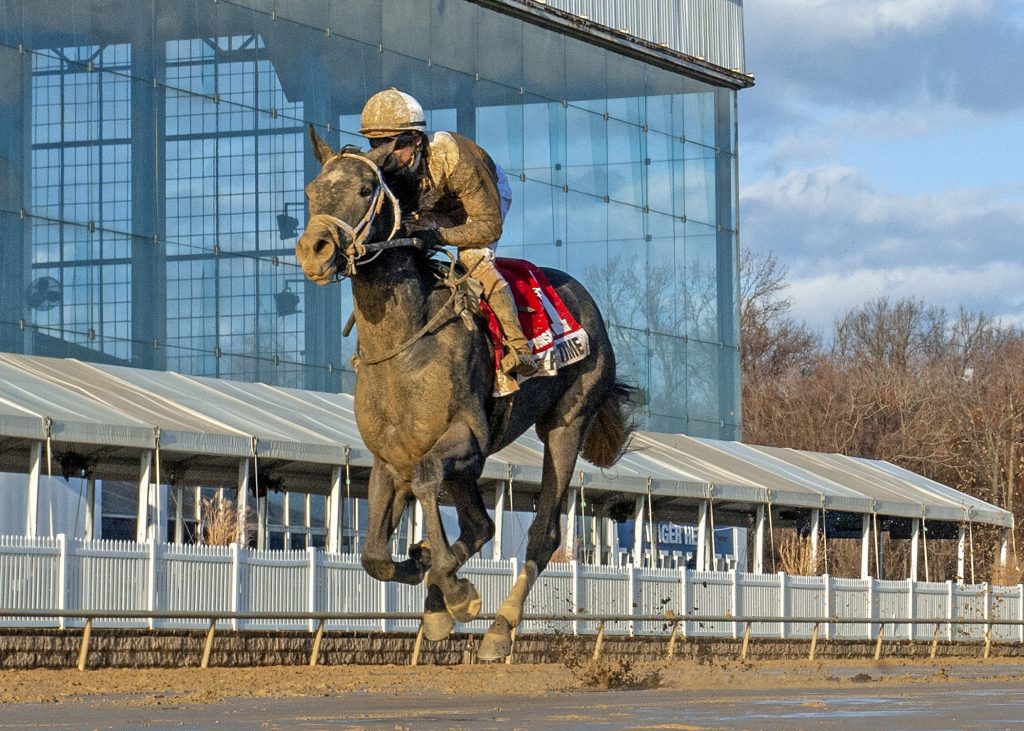 After stints as an exercise rider and assistant trainer with several trainers, Camacho landed with Brittany Russell's Laurel Park operation. Earlier this year, he found himself on a talented but flighty colt.
"I was getting on him in the morning and I was breezing him, and everything was so easy to him," Camacho said. "Nothing was hard. Some days I'd gallop him a mile, and he'd come back on his hind legs, and I'd have to take another half or else I wouldn't make it back home."
Post Time had his unveiling in an off-the-turf sprint October 7 at Laurel Park, rallying, at 5-1 odds, to post a two-length victory. He followed up, at 2-1 odds, with a nearly-seven-length win versus allowance rivals three weeks later.
Today Post Time was sent off at even money.
But he was away a bit slowly once again and found himself in last while 1.10-1 second choice Johnyz From Albany, the flashy Maryland Million Nursery winner, established the front, narrowly at first and more decisively later. Johnyz From Albany had a two-length lead after a half-mile in 45.81 seconds.
But by then, Camacho had his mount in gear, and Post Time made a sharp wide move rounding the turn.
"All of a sudden, he was all the way back, and [track announcer] Dave Rodman said, 'He's got a lot of ground to move up,'" Charles said. "But you know what? He's just an amazing horse."
Post Time moved up to nearly even terms in mid-stretch and went by Johnyz From Albany readily to the win. It was another 3 ¾ lengths back to show horse Coffeewithchris. Running time for the seven furlongs on a muddy, sealed main track was 1:23.98.
Post Time paid $4.00 to win, and the exacta returned $2.80 on a one-dollar wager.
The win established Post Time as the year's top two-year-old Maryland-bred, and it suggested that open company should suit him just fine, too. And it's the time of year to start dreaming bigger dreams. A Maryland series of sophomore stakes leads to the Preakness; it's a short ship up to New York with bigger stakes leading to a bigger prize.
"We have a few different avenues we could take," Russell said. "We have the series here in the spring, but you know, we might need to start looking outside the box."
One thing that Ellen Charles has mastered after many years in the game, though, is enjoying the moment and not getting too far ahead of herself.
"You know we have done so well with him because Brittany has been so careful with him," Charles said. "Especially with two year olds, sometimes you get so excited and then you lose him for a while. So I'm sure he'll have some time off and see where we think we should go from there."
NOTES One race prior, Malibu Moonshine, the 6-5 favorite, rallied from well back to win the $100,000 Maryland Juvenile Filly Championship by two lengths in 1:24.95. Angel Cruz had the mount for trainer Charlton Baker on a horse owned by Happy Face Racing Stable. Malibu Moonshine is now two-for-two in her brief career.
LATEST NEWS