Brittany Russell chasing history, and Gonzalez
Press Release

December 28, 2022
As 2022 draws to a close, Brittany Russell stands on the precipice of history.
The Laurel Park-based trainer has already reached career highs with 442 starters, 98 wins and $4.3 million in purse earnings. She became just the fourth woman to win a meet title in Maryland at Laurel's spring stand – the mother of two clinching the honor on Mother's Day – and the first to do it twice when she led the standings during the Preakness Meet at historic Pimlico Race Course.
Now, the 32-year-old Pennsylvania native is poised to take it one step further. She is not only on the verge of securing her third meet championship at Laurel's calendar-year ending fall stand but becoming the first woman to finish the year as the state's leading trainer.
Russell will exit the Christmas break with 28 wins at Laurel fall, seven more than runner-up Jamie Ness with three racing days remaining, Dec. 29-31. Her 72 wins from 297 starters were just two fewer than five-time defending champion Claudio Gonzalez (74-371) for the overall Maryland title. Jamie Ness sits third with 70 wins.
"I really don't pay attention to the numbers and the stats and those things. I just kind of focus on who's next and winning the next race. I try and keep it just day to day," Russell said. "I have people that sort of remind me regularly, but I don't like to think about it. I just like to think about the individual horses I have to get ready to run and getting those things accomplished."
Other females to win meet titles in Maryland are Karen Patty (1992 Pimlico spring), Mary Eppler (2016 Laurel fall) and Linda Rice (T-1st, 2017 Laurel winter. Though proud to join that group, Russell's emphasis is being a successful trainer, period, regardless of gender, while also being a mother to the 3-year-old daughter, Edy, and 1-year-old son, Rye she shares with her husband, champion jockey Sheldon Russell.
"I don't think about those things. I think about the job as far as being a mom and a trainer, because it's such a balance," Russell said. "I'm juggling a lot, but it takes a village. We have my staff at the barn. We have Sheldon's mom. It takes so many good people on your team. I'm blessed. We have these good people around us for a reason, and it makes me feel good."
"The female trainer thing, I get it, but I think it's more about being a mom," she added. "I wanted to train and I wanted to do what I'm doing, but I also wanted to have children. I didn't know how difficult it would be until we were in it, but I wouldn't trade it for anything now. We're going to hopefully keep this good thing rolling and my kids can grow up and be part of it if they want to."
Russell's introduction to horses came at a young age while working at local farms growing up in Peach Bottom, Pa. After a brief stint riding amateur races she turned to training, working for such horsemen as Hall of Famer Jonathan Sheppard, Brad Cox, Jimmy Jerkens and Ron Moquett before going out on her own, winning with her first starter, Oh My, Feb. 25, 2018 at Laurel.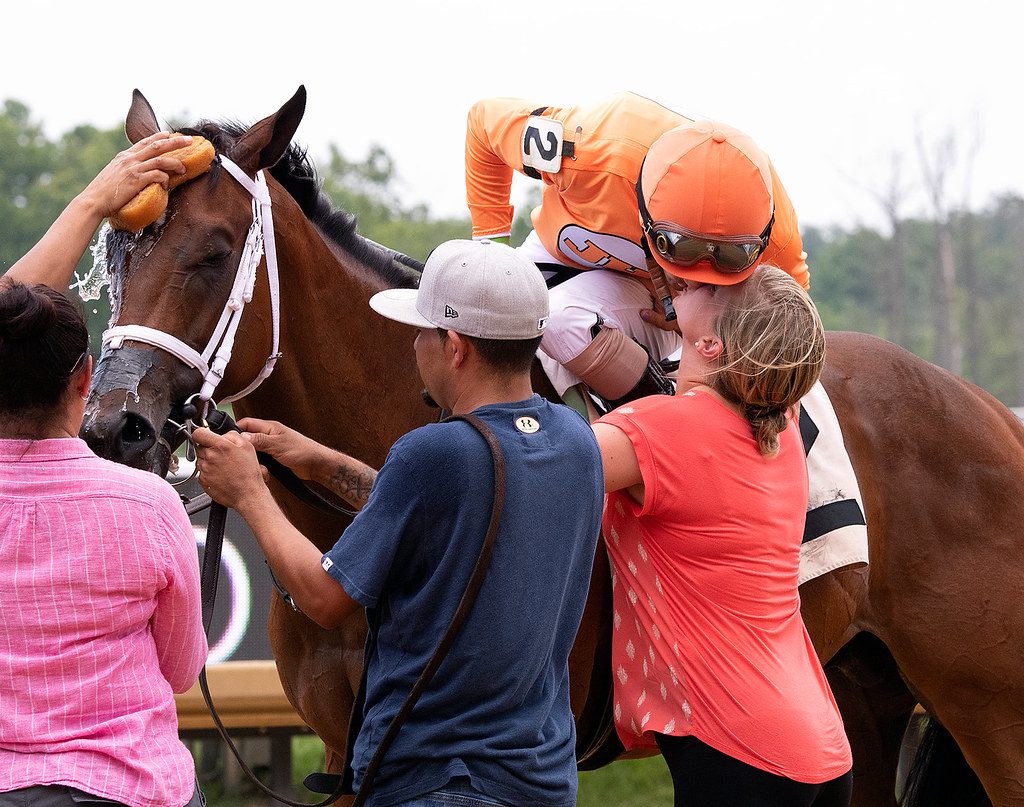 Her breakthrough year came in pandemic-shortened 2020 when she won 46 of 159 starters and surpassed the $1 million mark in season earnings for the first time. Russell went 71-for-274 last year, topping $2.8 million in purses earned and winning her first graded-stakes, the Bold Ruler (G3) at Aqueduct with Wondrwherecraigis on the day before her son was born.
Russell is quick to credit her whole team, from her husband to assistants Emma Wolfe at the Fair Hill Training Center in Elkton, Md. and Luis Barajas at Laurel to her riders, grooms, hotwalkers and staff, for the success they've shared.
"It's amazing how we've grown. It's amazing what we've accomplished so far. I'm so proud of everybody really," Russell said. "We have multiple strings. Emma's up at Fair Hill getting these young horses going. It's hard to get a lot of 2-year-olds in and to do everything. It's really hard to do it, and to grow. My team's done such a great job of helping me get to where we are."
Currently Russell has 40 horses at Laurel and another two dozen at Fair Hill, down from the 80 to 90 she'll oversee during the summer months. In addition to 'Craig,' who recently returned to the barn after getting some time off, Russell's top horses include Hello Beautiful and Whereshetoldmetogo, both retired as multiple stakes winners with more than a half-million dollars in purse earnings.
"At the end of the day you look at the quality of the stock that we have and I feel like each year it's gotten a little better. We're just lucky," she said. "You see some of the horses we have in the barn, and that's what we're trying to accomplish. We're trying to find those good ones and win races with them and hopefully we can keep our clients happy and buying good horses and get them to the winner's circle."
Russell has one horse, Dunder Boss, entered in the opener as live racing returns to Laurel Thursday. She'll be busy with six starters on Friday – the Christmastide Stakes Day program rescheduled from Dec. 26 due to weather – including horses in four of the six $100,000 stakes.
Michael Dubb and Morris Bailey's Prince of Jericho is the 8-5 program favorite in the seven-furlong Heft for 2-year-olds, exiting back-to-back victories by 17 combined lengths. It will be his stakes debut.
"He's a little super horse. He's doing well and I'm excited," Russell said. "He's kind of taken us into this spot. These are the kinds of horses you want to run in stakes. You feel good going into it because they brought you here. You're not just taking a swing. I feel like he's kind of earned his shot."
S B Stables and GenStar Thoroughbreds' Tappin Jose is set to make her seventh career start in the seven-furlong Gin Talking for 2-year-old fillies and the first since being claimed by Russell for $62,500 out of a Nov. 14 win at Laurel.
"She hasn't had a bad day and she likes Laurel. There's plenty of positive reasons for why we would take a swing in the stake," she said. "She's trained really well for us. It is tricky to claim one and [then] run her right in a stake. We do like her, but it's also a big step so hopefully she responds."
In the 6 ½-furlong Willa On the Move for fillies and mares 3 and up, Russell will be represented by Cash is King and LC Racing's Juror Number Four. The 4-year-old filly has placed in three stakes including seconds in the 2020 Maryland Juvenile Fillies and most recently the Nov. 25 Politely behind Fille d'Esprit, who also returns in this spot.
"She's great. It was kind of our last opportunity to sort of take a swing with her for the year. The plan will be to freshen her up after this race," Russell said. "She's honest. She always runs a good race. Obviously, she's always running against horses like Fille d'Esprit and Street Lute. There's always a tough one. Fille d'Esprit isn't the only tough one in there, either. It's a tough little race, but she's doing great and I think she'll like the 6 ½ [furlongs]."
Russell's final stakes starter comes in the 1 1/8-mile Carousel with The Elkstone Group's Hybrid Eclipse, whose two wins in five tries since joining the trainer's string this summer came in the one-mile Caesar's Wish July 2 and 1 1/16-mile Thirty Eight Go Go Nov. 12 at Laurel. Elkstone's Stuart Grant bought the 4-year-old filly privately following the Caesar's Wish.
"She's great," Russell said. "She's been nothing but good for us and I expect a good race from her again."
Russell also has a potential superstar on her hands in Hillwood Stable's Maryland-bred Post Time, undefeated in three starts including the Maryland Juvenile Dec. 3 at Laurel in his stakes debut. Russell and owner Ellen Charles opted to keep the Frosted colt out of the Heft and point to January for his next start.
Among the options are the one-mile Jerome (G3) Jan. 6 at Aqueduct and the seven-furlong Star de Naskra Jan. 21 at Laurel. Post Time won his debut and an optional claiming allowance 20 days apart in October prior to his Juvenile victory. "We always kind of wanted to give him a little space in between races," Russell said. "We have loads of options. We're going to let him tell us. Now we're fighting some weather. It's no secret he's kind of had some issues with his feet, and he won't see the racetrack unless it's good. We're just taking care of him right now, staying patient, and he's doing great."
LATEST NEWS