Millionaire Runnin'toluvya retired
He had won his most recent start against allowance company at Charles Town, outlasting the late surge of Buff's Eye View, who would finish third in the $300,000 West Virginia Breeders Classic on Saturday night. Nevertheless, Runnin'toluvya had given both Tim Grams and wife Judy Grams, who handles the galloping chores for the Fiber Sonde gelding, enough of an indication that they should take him out of training.
Runnin'toluvya had emerged on the scene as a dominant force among West Virginia-breds around the same time that Grams retired his talented distaffer, Moonlit Song. A daughter of Fiber Sonde whose full-sister Moonlit Shadow competed in the Cavada last Saturday night, Moonlit Song won two state-bred stakes at age two, captured the Sylvia Bishop, Sadie Hawkins and Cavada at age three, and then was second in both the Sadie Hawkins and Cavada the following year.
In a racing career that went from 2016 to 2019, Moonlit Song finished with 14 wins and over $400,000 banked from 26 career tries, making her, at the time, Grams's richest runner. She then immediately passed the torch in the Grams barn to Runnin'toluvya.
The final start of her career came March 14, 2019, Just 15 days later, Runnin'toluvya won the Russell Road Overnight Prep Stakes over his home track and three weeks later followed that up with his signature score, in the Grade 2, $1 million Charles Town Classic, prevailing by a half-length after a long duel with Diamond King.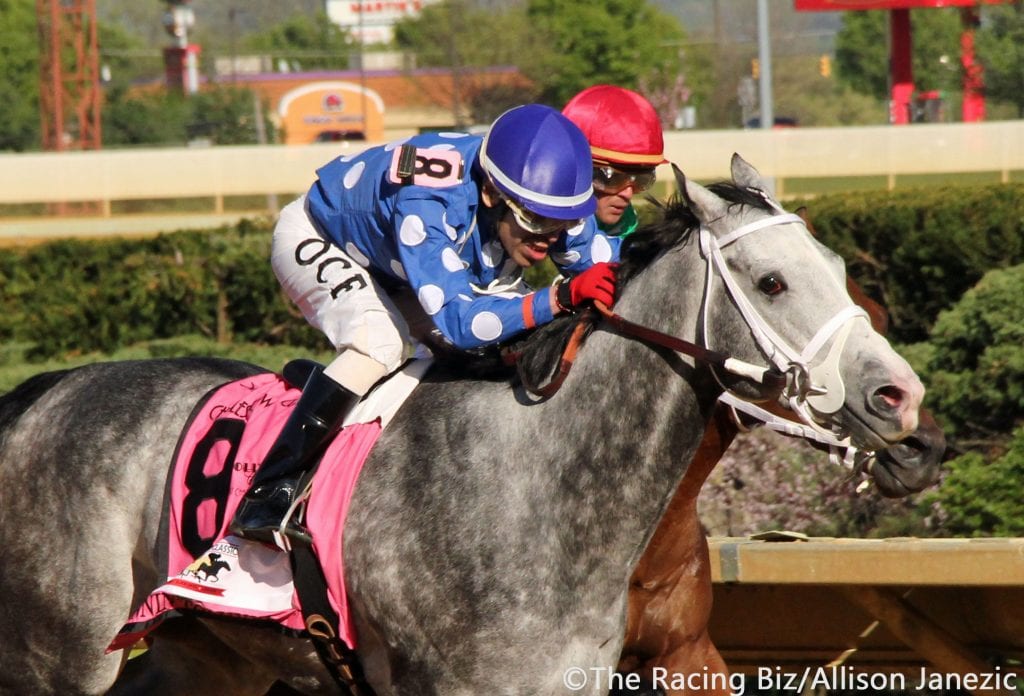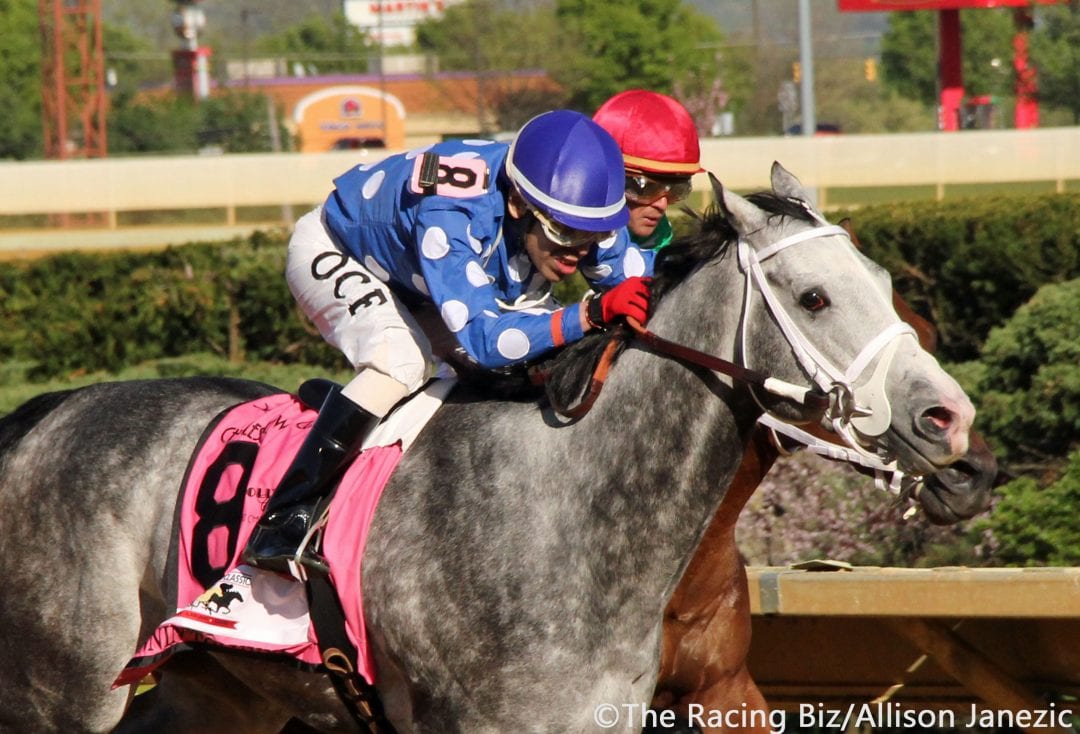 "That was another reason why we wanted to stop with him when we did," Grams said. "Runnin'toluvya was really good and he was really coming into his own about the same time that we retired Moonlit Song. I'll tell you, I never thought I would have another horse like Moonlit Song after she won all of those stakes at age three and beat older fillies and mares in the Sadie Hawkins and the Cavada. But she just wasn't the same the first part of her five-year-old season so we stopped with her. Lucky for us, Runnin'toluvya was right there."
Like Moonlit Song, Runnin'toluvya had also won a stake at age two, taking the Vincent Moscarelli Memorial Breeders' Classic, but he suffered an injury when ninth in the James F. Lewis Stakes at Laurel and did not return to the races again for 18 months. He won his first start at age four and later developed into one of the most formidable West Virginia-breds of the decade by posting emphatic stakes victories in the Frank Gall, West Virginia Breeders' Classic and A Huevo at age four.
"You know, when he ran against Diamond King that day, that was probably the first time that he really had to dig down and give it everything he had," Grams said. "That changed him. He had won most of those other races so easily. I never knew just where the bottom was with him. But when he beat Diamond King in the Charles Town Classic, he really had to give it everything that he had. He wasn't used to having to dig down and battle like that, so in a way that race changed him."
With Runnin'toluvya officially retired on the night that the WVBC welcomed nine more winners to its honor roll and six state-breds were officially inducted into the inaugural class of the West Virginia-bred Hall of Fame, Grams could finally reflect on his career, which had been a blend of the superb and bizarre.
His high-strung nature required Grams to pony him on race nights. His gate antics cost him any chance in the 2019 Classic won by 68-1 outsider Castle Bound. He was scratched after being unruly in the latest renewal of the Frank Gall Memorial this past August.
But when he was good…
"He was such a talented hose, but he was also such a handful," Grams said of Runnin'toluvya, who becomes eligible for West Virginia-bred Hall of Fame status in 2028 along with the recently retired Star of NIght. "I mean, he had to have the pony with him in the paddock and he needed to remain calm loading and then you had to hope they sprung the latches before he would act up. He had a tremendous career. He meant so much to me and Judy. His racing days are over, but he's always going to be right there with us at the farm."
LATEST NEWS