Majority interest in Mo Money Mo Honey sold
"It's a storybook, man. I keep pinching myself. It's surreal. I'm not sure it's actually happening," said R.J. Bistle, co-owner since 2005 of Metropolitan Moving & Storage in Laurel who races as Metropolitan Thoroughbreds. "It's unbelievable."
He wound up on a farm in Kentucky where he was put up for sale along with other well-bred horses by sires such as American Pharoah and Tapit. Feliciano found him and Doser and Bistle agreed to split the purchase price – $15,000.
"He was kind of like a forgotten horse a little bit, just sitting there on the farm. I guess nobody had much faith in him," Feliciano said. "He's well-bred; I don't know how he ended up out there. He was just sitting on that farm, and he was huge when we brought him in, big and fat. But, he is nice. It was hard to put him on that van."
Mo Money Mo Honey debuted July 16 at Laurel, romping by six lengths in a 5 ½-furlong maiden special weight, crossing the wire in 1:04.62 under a hand ride from Horacio Karamanos. He returned in a six-furlong entry-level allowance Aug. 14 against older horses and cruised by seven lengths in 1:09.54, then beat his elders again by 4 ¼ lengths in a second-level allowance Sept. 23 at Pimlico Race Course. The winning time was 1:09.92.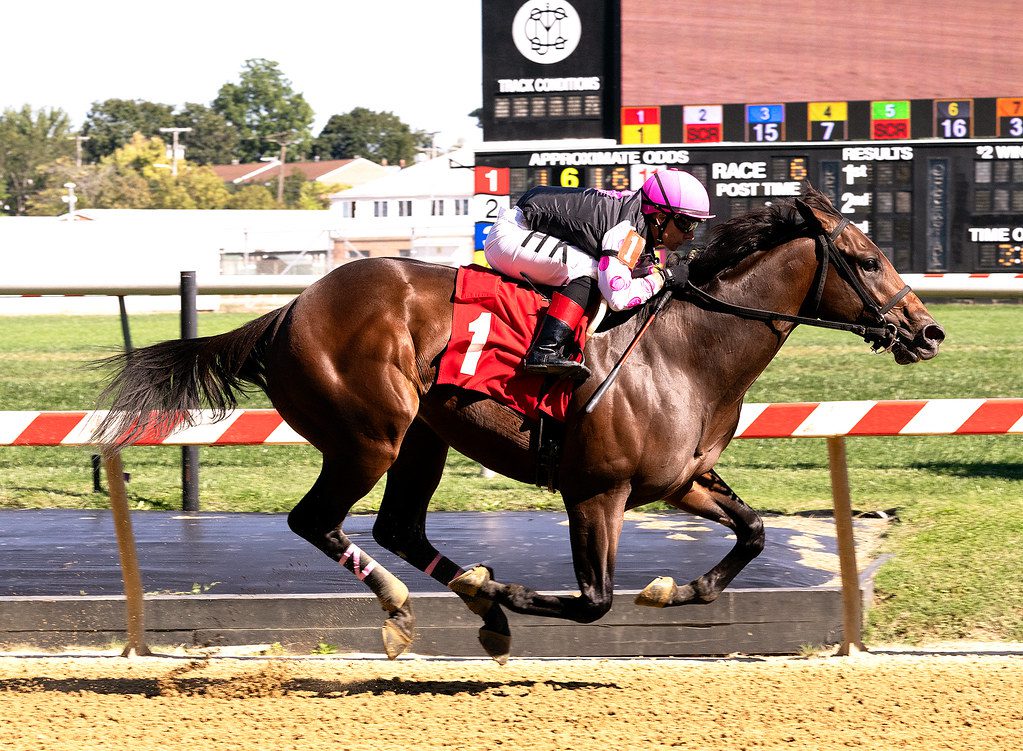 "He's running those times, and he just does it so naturally. I don't even know if he's a speed horse. I think he's just talented and he just goes to the lead," Feliciano said. "I think he can do either or. We rated him the one time and he was fine. The best may be yet to come. He may be good going long. He might be a better horse at that. If he can carry that speed, he'll be dangerous no matter where he goes."
Outside interest in Mo Money Mo Honey came quickly following his unveiling, and increased each time he ran. Ultimately, it was Repole's offer that won out.
"We received offers after all three of his races, and they gradually got bigger as the horse raced with more widespread interest," Bistle said. "Our intention was to keep some money and stay with the horse, and doing both allowed us to have the benefit of both. We get to put some money in our pocket and we get to go watch the horse race as an owner. It's the best of both worlds, really."
Bistle was quick to point out the contributions of Felicano, Maryland's Trainer of the Year in 1998, and his team for both finding and developing Mo Money Mo Honey.
"I'm so happy. I hope that this horse continues to do well and shines a positive light on horse racing at Laurel," Bistle said. "Benny Feliciano deserves most of the credit for this. Benny found this horse and trained this horse perfectly and professionally. I hope that people at Laurel Park and elsewhere will realize how professional a job he did, especially considering this horse is not racing with equipment or medication. He's handled this colt perfectly. Benny and the people in his barn are the ones that transformed the horse into who he is today.
"He's a monster," he added. "He's muscular, and we hope he stays fit. We hope God watches over him and keeps him healthy, because that's probably the hardest part of this business. We look forward to his future."
LATEST NEWS