Hessica scores in WVBC Cavada
Because outrider Kristy Petty is also breeder-owner-trainer Kristy Petty, and she had just watched as her three-year-old filly Hessica surged to the lead, held off the late bid of favored The Sky Is Falling, and secured the first stakes win of her career in the year's biggest event for state-bred fillies and mares.
"She keeps getting better," Petty said. "I knew she'd try."
Petty nominated her charge both to the Cavada, against older fillies and mares, and to the West Virginia Department of Tourism Breeders' Classic, which is for three-year-old fillies. But the increased purse – the Cavada's is $50,000 higher – and the short field of the Cavada convinced her to try her luck there. Only seven were entered in the Cavada, with one, C V's Powerpak, a vet scratch.
When the gates opened in the Cavada, Boundtobeok and Moonlit Shadow immediately hooked up on the front end. Those two raced heads apart through an opening quarter-mile in 23:58 seconds and a half in 47.74.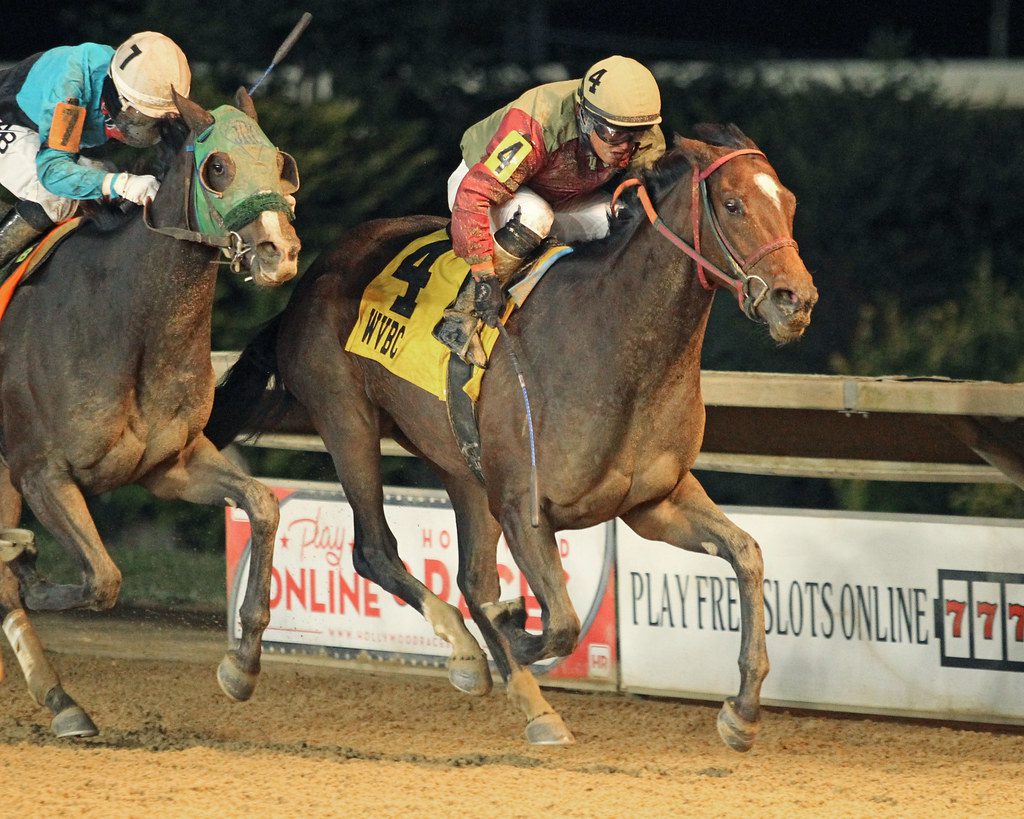 Jockey Antonio Lopez, meanwhile, was able to get Hessica nicely installed just a length or two off the dueling leaders. It proved to be an ideal spot: the duel took the starch out of the early leaders, and from third, Hessica got the jump on her other rivals, particularly The Sky Is Falling, who had won the Bishop Memorial and went off here at odds of 9-10.
Hessica surged to the lead approaching the quarter pole, drew clear, and then held off The Sky Is Falling to win by a half-length in 1:27.38 for seven furlongs over a track rated fast.
"She made the lead going into the far turn, and I still had plenty of horse left," Lopez said. "I knew [The Sky Is Falling] was going to come at us in the lane. But I still had a lot of horse left. I showed her the whip, but I never hit her."
"I was sitting on the pony down there on the turn when she took the lead, and I started riding," Petty said with a laugh. "She had her ears pricked, and I said, 'Put your ears back and keep running.'"
Hessica paid $17.00 to win, and the exacta, with the favorite underneath, returned $19.40 on a one-dollar wager. It was another couple of lengths back to show horse Azzurra.
The win was Hessica's fourth from 14 career outings and increased her bankroll to $164,436.
"This horse had been training really well in the mornings," Lopez observed. "She was really saving herself for this race."
"I feel like I'm in the clouds," Petty said. "I'm thankful – very thankful."
LATEST NEWS