WVBC: Bocachica hoping to be "as lucky" as in 2021
Bocachica, who is well on his way to capturing the riding title at Charles Town in terms of wins and earnings, will look for repeat scores in both the $300,000 West Virginia Breeders' Classic aboard likely odds-on choice Muad'dib and in the $125,000 Cavada aboard presumptive chalk The Sky Is Falling.
For Bocachica and Runco it all starts with Muad'dib, the once-beaten full-brother to multiple graded stakes winner Late Night Pow Wow. Muad'dib was most recently second to Art Collector in the Grade 2, $1 million Charles Town Classic. The five-year-old Fiber Sonde gelding had been favored in all 10 of his previous outings, including the odds-on choice nine times while facing West Virginia-breds. He was dismissed at 12-1 in the Charles Town Classic but delivered a superb effort while second to defending champion Art Collector.
"He ran such a big race in the Classic," Bocachica said. "I knew he was going to be good in there. I was able to sit right alongside Art Collector and we really weren't going much early. He got away from me a little bit that last furlong, but my horse ran great to hold onto second. That race didn't take anything out of him. He's been doing great since then, and I can't wait to ride him again in the Classic."
While Muad'dib is 3-5 on the morning line for his Classic title defense, Bocachica is not taking anything for granted. When there's $300,000 on the table, everybody shows up.
"I think there are some going to be some good ones in there again," Bocachica said. "Candy Invasion ran a big race last time. It looks like he wants to go even further. That last time he won here at a mile and an eighth by nine lengths, and he got a big [speed] figure for that race. He looks like he's coming into the race really good, so I know I'm going to have to be looking for him at some point turning for home."
Last year, Bocachica swept the two biggest races, the Cavada and the Classic, aboard what turned out to be co-West Virginia-bred horses of the year Star of Night and Muad'dib. Though the latter is back, the former has been retired and will not seek to defend her title.
Regardless, Bocachica will still likely be atop the post-time Cavada choice in The Sky Is Falling, a sophomore daughter of Cupid who was last year's West Virginia-bred two-year-old filly champion. With two stakes wins in the bank already, she looks to be well on her way to earning the title as champion three-year-old filly.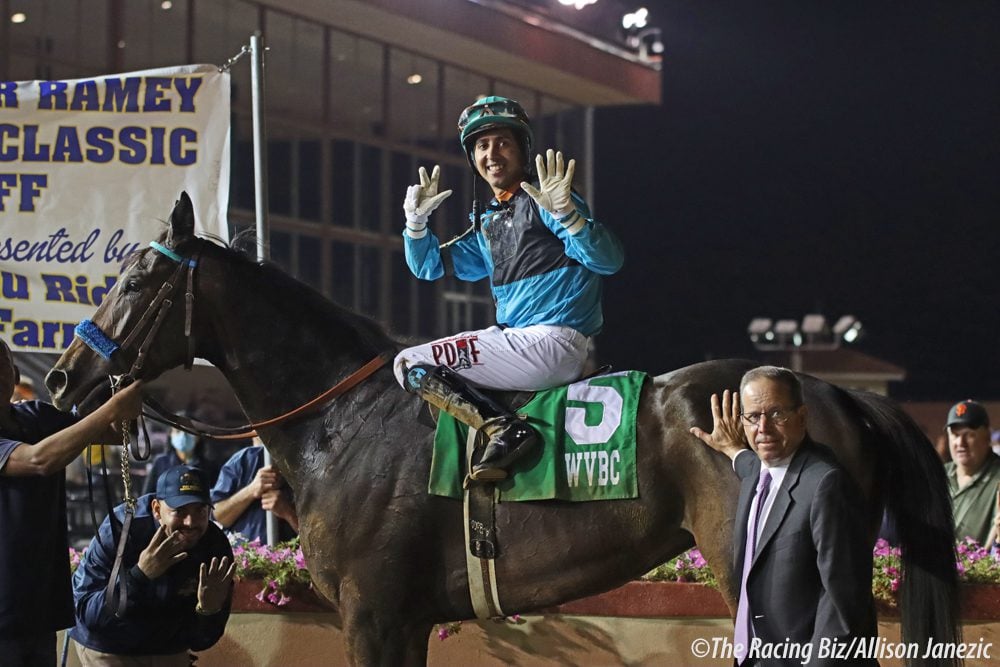 Although Bocachica was still a little reluctant to compare her to Star of Night, the reigning two-time West Virginia-bred horse of the year who shared the honor with Muad'dib last season, he remained very complimentary of The Sky Is Falling.
"She's really good right now," Bocachica said. "I think it showed me and Jeff a lot a few races back when she beat older fillies in that allowance. Then she came back and beat them again in the Sadie Hawkins. Star of Night was really good at three, but she didn't face older fillies until the end [of the year]. The Sky Is Falling has been really good for a year now. She finished up last year strong and she really hasn't missed a beat this year."
Bocachica will start his evening aboard Penguin Power, the even-money morning line favorite in the 4 ½-furlong Dash for Cash. And then, just prior to the Cavada-Classic combo, he will ride 8-5 choice Social Chic in the Onion Juice. Bocachica and Runco will also seek WVBC success with with two-year-olds Pinnacle Reef and Sail On Breeze, a filly, both of which will be seeking their first stakes victories.
"Social Chic ran well last time, but he likes to wait on horses when he makes the lead," Bocachica said. "That's why he got disqualified in the Gall. I moved with him too soon and he was waiting on horses turning for home and we came in and bothered ]Fancy Concho]. He doesn't like to draw away when he makes the lead, so I need to be more patient with him in the Onion Juice."
"Penguin Power was really good last time out in that prep race," Bocachica added. "We really did not want the rail, but we were able to work a great trip. It doesn't always go that way when you draw the rail going 4 1/2. I hope he draws outside [in the Dash For Cash]. Pinnacle Reef always outworks Xcellent Start in the mornings, but he hasn't run his best race yet. I think they both want to go longer. Sail On Breeze got pressed early [in the Rachel's Turn] and she didn't like that. I think she will also be better going two turns. It will give her a chance to relax."
LATEST NEWS