WVBC: The Sky Is Falling pointing to Cavada
Ted Black

September 26, 2022
Although it may be too soon to compare her to the recently retired Star of Night, the two-time West Virginia-bred horse of the year, The Sky Is Falling is certainly trending in the right direction.
The sophomore daughter of Cupid took a big step forward August 26 by besting older foes to take the $75,000 Sadie Hawkins Stakes for state-bred fillies and mares for her fourth career stakes victory.
Winning Time scores in PA Nursery

Debut winner Winning Time handled the step up to stakes company with aplomb, winning Tuesday's $200,000 Pennsylvania Nursery Stakes at Parx.
Out of the Half Ours mare Miss Henny Penny, The Sky Is Falling was bred in West Virginia by Catherine Jennings and Scott Mallory. She will head into the $150,000 West Virginia Cavada Breeders' Classic next month riding a four-race win streak that also includes a prior score in the $75,000 Sylvia Bishop Memorial. Last fall she captured both the Triple Crown Nutrition BC and the Eleanor Casey Memorial en route to being named champion West Virginia-bred two-year-old filly.
"She's not quite Star of Night, but she's getting close," said trainer Jeff Runco, who conditions the filly for owner David Raim of Muad'dib fame. "I don't know if she has as much talent as Star of Night, but she's already proven that she can beat older fillies and mares. When Star of Night was three she didn't race older horses until her very last start that year. The Sky Is Falling showed me she could beat older fillies in those allowance races and she came right back to win the Sadie Hawkins."
Retired earlier this year, Star of Night, a daughter of Creative Cause, won once in two starts this year and recorded 12 victories and three runner-up efforts from 15 career outings, earning just over $400,000 along the way for owner Huntertown Farm.
She had won nine consecutive races, including six stakes, prior to running second in the Original Gold this past April in her seasonal debut. She rebounded to win an allowance race the following month, but she was retired well before the other stakes races got under way.
The Sky Is Falling won three of four starts last year at age two, ending the campaign with a pair of state-bred stakes victories. After a moderate vacation, The Sky Is Falling finished third in an allowance race in April but has since rebounded from that defeat to capture both the Sylvia Bishop Memorial and the Sadie Hawkins, often viewed as the definitive prep for the Cavada.
Star of Night did not follow that same path at age three, bypassing the Sadie Hawkins and Cavada and instead winning the WV Tourism Office Breeders' Classic for three-year-old fillies.  But she won both of those events at age four en route to sharing the WV-bred horse of the year honor with stablemate Muad'dib.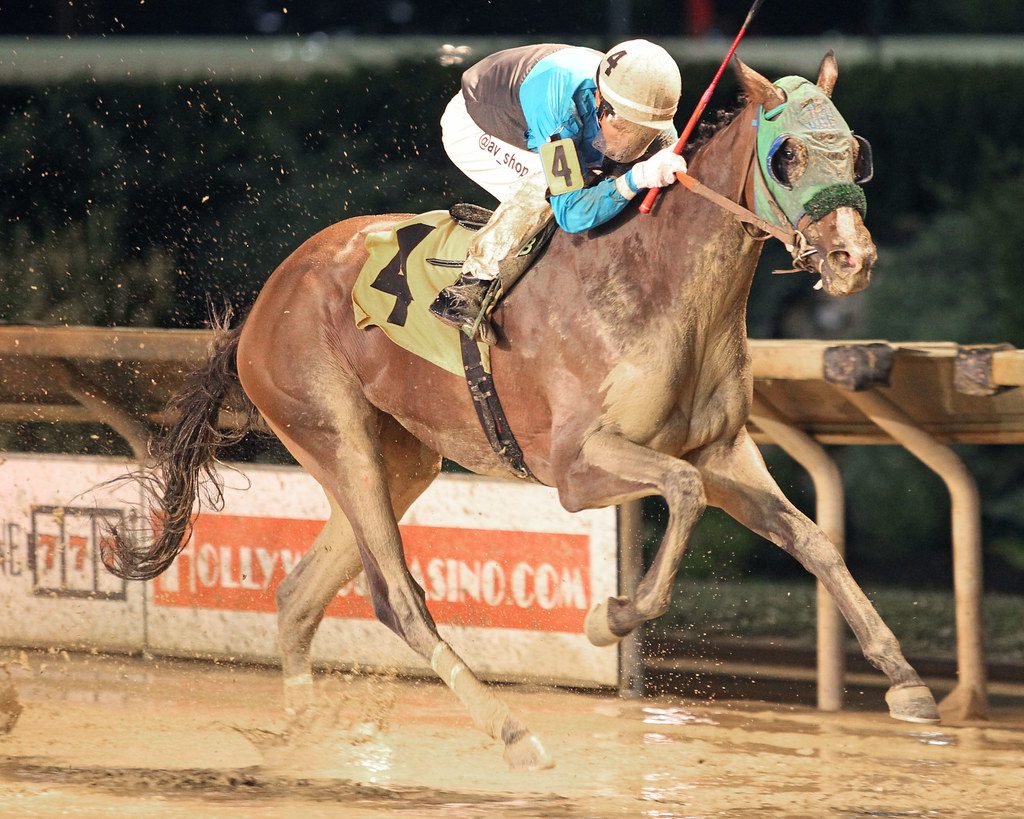 "Her last four races have really been good and she's already proven that she can beat older horses," Runco said of The Sky Is Falling, who sports seven wins and over $235,000 banked from nine lifetime tries. "Obviously, Star of Night won't be in there to defend her title but [The Sky Is Falling] is going to be tough to beat. There's no Star of Night and there really isn't a standout in the older mares group with Anna's Bandit and Late Night Pow Wow also retired long ago. She'll get one more work leading up to the race, but I think she's going to be tough to beat in the Cavada if she runs her race."
Runco won both the Cavada and the Classic last fall with eventual co-horse of the year honorees Star of Night and Muad'dib – two of his unprecedented seven winners on the card – and he could garner both stakes again this year with two horses owned by Raim. In addition to The Sky Is Falling, defending Classic champ Muad'dib recently ran a huge race to be runner-up in the Grade 2, $1 million Charles Town Classic in his first defeat in 11 career outings. 
Runco did not want to celebrate those triumphs too soon, but admits his tandem will be tough to beat in the two features.
"I think they're both coming into the Breeders Classics in great shape," Runco said. "The Sky Is Falling has been doing great all summer and Muad'dib came back great from the Classic. I mean, he's doing better than ever. That race didn't take anything out of him. He'll probably get one more work leading up to the Classic, but he's doing great and I expect that both him and The Sky Is Falling are going to be tough to beat."
LATEST NEWS