Late developer Leader of the Band takes connex to Spa day
Teresa Genaro

August 24, 2022
On Friday, Aug. 19, Will Schwartz and his family had just passed the twin bridges on I-87 North when his phone rang.
Those bridges—technically, the Thaddeus Kosciusko Bridge—are a fairly universal "I'm almost in Saratoga!" symbol, and Schwartz, on his way up from Philadelphia to watch his homebred Leader of the Band run that afternoon, figured he was "home free" after crossing the Mohawk River.
FTC urged to reject HISA rules

Ten members of Congress — five Senators and five Representatives – have urged the FTC to reject HISA's proposed drug rules
"I've got bad news," said trainer John Servis, calling from the track.
"My stomach dropped," said Schwartz. "I figured I had to get off at the next exit and head home."
Servis was calling to tell Schwartz that jockey Joel Rosario was off his mounts that day and they were going to need to find a substitute.
"It didn't take us long," said the owner, "to agree that Johnny V was the right guy."
A few hours later, John Velazquez was getting his picture taken after skillfully handling the sometimes-challenging filly to a three-quarters length win in the Summer Colony Stakes.
The win was a milestone of sorts for pretty much everyone involved: Velazquez got one step closer to notching his 1,000th win at Saratoga (he sits at 998). Servis got his first Saratoga win since Jostle won the Alabama in 2000. And Schwartz got his first win at the upstate track.
"It's been a dream of mine to race at Saratoga," said Schwartz. "But to win a race—let alone a stakes race with a homebred…and the fact that it happened with my son with me—all in all, it was a pretty special day."
Schwartz claimed Leader of the Band's dam, Catsuit, on May 25, 2004. Servis was already training horses for him, but Schwartz asked trainer Donald Reeder to drop the claim slip at Philadelphia Park.
"Ten days earlier, Smarty Jones had won the Preakness," said Schwartz. "John was a little busy."
Schwartz, who races as SMD, Ltd, ran Catsuit once and then bred her. She's had nine foals for Schwartz, all Pennsylvania-breds; eight have made it to the races, all but one of them winners.
"They've been successful in the Mid-Atlantic," he said. "No superstars, but two or three with black type and decent earnings."
With earnings of nearly $553,000, Leader of the Band, by Bandbox, is a Schwartz superstar. From 15 starts, she's got a record of 6-4-3, and Schwartz blames himself for one of her only two finishes out of the top three. 
"She ran sixth in the Cotillion (G1) last year," he said. "I tend to believe that where she races is the trainer's call, but I threw it out to John. We were planning on giving her a 60 – 90-day break, but she had run so well in the Monmouth Oaks (G3) and Cathryn Sophia Stakes, and the race was on our home course, so I said, 'Let's take a shot.'
"She was up against it. Not only did she have a tough trip, but it's tough to face the Clairieres of the world."
Servis and Schwartz aren't sure when or where Leader of the Band will race next, but Schwartz does know that, barring injury, the bay filly will be back next year to race as a five-year-old.
"She's been a little bit of a late developer, both physically and mentally," said her owner, "and that bodes well for her five-year-old year. We're hoping that she continues to stay in great form and even continue to develop further, to be in her prime next year."
Back in 2004, in that same Smarty Jones summer, Servis and Schwartz nearly got to the Saratoga winner's circle together when Joint Return finished second, beaten less than a length in that year's Alabama.
"She came running like a freight train," said Servis. "We were so excited, thinking she was going to win."
Eleven years later, their Percolator was second in the Sanford Stakes (G3) by three-quarters of a length.
This year, they didn't have to settle for second.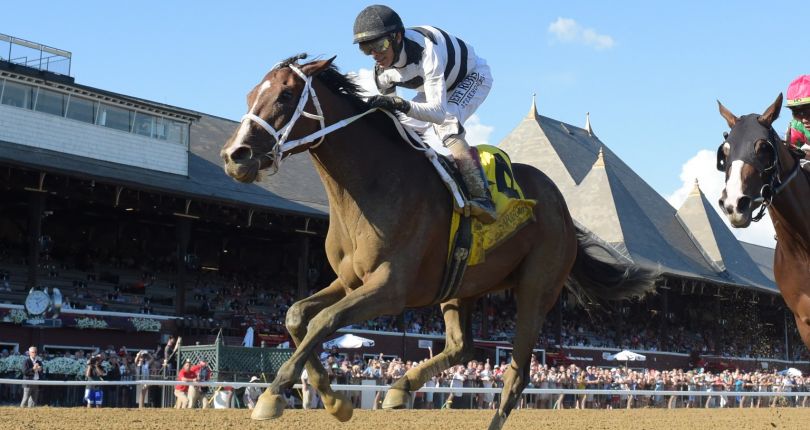 LATEST NEWS