Off to the Races Radio: Lovell, Espinosa featured
Nick Hahn will host with support from Frank Vespe. Derby Bill Watson will join each week to provide his handicapping insights and special brand of humor.
Espinosa on Friday will be the voice of Charles Town's biggest day, when the track hosts the Grade 2 Charles Town Classic and Grade 3 Charles Town Oaks. The son of a former employee of Charles Town — and now a state delegate — and the grandson of a trainer, Espinosa has deep roots at the West Virginia track.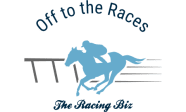 Sponsors include the Virginia Thoroughbred Association, Virginia Equine Alliance, Maryland Jockey Club, Charles Town Races, Delaware Park, and others.
"We appreciate our sponsors who support Off to the Races," Vespe said. "And we especially appreciate all of our listeners."
Each week's show will be archived on TheRacingBiz.com.
LATEST NEWS