Mary Lyons and the view from the other side of the camera
Mike Valiante

June 14, 2022
As a regular patron at Delaware Park, I can guarantee that I know who will be in the winner's circle at that track 99% of the time: track photographer Mary Lyons.
While you can't bet on Mary being there – otherwise, you'd raid your retirement account to get to the betting windows – you can bet that she'll be finding ways to take interesting and evocative photos of the people and horses of Delaware Park.
Mary has been involved in track photography since the early 1980s. She briefly worked at Commodore Downs in Erie, PA and on the Massachusetts fair circuit before landing the job at Delaware. Delaware Park regulars are quite familiar with her work. She is the founder and proprietor of Hoofprints, Incorporated, and she can be spotted in the paddock, winners' circle, and at the finish line with her ever-present sun hat and variety of cameras.
Mary studied photography in her youth, when she also was involved with show horses. By combining her photographic skills with her passion for horses, she has been able to craft a fulfilling career.
"The favorite thing I like to produce is a wall size picture," she said recently, in particular "a composite photo that displays the whole story of the race." 
"The pictures themselves make me smile," she added. "But it is especially great when years later a customer tells me, 'I still have that picture on my home or office wall.'"
She's seen a bevy of good horses in her career. Among the winners she recalls shooting: Barbaro and Tapit, both of whom broke their maidens at Delaware Park before achieving greater fame elsewhere, and Afleet Alex, who won his first two starts at Delaware by a combined 23 lengths before going on to win two legs of the Triple Crown. And that's to say nothing of all of the Delaware Handicap winners – Royal Delta and Songbird, Blind Luck edging Havre de Grace, and so many more – that she's seen.
[
Ghosts of Racetracks past: Always old-timers' day at Commodore Downs]
Her camera-clicking career began before the digital age, and although she acknowledged that "today's equipment is more suited to sports photography," she says she enjoyed the old-style pictures and lab processing.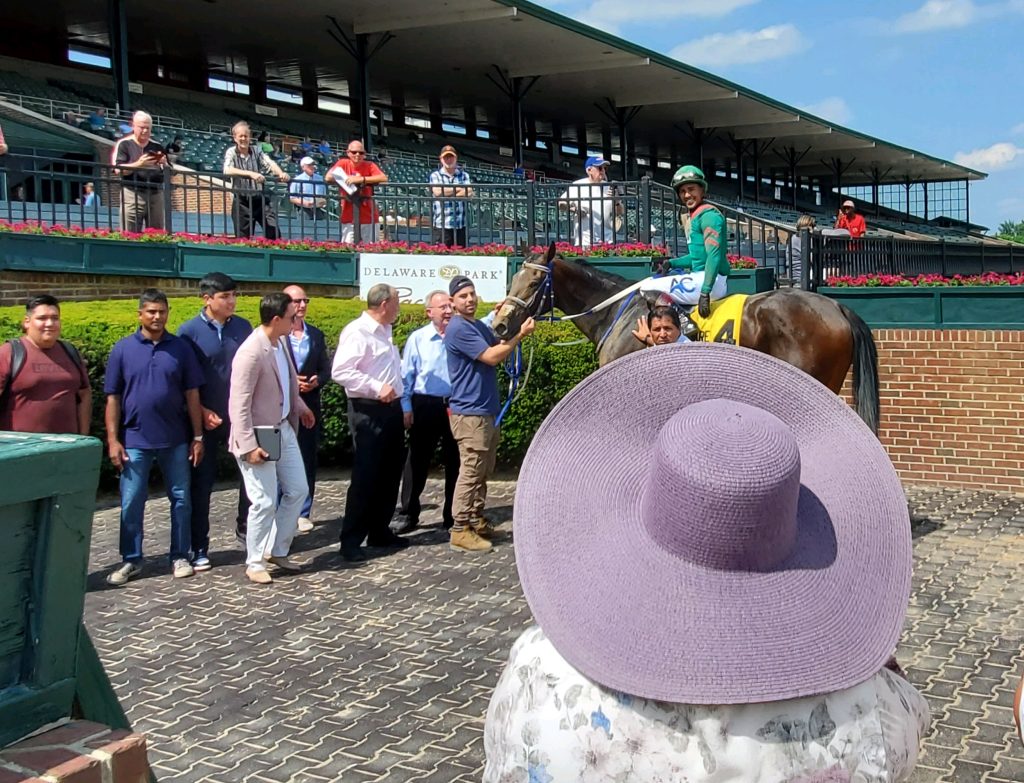 When asked what makes a great picture. Lyons has a one word answer: "Light."
"With racetrack photography you are kind of at the mercy of God's light," she explained.
Well, that and dust. Dust can ruin an expensive digital camera if it gets into the guts of it.
"That is why you will see me with multiple cameras," Lyons said. "Rather than change a lens on a camera at trackside, I just rotate between cameras with a different lens."
There are other challenges in capturing a good winner's circle photo because "a horse typically does not have a long attention span" and she is always concerned with the safety of the people in the picture.
Early in her life. Lyons briefly worked at the Library of Congress. The job was much more formal than racetrack photography and required long hours in the dark processing photos in a lab, in addition to the other hours working in an office setting.
She traded that role for the chance to "work outside, be surrounded all day by winners," and for the opportunity to work at something she loves. "Truly blessed" is how she describes herself.
While she is, of course, proficient in the standard pictures that comprise a win photo, she also has the sharp eye that allows her to frame moments that capture the essence of the racetrack, and the racetracker.
It might all seem easy, like anyone with a smartphone could do it. But it's not; the eye, the timing, the framing, those are all the products of effort, experience, and talent.
"Nothing done well is as easy as it seems," Mary Lyons said.
PHOTOS BY MARY LYONS (HOOFPRINTSINC.COM)
LATEST NEWS