Just One Time strong leader in Top Midlantic-bred Poll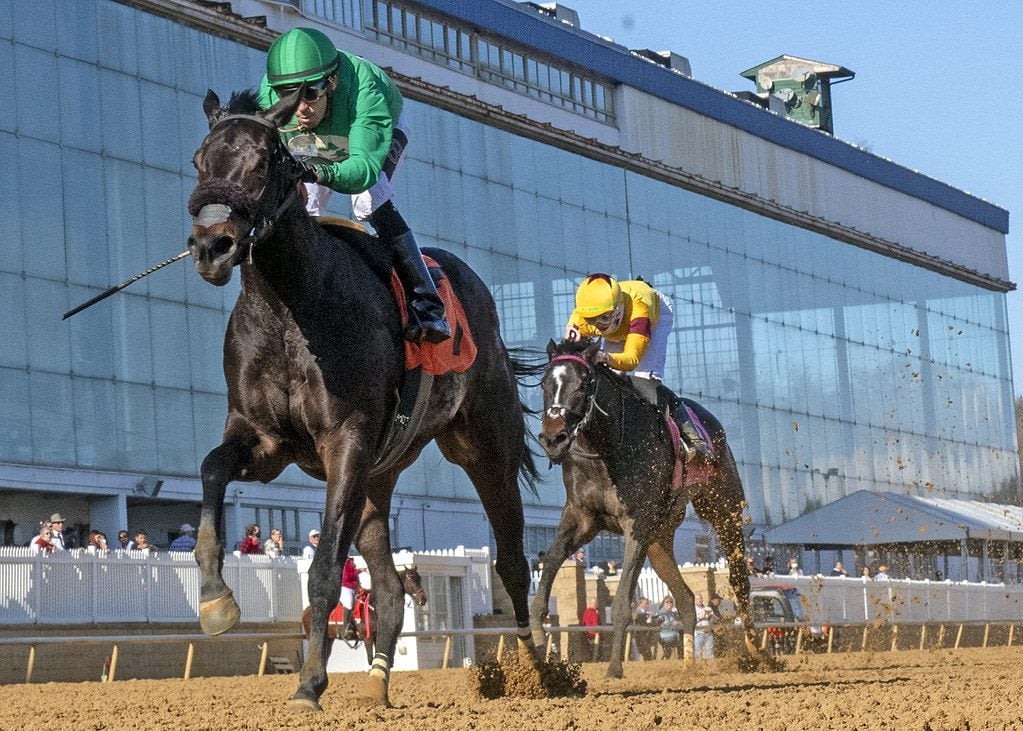 TOP 3yo MIDLANTIC-BREDS
Luna Belle (MD), 3F by Great Notion-Heavenly Moon, by Mojave Moon; bred by Fred Greene Jr., Deborah Greene and Hamilton Smith and trained by Hamilton Smith for Deborah Greene and Hamilton Smith. 2022 highlights: Won Xtra Heat S., Wide Country S., Beyond the Wire S., Weber City Miss S. Previous poll: 1
Joe (MD), 3C by Declaration of War-Battle Bridge, by Arch; bred by The Elkstone Group LLC and trained by Michael Trombetta for The Elkstone Group LLC. 2022 highlights: Won Federico Tesio S., James Murphy S. Previous poll: 2
Morning Matcha (PA), 3F by Central Banker-Home Ice, by Iam the Iceman; bred by Crane Thoroughbred Services LLC and trained by Robert Reid Jr. for LC Racing, Cash Is King LLC and Gary Barber. 2022 highlights: Won Main Line S. Previous poll: 3
Twisted Ride (PA), 3G by Great Notion-Diva's Gold, by Tenpins; bred by Kasey K Racing Stable and trained by Kathleen Demasi for Kasey K Racing Stable LLC, Michael Day, and Final Turn Racing Stable LLC. 2022 highlights: Won City of Brotherly Love S. Previous poll: Also receiving votes
Bazinga C (PA), 3F by Exaggerator-Bazinga B, by Lion Hearted; bred by Joe Besecker & Exaggerator Syndicate and trained by Tim Kreiser for Joe Besecker. 2022 highlights: Won New Start S. Previous poll: NA
Also receiving votes: Witty, Nimitz Class, Miss You Ella, Local Motive, Crosby Beach, Math Man Marco, Click to Confirm, Oviatt Class, Lucylou Who
Note: All horses listed at their 2022 ages.
What happened to Luna Belle? The Maryland-bred Great Notion filly had a five-stake win streak snapped last out when a disappointing 11th in the Grade 2 Black-Eyed Susan. She'll get some time before returning to the racetrack.
What about Joe? Last month's poll runner-up switched to the turf and won the James Murphy Stakes at Pimlico. Says here he's a better runner on turf than the main track.
What's new? The fourth- and fifth-place horses are new in this poll; the top three, including Morning Matcha in third, are unchanged.
Who's fourth? In fourth is Twisted Ride. The Pennsylvania-bred is back on the work tab after getting a bit of down time from trainer Kathleen Demasi. Twisted Ride won the City of Brother Love at Parx earlier this year.
And fifth? Bazinga C is fifth. A Pennsylvania-bred filly by Exaggerator, Bazinga C has won four of five this year for trainer Tim Kreiser. Last time out she won the New Start Stakes at Penn National.
TOP OLDER MIDLANTIC-BREDS
Just One Time (PA), 4F by Not this Time-Ida Clark, by Speightstown; bred by Warrior's Reward LLC and trained by Brad Cox for Warrior's Reward LLC and Commonwealth New Era Racing. 2022 highlights: Won G1 Madison S., G2 Inside Information S., 3rd G1 Derby City Distaff. Previous poll: 1
Cordmaker (MD), 7G by Curlin-Tanca, by Polish Numbers; bred by Robert Manfuso and Katharine Voss and trained by Rodney Jenkins for Hillwood Stables LLC. 2022 highlights: Won G3 General George, Jennings S. Previous poll: 3
Knicks Go (MD), 6H by Paynter-Kosmo's Buddy, by Outflanker; bred by Angie Moore and trained by Brad Cox for Korea Racing Authority. 2022 highlights: 2nd G1 Pegasus World Cup. Previous poll: 2
Jaxon Traveler (MD), 4C by Munnings-Listen Boy, by After Market; bred by Dr. & Mrs. A. Leonard Pineau and trained by Steve Asmussen for West Point Thoroughbreds and Marvin Delfiner. 2022 highlights: Won G3 Maryland Sprint S. Previous poll: Also receiving votes
Kiss the Girl (MD), 5M by Into Mischief-Spin the Bottle, by Hard Spun; bred by Classic Thoroughbred XII and trained by Michael Trombetta for Three Diamonds Farm. 2022 highlights: Won Geisha S., Nellie Morse S. Previous poll: 4
Also receiving votes: Aloha West, Jakarta, Repo Rocks, No Change, Fille d'Esprit, Buy Land and See
What happened to Just One Time? The four-year-old Pennsylvania-bred filly – winner of Penn National's New Start to close her 2021 season – had begun the season with wins in the Grade 2 Inside Information and Grade 1 Madison. Last out she finished third behind Obligatory in the Grade 1 Derby City Distaff on the Kentucky Derby undercard.
Who's new? The only newcomer to the list of older horses is Jaxon Traveler. The Maryland-bred Munnings colt made his first win of the season a memorable one, scoring in the Grade 3 Maryland Sprint on the Preakness undercard.
Who dropped out? Dropping out of the three-year-old list were Witty and Local Motive. Out from the list of older horses is Kaylasaurus.
Five of the 10 horses on the two lists are females, including the top-rated in each category, and five are males. Six were bred in Maryland, and four were bred in Pennsylvania. While none of the older horses in the top five is the product of a regional stallion, two of the sophomores, including leader Luna Belle, are by Maryland stalwart Great Notion.
The monthly Mid-Atlantic Thoroughbred is the only publication devoted to Thoroughbred breeding and racing in the Mid-Atlantic region. The Racing Biz, an online publication, is the independent voice for mid-Atlantic racing and breeding.
The poll is conducted of media members and others involved in the Thoroughbred industry and restricted to horses that have run in 2022 and were bred in Pennsylvania, Maryland, Virginia, West Virginia, New Jersey, Delaware, and the Carolinas.
Participating Voters: Ted Black (freelance writer), Michael Campbell (Thoroughbred Breeders' Association of New Jersey), Joe Clancy (Mid-Atlantic Thoroughbred), Cindy Deubler (Mid-Atlantic Thoroughbred), Linda Dougherty (freelance), Debbie Easter (Virginia Thoroughbred Association), Paul Espinosa (Charles Town Races), Rich Glazier (Delaware Park), Cricket Goodall (Maryland Horse Breeders Association), Jim Hague (freelance), Nick Hahn (freelance), Carol Holden (West Virginia Breeders Classics), Tom LaMarra (Thoroughbred Horsemen's Association), Jeff Nations (freelance), Vinnie Perrone (freelance), Frank Petramalo (Virginia Horsemen's Benevolent and Protective Association), John Piassek (freelance), Gary Quill (The Racing Biz), David Richardson (Maryland Thoroughbred Horsemen's Association), Brian Sanfratello (Pennsylvania Horse Breeders Association), Chris Sobocinski (Delaware Park), Dan Tordjman (freelance), Frank Vespe (The Racing Biz), Bill Watson (freelance), Lydia Williams (freelance), Bobby Zen (freelance).
LATEST NEWS