Preakness: Un Ojo's out, who's in
Ricky Courville to #Preakness PR team on Un Ojo's @PreaknessStakes withdrawal: "This morning his foot was a little warm again. The vets went over him, and he's not 100 percent. I'm dealing with the same thing. I guess the work kind of re-aggravated it." 1/3

— Jennie Rees (@TracksideJennie) May 16, 2022
Epicenter (trainer Steve Asmussen/owner Winchell Thoroughbreds): The Kentucky Derby runner-up ran a big race despite being the beaten favorite and will be favored again here. Nine times in the last 26 years, a horse that ran in but did not win the Kentucky Derby returned to take down the Preakness.
Simplification (Antonio Sano/Tami Bobo & Tristan De Meric): If familiarity with his surroundings counts for anything, the fourth-place finisher from the Derby should have a leg up on his rivals, most of whom he beat to Pimlico by a week. He might be a sneaky-interesting horse here: he was only 3 ½ lengths behind in the Derby, and his third-place effort in the Florida Derby was better than it looks.
Happy Jack (Doug O'Neill/Calumet Farm): From the Dept. of "You Gotta Be in it to Win It" comes the 14th-place finisher from the Derby. He was a distant third in the Santa Anita Derby, well behind Taiba and Messier and up the track again in Kentucky. But trainer Doug O'Neill maintains there's a big race in this one's future; if so, now would be a good time to bring it.
Secret Oath (D. Wayne Lukas/Briland Farm): The Kentucky Oaks winner ran a big one to win that contest and had stamped herself a player in the filly division earlier in the year. In her lone try against boys, she was a troubled third in the Arkansas Derby but could be a player here. She's bidding to be the third filly to win the Preakness in the last 15 years.
Creative Minister (Kenny McPeek/Fern Circle Stables and Back Racing LLC): This Creative Cause colt hasn't done a thing wrong, with two wins from three career starts, and he looked good winning an allowance early on the Derby undercard. No question this will be a big test for him – but, after some of the defections, not as big as it once seemed.
Early Voting (Chad Brown/Klaravich Stables): Baltimore native Seth Klarman (Klaravich Stables) and trainer Chad Brown teamed up to win the Preakness with Cloud Computing in 2017. Looking for similarities between that horse and this one? Both had made just three starts, two in graded company, finishing with the Wood Memorial. With a win in the Withers and a near-miss second in the Wood, Early Voting actually has a better resume, and Wood winner Mo Donegal's fifth-place finish in Louisville, beaten less than four lengths, didn't tarnish that at all.
Skippylongstocking (Saffie Joseph/Daniel Alonso): With nine starts under his belt, Skippylongstocking has as much experience as any of these. He was third in the Wood Memorial, 3 ½ lengths behind Early Voting, and would need to take another step forward here. He's a son of 2016 Preakness winner Exaggerator.
Armagnac (Tim Yakteen/SF Racing and a cast of several): The top three from the Santa Anita Derby ran 12th, 14th, and 15th in the Kentucky Derby, which doesn't exactly flatter the chances of the Santa Anita Derby's fourth-place finisher, Armagnac. A recent allowance winner, he'll likely be one of the longest shots on the board.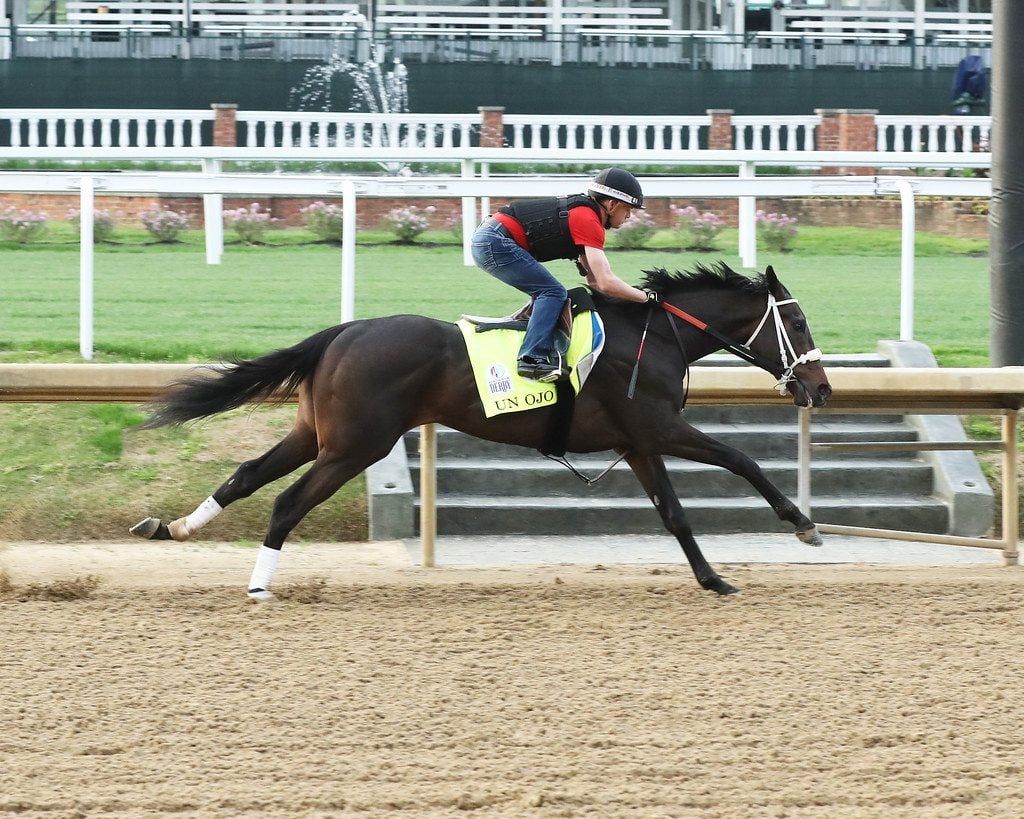 Un Ojo working at Churchill Downs. Photo Coady Photography.
LATEST NEWS