Rich Strike will skip the Preakness
The Biz

May 12, 2022
There will be no Triple Crown this year.
While many handicappers perhaps had already reached that conclusion, many in the public were rooting for onetime claiming horse Rich Strike, the 80-1 upset winner of the Kentucky Derby, to continue his journey in the Preakness May 21.
But in a statement issued Thursday afternoon, Rick Dawson, who owns Rich Strike under the nom de course RED-TR Racing, said that Rich Strike and his connections would "pass on running in the Preakness, and point toward the Belmont in approximately 5 weeks."
The decision to bypass the Preakness will make Rich Strike the second Derby winner in four years not to come to Baltimore. He will thus join Country House, who won the 2019 Kentucky Derby via the disqualification of Maximum Security, as Derby winners skipping the Preakness.

Country House, who like Rich Strike was a major longshot in the Kentucky Derby, never raced after that surprising victory. Prior to Country House, no Derby winner had skipped the Preakness since Grindstone in 1996.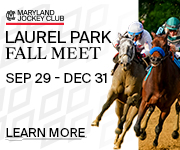 Here is the text of Dawson's statement, as released by the Maryland Jockey Club:
Our original plan for Rich Strike was contingent on the KY Derby, should we not run in the Derby we would point toward the Preakness, should we run in the Derby, subject to the race outcome & the condition of our horse, we would give him more recovery time & rest and run in the Belmont, or another race and stay on course to run with 5 or 6 weeks rest between races.
Obviously, with our tremendous effort & win in the Derby it's very, very tempting to alter our course & run in the Preakness at Pimlico, which would be a great honor for all our group, however, after much discussion & consideration with my trainer, Eric Reed & a few others, we are going to stay with our plan of what's best for Ritchie is what's best for our group, and pass on running in the Preakness, and point toward the Belmont in approximately 5 weeks.
We thank the wonderful Preakness & Pimlico folks that have reached out to us & very much appreciate the invite.
We wish you all a great race!!!!
LATEST NEWS