Old and new in Laurel Park winner's circle
Frank Vespe

May 1, 2022
For Dundalk, MD native Brian Brooks, Sunday at Laurel Park was about the future. For Laurel native Donnie Miller, Jr., it was about the past.
Their paths crossed in the winner's circle following the third race.
Brooks, the nephew of 500-win trainer Gerald Brooks, was there to greet third-race winner Putthepastbehind, who scored in Maryland's second two-year-old race – and first not restricted to fillies – of the season. It was Brooks's seventh career victory as a trainer of record.
Miller was there as part of a racetrack reunion organized by Lauren Heathcote Amberman, who had arranged a similar event at Delaware Park last season. Following the third race, a number of the participants – including retired jocks like Miller, Chris McCarron, Gregg McCarron, Danny Wright, Bobby Lillis, Joe Rocco, Sr., Vince Bracciale, and others – gathered for a post-race photo.
Those riders combined to win more than 17,000 races in their careers.
"It's like we never left," said Lillis, whose career in racing began as a jockey in the 1970s and continued until he retired as executive director of the Maryland Horsemen's Assistance Fund in 2020. "We know everybody: we were friends and rivals."
More than two dozen came to the reunion, which took place in Tips restaurant in the Laurel clubhouse on a day that grew rainy as the afternoon wore on.
"When I made the event, we just worked on contacting as many people as possible, plus word of mouth," Heathcote Amberman said. "And here we are."
There were a couple of Hall of Famers – McCarron and trainer King T. Leatherbury – in attendance,as well as folks with glittering – but not quite Hall of Fame – careers, like Miller, Gregg McCarron, and Bracciale. And grooms and hotwalkers, exercise riders and trainers.
"Because there's so few jockeys, there's that camaraderie, those shared challenges and stories," Miller said. "It's great to see the guys."
While most in attendance remained in racing throughout their working careers, Miller left after 16 years and 2,830 wins. His riding career included a win, aboard Deputed Testamony, in the 1983 Preakness and nearly two dozen other graded triumphs. In 1996 he left racing at age 33 in 1996 to work in real estate.
Brooks, meanwhile, was happy to get his picture taken as trainer of record for the second time in his home state.
"I just can't – I'm from Maryland, and this is my second win in Maryland," Brooks said. "We won a big race in Timonium last year on opening day with a two-year-old, and we did it again today."
With hot-riding apprentice Jeiron Barbosa in the irons, Putthepastbehind chased loose leader Pompous Prince early, took over near the sixteenth pole, and won by three parts of a length. Running time for the 4 ½ furlongs was 52.90 seconds on a fast main track.
On the ship in from Hawthorne, near Chicago, Putthepastbehind paid $17.80 to win and topped an exacta, with Riccio second, that returned $61.90 for one dollar. Pompous Prince held third, while post time favorite Coffeewithchris was never much involved and finished eighth.
While Brooks could smile afterwards, Putthepastbehind, a gelding by Gone Astray, gave him some anxious moments before the race. Shaking loose from the pony, he ran off with his rider still aboard for about three furlongs prior to the race.
"I made phone calls saying, 'Take your money back, don't put it in,' because I thought he was going to run right by the pony again," Brooks said with relief. "He just needed to warm up; he got exactly what he needed."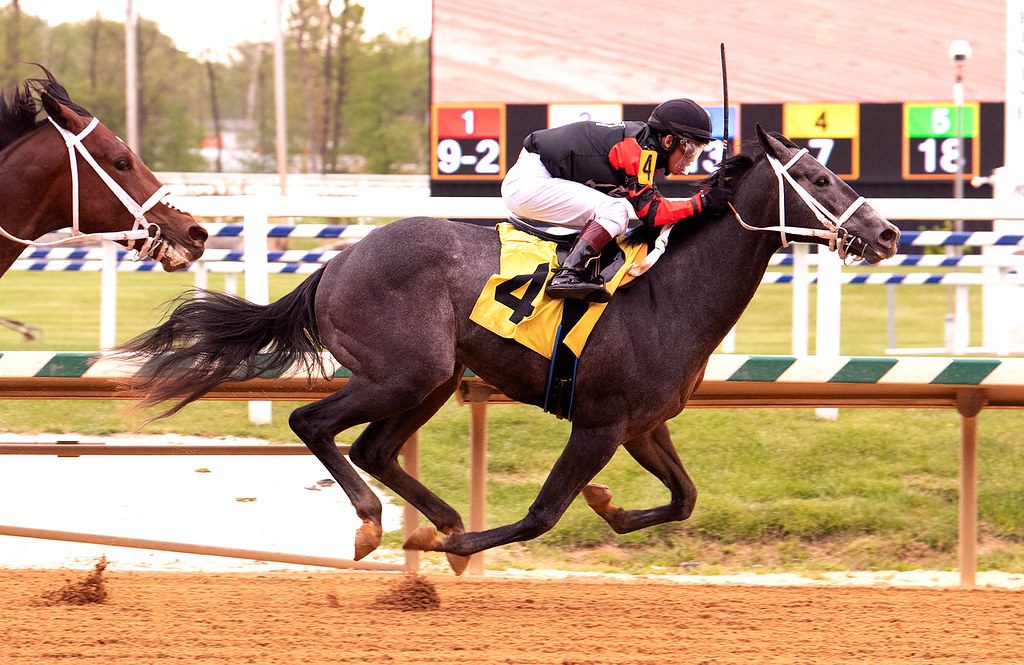 LATEST NEWS