Grade 3 winner Laki retired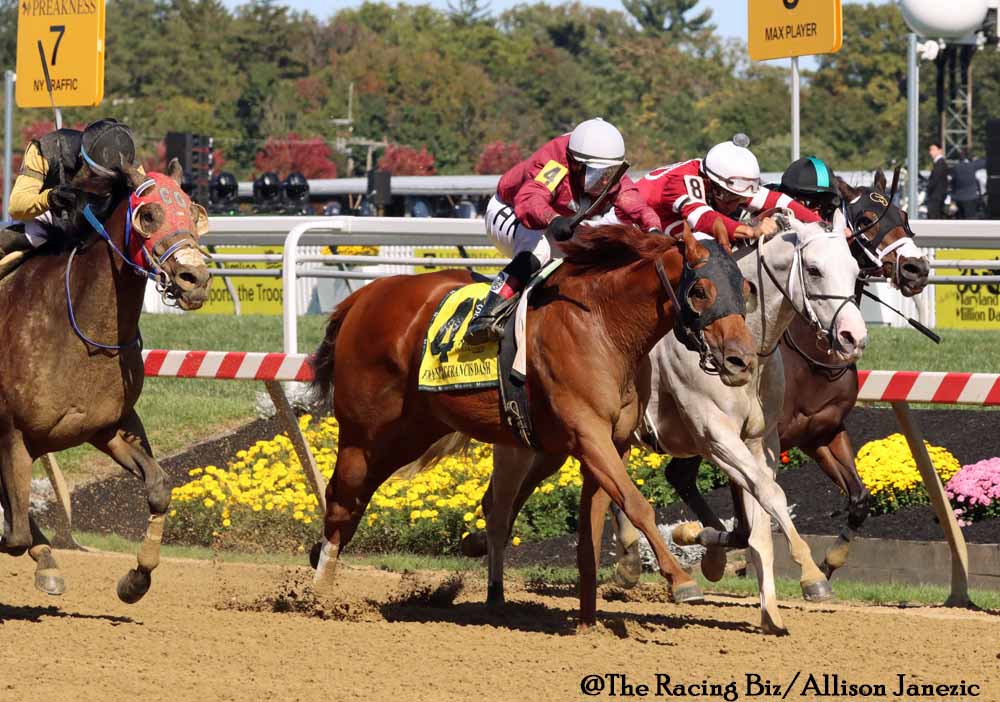 Press Release

April 24, 2022
Hillside Equestrian Meadows' Laki, a winner of six career stakes topped by the 2020 Frank J. De Francis Memorial Dash (G3) who became a fan favorite throughout the Mid-Atlantic over six seasons of racing, has been retired.
Bred in Maryland by Tom Michaels and Lorna Baker, the 9-year-old gelded son of Cuba out of the Swear By Dixie mare Truthful Dutch had not raced since last September when he finished sixth in defense of his De Francis victory.
Laki had not had a timed work since mid-December at Laurel and was entered but scratched from the Dave's Friend for 3-year-olds and up sprinting 6 furlongs Dec. 26. Instead, he was sent to owner Paul 'Buck' Kalinowski's farm for his annual winter vacation.
"There was some thought to bringing him back," trainer Damon Dilodovico said, "and we just decided that he had done enough. It was time to retire him."
Dilodovico said Laki remains at Kalinowski's Wolcott,CT farm – founded in 1991 and offering boarding, riding lessons, horse leasing and pony rides – where he is being prepared for life after racing.
"He's been training him to do other disciplines, and he said he's taken to it very well," Dilodovico said. "I'm not surprised by that. He was always a pretty smart athlete.
"The owner is a top horseman. He does riding schools and camps for less fortunate kids during the summer," he added. "They have a little arena on their farm and he's been working with Laki, as he'd say, just getting him ready for his next adventure."
Laki retires with 11 wins, eight seconds, six thirds and $833,162 in purse earnings from 38 lifetime starts. He won at least one stakes race five consecutive years from 2017-21, a streak he extended with his triumph in the Frank Y. Whiteley last April at Laurel. It would be Laki's final victory.
An accomplished sprinter who won at distances from 5 ½ to seven furlongs, Laki captured three straight dirt sprint division titles during the Mid-Atlantic Thoroughbred Championship (MATCH) Series in 2018, 2019 and 2021. The Series was shelved in 2020 amid the coronavirus pandemic.
"He meant everything to us," said Dilodovico, whose wife Christine served as Laki's groom. "I've been in the game for 30 years and we raced Immortal Eyes, but to have a Maryland-bred perform like that and develop a following, it was really something special for me and my family."
Florida-bred Immortal Eyes was a 19-time winner including 13 stakes and nearly $1.2 million in purse earnings who captured the 2013 De Francis when it was ungraded. Laki's victory is the lone graded success for both horse and trainer, coming on the undercard of that year's delayed 145th Preakness Stakes (G1) at Pimlico Race Course. That year, the pandemic caused a reshuffling of the Triple Crown races and the Preakness wound up as the finale in early October, nearly five months past its traditional mid-May date.
Laki had to check when things got tight leaving the backstretch, then swung wide on the turn under regular rider Horacio Karamanos and came with a steady run through the stretch to edge Claudio Gonzalez-trained Eastern Bay by a nose in a three-way photo finish. It was another nose back to Nitrous in third.
"I never watched a race with Christine. She would always wander off and that was good for me, because I was anxious enough anyway. Watching that with my oldest son, the place was empty but there was screaming and hollering," Dilodovico said. "Claudio's horse had a good following. Just from the jockey's quarters, they were all out on the porch and feeling all these people rooting for these two horses, it made it very special. Then to prevail, I'll never forget the grin on Horacio's face when he came back."
Laki's career actually began on the grass, debuting in a 5 ½-furlong claiming sprint over Laurel's world-class turf course Nov. 5, 2016. He ran last of 10 at odds of 41-1 and was promptly moved to the dirt, where he rattled off four straight wins including his first stakes victory in the 2017 Not For Love.
"We had finally gotten to where we were ready to run him, and let me tell you, as a colt he was not interested in racing. It wasn't until we gelded him that we really started to see a lot of his focus," Dilodovico said. "I had him to where I thought he was fit to run, and we could not get a dirt race to go.
"Talking to Buck, we said let's try this turf race. He made up a good bit of ground but it definitely wasn't his favorite surface at the time," he added. "I always thought I would have tried it again later on, just because he had such a giant kick, but once he was going so well on the main it would have been silly to switch it around."
Other stakes wins for Laki came in the 2018 Polynesian and Howard and Sondra Bender Memorial, 2019 Whiteley and 2020 Oceanport Centennial at Monmouth Park, the only one that came outside of Maryland. The Whiteley, where he defeated fellow multiple stakes winner Lewisfield by 3 ½ lengths in 1:08.47 for six furlongs, is particularly meaningful for Dilodovico.
"I remember watching it in the paddock with my oldest and youngest son and I just remember seeing that performance and I'm telling you, I started to bawl," he said. "At the time, I was shocked."
Laki also placed in 10 other stakes, including a second in the 2018 De Francis (G3) and thirds in the 2019 and 2021 General George (G3).
"He really supported us the last few years. You have favorites in the barn, but when you have favorites that are just special athletes, it's wonderful," Dilodovico said. "He's going out sound, and that's huge."
LAKI GALLERY
LATEST NEWS