Off to the Races Radio: Bret Calhoun featured
Press Release

March 25, 2022
Off to the Races Radio presented by The Racing Biz returns March 26 as its 25th season rolls on.
The one-hour program will air each Saturday morning at 10:00 a.m. on ESPN Richmond (106.1 FM) and via livestreaming. It will feature news and conversation about Thoroughbred racing and breeding in Virginia, around the Mid-Atlantic, and across the nation.
Nick Hahn will host with support from Frank Vespe. Derby Bill Watson will join each week to provide his handicapping insights and special brand of humor.
"We're thrilled to have Off to the Races back on the air," said Frank Vespe, owner and publisher of The Racing Biz, which presents the program. "We're looking forward to another season filled with great guests, good banter, and plenty of laughs."
Saturday's show will feature a visit from trainer Bret Calhoun, as well as a conversation with Grace Merryman of Anchor and Hope Farm.
Calhoun has won nearly 3,400 races in his career, including two Breeders' Cup races. He also finished third in the 2020 Kentucky Derby with Mr. Big. On Saturday, he is slated to send out Kupuna in the Grade 2 Louisiana Derby. A first- or second-place finish would likely get that one a spot in the Kentucky Derby. He also has graded stakes winner Hidden Connection set to tackle champion Echo Zulu in the G2 Fairgrounds Oaks on that same card. Merryman's Anchor and Hope Farm stands a half-dozen stallions in Maryland.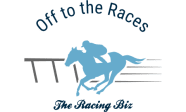 Sponsors include the Virginia Thoroughbred Association, Virginia Equine Alliance, Maryland Jockey Club, Charles Town Races, and others.
"We appreciate our sponsors who support Off to the Races," Vespe said. "And we especially appreciate all of our listeners."
Each week's show will be archived on TheRacingBiz.com.
LATEST NEWS