At 7, Fiber and Emily hitting his stride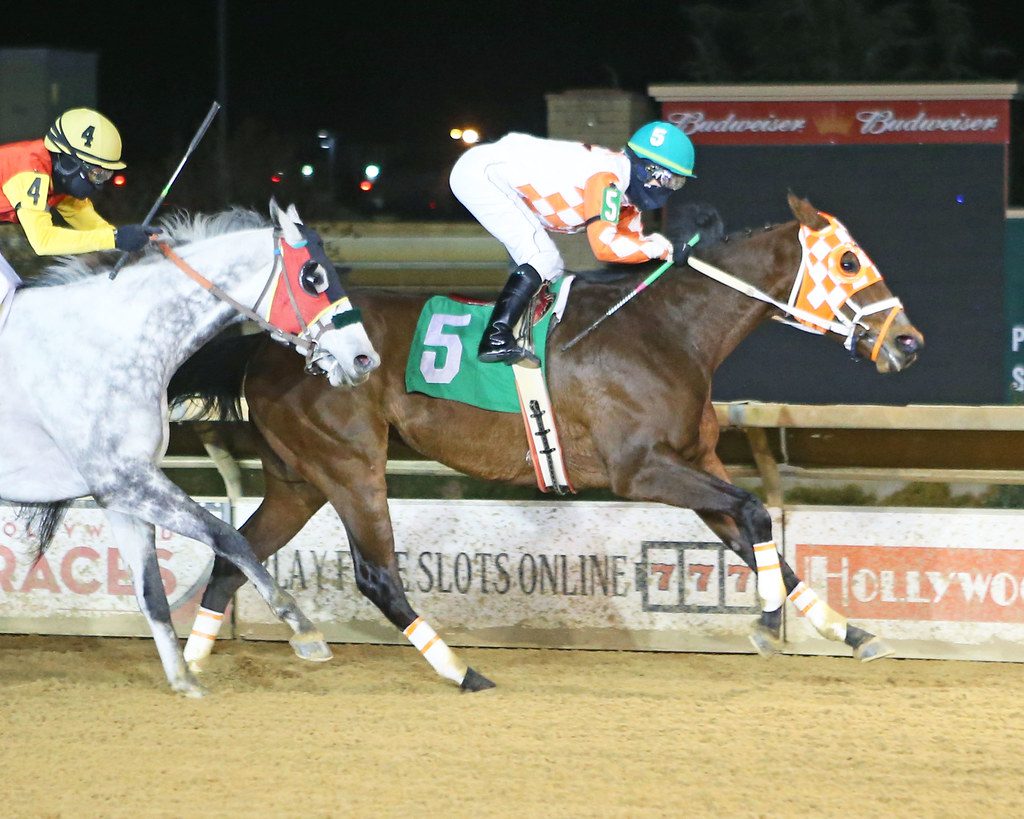 Ted Black

March 10, 2022
When his talented home bred Fiber and Emily began to take the first steps of his career four years ago, owner-breeder-trainer William Earl Atkins said that he would frequently climb aboard the Fiber Sonde gelding for morning gallops. These days, though, Atkins, 62, has delegated that responsibility to more youthful riders.
Either way, Atkins' approach with the Fiber Sonde gelding has worked.
Heading into his next start, a seven-furlong, two-turn allowance for older runners March 11, Fiber and Emily has won two consecutive races and now sports a very commendable 8-4-8 slate and over $200,000 banked from 34 career tries. Like many of the Fiber Sonde offspring that compete at Charles Town on a regular basis, Fiber and Emily is known to be a bit headstrong.
Atkins notes that his homebred occasionally leaves his best race in the paddock saddling area — even today at the ripe age of seven.
"I used to get on him in the mornings, but he's usually pretty keyed up to get out on the track," Atkins said. "So, now I just let one of the exercise riders get on him. He's still a handful when we get into the paddock. I think there are nights when he leaves his race in the paddock. But he's a big, sound horse around 16.2 hands and he can run. I have always liked him since we broke him. He's really good in those 6 1/2-furlong races and [jockey] Victor [Rodriguez] thinks he will love going seven [furlongs]."
Fiber and Emily is listed as a 10-1 shot Friday in a group that includes the Jeff Runco-trained River Crosroad RVF (4-5) and Youthinkthatsfunny (5-2) for owner-breeder-trainer John McKee. Youthinkthatsfunny, third in last fall's West Virginia Lottery Breeders' Classic, won two stakes as a two-year-old. River Crosroad RVF is best known for having bolted while on the lead in two of his first four starts.
[Click for video of River Crosroad RVF's early mishaps.]
Fiber and Emily prevailed in his seasonal debut Feb. 18 by getting the 6 1/2-furlongs in 1:21.08 as the solid even-money choice with Connie McKenzie aboard. He had ended his previous campaign by taking a two-turn allowance on Dec. 15 as the 5-2 second choice with Rodriguez aboard, a victory that proved doubly rewarding for Atkins.
Fiber and Emily's Dec. 15 win ended a nine-month drought and snapped a five-race losing streak. But it did more than that.
In early October, Fiber and Emily had finished a dull 11th in the grassy Laurel Dash Stakes at Laurel Park. He then emerged from that dismal outing with a case of equine protozoal myeloencephalitis (EPM), a disease that attacks the central nervous system.
For several weeks, Atkins doubted that Fiber and Emily would ever be healthy enough to race again. He displayed little energy on the farm and was often outrun by much younger runners. But Atkins gradually nursed his barn star, the best horse he's trained, back to health. Soon, the aged Fiber Sonde gelding regained his youthful vigor.
"For a while there, I wasn't sure that he would ever race again," said Atkins, who now owns the same farm previously owned by the late Charles "Buck" Woodson, Jr., breeder of Onion Juice and of Giovanni Boldini. "He was really sick. Every day when I turned him out, he could not even keep up with the babies. But I kept treating him, and finally one morning, he started beating the babies again. Then I knew he was back. But for a while there I wasn't sure."
Fiber and Emily finished a nondescript fifth in his career debut on Dec. 15, 2018, but he graduated in his next outing on Jan. 9, 2019 in a one-turn maiden special weight event as an overlooked 9-1 shot. He would later record three more allowance victories during a busy four-year-old campaign in which he won four of 14 starts and earned over $86,000.
Two years ago, Fiber and Emily posted only one victory during another busy season when he captured another one-turn allowance event as an odds-on choice on Feb. 27 in 52.47. He did not record his next victory until last March 13 when he prevailed in a deep, two-turn allowance that also included Rush to the Castle, Aaron's Tap, Opera Nite and William and Mary. He has tried stakes company on four occasions, including two trips to Laurel, but he has yet to hit the board.
Still, Fiber and Emily has proven a versatile and effective performer for Atkins. His bankroll is nearly three times that of any other Atkins trainee, and Fiber and Emily has run well around one turn and around two.
"I think he might even be better going longer," Atkins said. "Depending on how he is doing this fall, I might try him in the big one [West Virginia Breeders' Classic]. The Fiber Sondes have always done well in those longer races. That long race might give him a chance to relax early. But right now I think 6 1/2 and seven is just right for him."
LATEST NEWS