Nellie Morse, John B. Campbell quick hits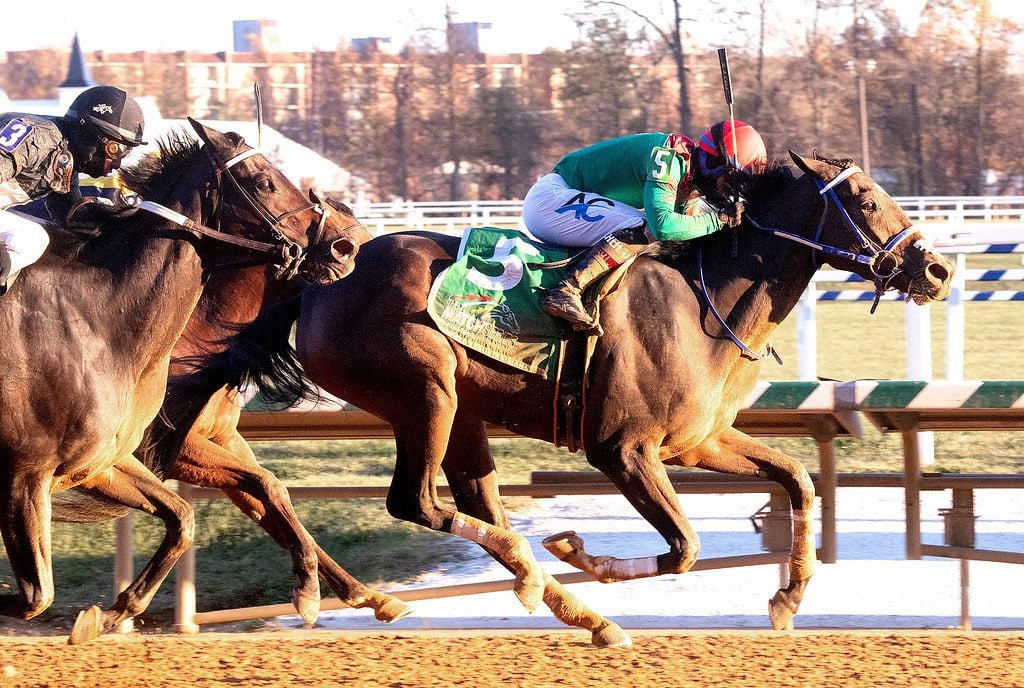 Miss Leslie returns: The Claudio Gonzalez-trained Miss Leslie, the morning line favorite in the Nellie Morse, won a pair of local stakes to close her 2021 campaign before opening up '22 in New York in the Ladies, where she ran second as the favorite to Battle Bling who, coincidentally, was ridden by old Maryland hand Trevor McCarthy. She returns home, will get Lasix back on, and retains jockey Angel Cruz for the fifth consecutive race.
Quotable: "Over there [in New York] it's not easy. They have really good horses there, and no Lasix, too. For my filly, I believe she needs the Lasix," Claudio Gonzalez said. "That's why we come back now to Laurel with the Lasix. We're going to be OK."
Where's Victor? Jockey Victor Carrasco, leading the colony with 20 wins through Feb. 17, rode the Bill Mott-trained Frost Point to an easy allowance score here Jan. 27. Frost Point returns, but not with Carrasco. Carrasco opts to ride Geisha winner Kiss the Girl for trainer Mike Trombetta, leaving Frost Point to Jorge A. Vargas.
Smooch: Kiss the Girl finished well behind Miss Leslie in the Carousel, just behind her in the Ladies, and then romped (without Miss Leslie in the field) in the Geisha. It's certainly a progressive pattern for a five-year-old Into Mischief mare who appears to be hitting her best stride now.
The John B. Campbell Stakes is also a 1 1/16-mile affair, this one for four-year-olds and up. Forewarned for trainer Uirah St. Lewis and his Trin-Brook Stables operation is the only stakes winner in the field.
Dream a little dream: With no Cordmaker to contend with, Workin On a Dream inherits the role of morning line favorite. The Robin Graham trainee was second to Cordmaker in back-to-back stakes in November and December and will make his first start in about six weeks here. Graham, who operates a small barn at Laurel, hasn't won a stake since 2016, according to Equibase.
Quotable: "I think we've figured out what he wants to do and how he wants to do it," trainer Robin Graham said. "We work a lot on his feet. He's always had kind of tender feet, so we work on his feet and keep him happy and keep weight on him. He's a big horse and he's a little difficult to keep weight on but he's gotten better and better with it. I think it just started to come together for him, really. That's the biggest thing."
Don't sleep on…: Trainer Uriah St. Lewis has made something of a specialty of pulling off big upsets, and while a win here by Forewarned wouldn't be a big upset, it would still be an upset; he's 6-1 on the morning line. Two back he scored at 42-1 in the Queens County at Aqueduct, and while his follow-up, in the Jazil, wasn't good, his best efforts might get him the money here. The Ohio-bred has earned nearly $770,000 and won three straight editions of the Ohio Endurance Stakes at Mahoning Valley.
Seeking a stakes win: Galerio didn't reach the races until the middle of his three-year-old season and didn't really find his best stride until late in 2020, his four-year-old season. Since, he's been pretty much a model of consistency, running good race after good race even while toiling for four different trainers. What he hasn't done is win a stake: the Jump Start gelding is 0-for-8 in added money company despite finishing second four times and third twice. Now in the John Salzman, Jr. barn, he'll have 3500-race winner J. D. Acosta in the irons.
LATEST NEWS