Victor Carrasco, Cordmaker make strong team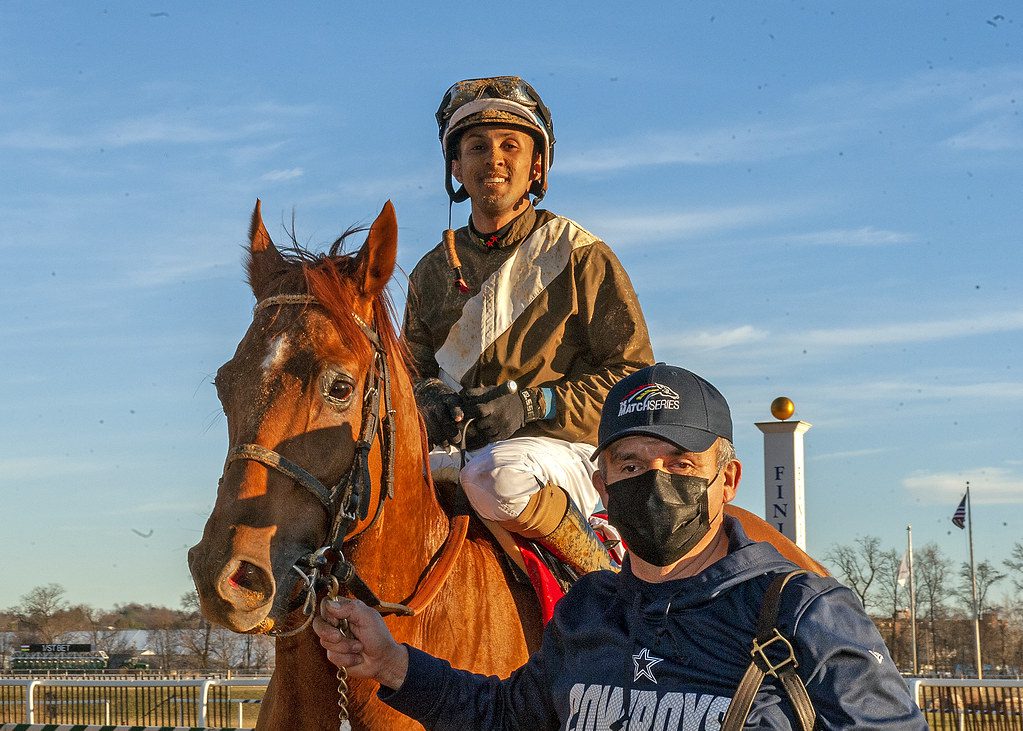 Carrasco, 29, will be back aboard for the 25th time and 10th in a row in Saturday's $250,000 General George (G3). It is the 35th career start for Cordmaker, owned by Hillwood's Ellen Charles and trained by Laurel-based Rodney Jenkins. Carrasco has been perhaps the hottest jock on the grounds in recent weeks and now leads the colony with 20 wins.
"He's a very special horse to me. I think we have a really special bond together," Carrasco said. "He's been more than good to me. I always joke around and say that I've got a place to live thanks to him. He's very, very special. I'll be always grateful to Mr. Jenkins and Mrs. Charles for keeping me on."
Together, Carrasco and Cordmaker have combined for 10 wins, eight in stakes, three seconds and six thirds in 24 races. Overall, Cordmaker owns 13 wins, nine in stakes including three in a row, and $839,640 in purse earnings.
"You can tell that he's doing way better now. You at look at his form with age. I don't know what his deal is, he's doing better than he ever has," Carrasco said. "Before he used to be just skinny, still doing his job and everything, but now it seems like he's enjoying his job. He's looking healthier, he's looking bigger and his form is impeccable. I think he's awesome."
One thing still eluding Cordmaker is a graded-stakes win. He has run third twice before, in the Pimlico Special (G3) in 2018 and 2019, beaten two necks in the former by Tenfold and You're to Blame, both graded-stakes winners.
Cordmaker is the 7-5 program favorite from Post 2 in a field of seven for the seven-furlong General George, which co-headlines a 10-race program featuring six stakes worth $900,000 in purses with the $250,000 Barbara Fritchie (G3) for older female sprinters.
He enters the race having won the 1 1/8-mile Richard W. Small and 1 1/16-mile Robert T. Manfuso to cap his 2021 season and the one-mile Jennings against fellow Maryland-bred/sired horses Jan. 29 to begin 2022. Cordmaker ran eighth, beaten 4 ½ lengths by Uncaptured following a troubled trip in the 2019 General George.
"The only concern that I have is that he's been running long the last few starts, but hopefully there's some pace on the front end, and after that hopefully when I ask him to go, he doesn't give himself too much to do at the end and we can get it done," Carrasco said.
"He's a very smart horse. He knows his job, that's for sure. You just don't fight him. Let him be comfortable, let him be happy and let him be wherever he wants to be, and make sure when you say go you have nobody in front of you because then he's not going to stop," he added. "He's very smart. He knows where the wire is. Once he passes the competition, he's like, 'OK, this is it. We're done.'"
LATEST NEWS