LAUREL PARK PICKS AND PONDERINGS: JAN. 28, 2022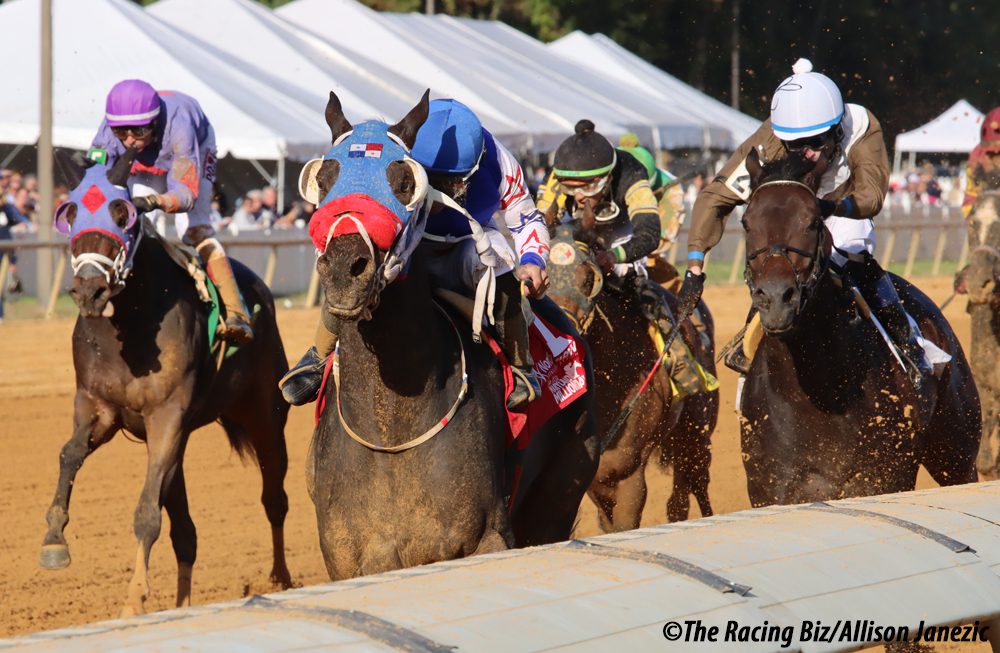 RACE 1: CLAIMING $5,000 (N/W2L), 4-YEAR-OLDS AND UP, FILLIES AND MARES, 5 1/2 FURLONGS
6-4-5-1
#6 Charliv (9/2) is one of two horses in here coming off a maiden-breaking win. She scored at Presque Isle Downs last out with a strong move on the turn, and makes her first start since October 22. Has upside and room to improve. It took her 22 tries, but #4 Steely Band (9/5) finally broke through for her maiden win last out. She also ran on strongly in the stretch, a positive sign after two consecutive races where she was flat late. #5 Pass It On (5/2) has competitive figures and was fanned wide last out. She still closed to get fourth, but could improve if she saves more ground.
RACE 2: STARTER OPTIONAL CLAIMING $25,000, 4-YEAR-OLDS AND UP, FILLIES AND MARES, 6 FURLONGS
4-3-1-2
#4 Spanikopita (2/1) was impressive in her dirt debut last out, sitting off a duel and drawing off to break her maiden with a career-best brisnet figure of 79. She's the only horse in the field who hasn't lost against winners once; everyone else has done so multiple times. #3 Closertotheheart (5/2) improved sharply in her second start since returning to dirt. She cuts back from a mile here, but she might prefer more distance. We'll see. #1 Targe (9/5) flattened out against a tough field last out, now goes out for the first time since May 22. She'll show speed from the inside.
RACE 3: MAIDEN CLAIMING $25,000, 4 AND 5-YEAR-OLDS, FILLIES AND MARES, 6 FURLONGS
4-6-5-1
Both #5 Silver's Girl (4/1) and #6 Mexicali Rose (3/1) are in improving form and have lots of early speed, but both of them run the risk of burning each other out. If they do, #4 Startwithabang (8/5), who adds blinkers, has improved her figure with every start, drops in class for the first time, and will sit the trip off a prospective duel.
RACE 4: CLAIMING $16,000 (N/W2L), 4-YEAR-OLDS AND UP, 5 1/2 FURLONGS
1-6-4-3
#1 Pardsy (2/1) made his first start off a 14-month break last out. it was an impressive one, as he ran hard on the lead throughout and lost a tight photo finish Should be a tough customer on the lead once again. He spent part of last year at Woodbine; #6 Loaded Sniper (9/5) has also raced at Woodbine lately. In each of his last two starts, he opened up a long lead in the stretch, only to tire late. He managed to hold on two back, but got caught last out. The shorter distance should be helpful here. #4 Deshackled (5/1) has run in the 70s in each of his last four starts and will press the pace.
RACE 5: MAIDEN CLAIMING $25,000, 3-YEAR-OLDS, FILLIES, 5 1/2 FURLONGS
6-7-8-9
The late pick 5, with a carryover of just over $8,000, starts here. #6 Charming Way (8/5) closed from far behind to get second, beaten less than a length, on debut. Should roll late once again. #7 Blueberry Indygo (5/2) was third behind Charming Way last out after setting the pace. She improved sharply to run a 79 in that spot. #8 Always Mia (5/1) drops to this level for the first time, as do Charming Way and Blueberry Indygo, and has run no worse than a 67 in two starts thus far. She showed speed for the first time last out and faded.
RACE 6: STARTER ALLOWANCE $5,000, 4-YEAR-OLDS AND UP, 1 MILE
6-8-4-5
#6 Military Hop (7/5) has gotten better with every start since coming off a very long break in November. He handily beat claiming fields in each of his last two starts, with figures that would win this one easily. #8 Percher (10/1) has the best closing speed in the race, and won two of his last three in desperate style. This is a class hike for him after competing in conditioned claimers, but he should at least close for a piece. #4 Canttakeitanymore (5/1) shipped to Laurel from his Charles Town base two starts back, and got up to win at this level with an exciting closing rally. He's also likely to make his presence felt late.
RACE 7: CLAIMING $40,000, 3-YEAR-OLDS, FILLIES, 6 1/2 FURLONGS
5-4-2-6
The lightbulb appears to have finally gone on for #5 Mama G's Wish (2/1), who pulled away in the stretch last out to win her second in a row, with a near-career-best figure of 80. She's going to be near the pace again in a race with speed, which will set herself up for a good trip. #4 Jacrodra's Devil (5/2) shipped to Charles Town to break her maiden last out. In her last start over this track, she finished second to Gamestonks, who impressively won a starter optional claiming race at Parx next out. #2 Redwhiteandtacos (5/1) scratched out of an allowance spot yesterday to race here. She closed well to break her maiden last out and fits a bit better in this spot than the one yesterday.
RACE 8: MAIDEN SPECIAL WEIGHT, 4 AND 5-YEAR-OLDS, 6 FURLONGS
5-4-2-6
On paper, it's a step up in class for #5 Mailman's a Flyer (2/1), but this isn't a much tougher field than the ones he's been facing recently. He's been close in all three of his starts and looks ready for a breakthrough. #4 Patient Game (3/1) had some traffic trouble in his debut, but straightened out late and got third. This will be his first start since November 14. #2 Liberty Star (7/2) just missed behind stablemate Mailman's a Flyer last out, and outfinished patient Game. He should improve second off the layoff.
RACE 9: CLAIMING $10,000 (N/W3L), 4-YEAR-OLDS AND UP, 1 1/16 MILES
8-1-3-6
#8 Rippolino (5/2) won two in a row on this track last fall, and has closed good ground in each of his last three races. Dropping from the starter optional claiming level should help. #1 Dr. Ferber (10/1) races first off the claim for Kieron Magee and looks for a rebound. He crushed the field three back at Delaware Park with a big mark of 79, but has declined in his last two. Worth a shot at a price. #3 Shoulda Had It (15/1) steadied out of contention last out but had closed well in every start prior to that one. Linda Albert claimed him out of his most recent start.
LATEST NEWS