Mid-Atlantic Three Stars: December 29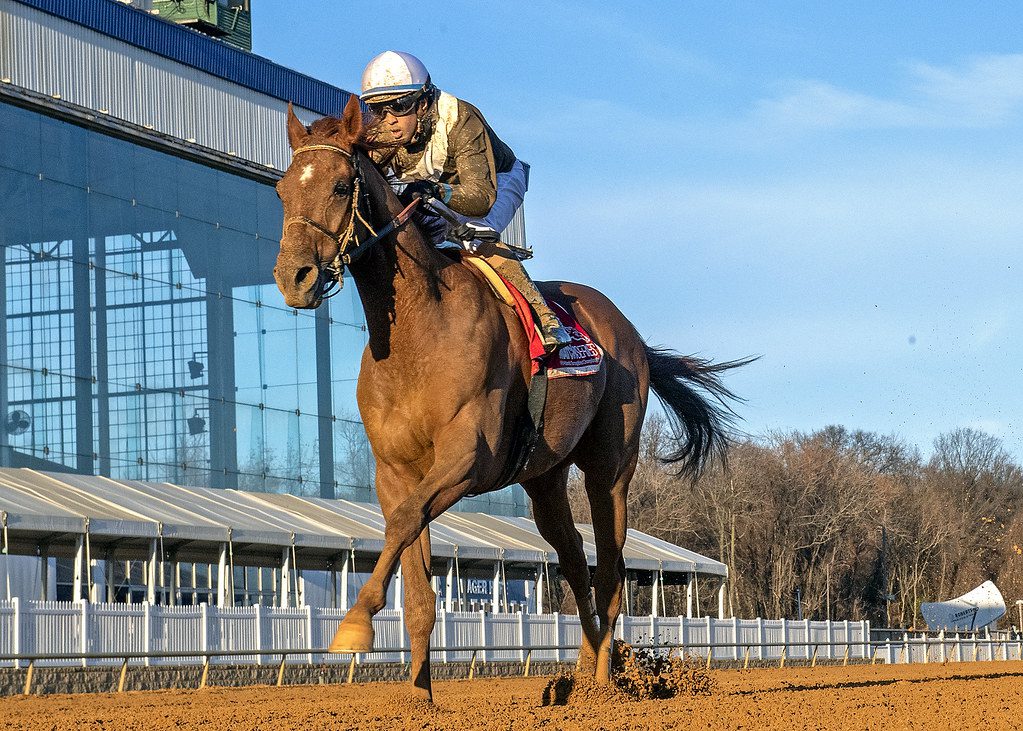 Cordmaker clinched the MATCH championship with his win in the Robert Manfuso Stakes. Photo: Jerry Dzierwinski.
Plenty of racing action took place throughout the Mid-Atlantic this past week.
Here's a look at the "three stars" of each track:
LAUREL PARK
FIRST STAR: CORDMAKER. The 2021 Laurel Park stakes schedule, and the MATCH series, wrapped up on Sunday with the Robert Manfuso Stakes. Cordmaker clinched the overall MATCH title with an impressive 3 1/2-length win, for his fourth stakes triumph on the season. He rated on the inside most of the way, then angled wide in the stretch and rambled on to victory. He was bred in part by Manfuso, a noted Maryland breeder and former co-owner of Laurel and Pimlico who died last year. Victor Carrasco had the mount for owner Hillwood Stable LLC and trainer Rodney Jenkins. 
SECOND STAR: MISS LESLIE. One race earlier on Sunday, Miss Leslie won her second consecutive stakes against older females, taking the Carousel Stakes by 3 3/4 lengths. Just like she did in the Thirty Eight Go Go Stakes last month, she rated towards the back of the pack early on, then made a bold sweep to the lead on the turn and drew off late. She's won three stakes races on the year, having also won the Weber City Miss Stakes against fellow 3-year-old fillies at Pimlico in April. She's owned by BB Horses, trained by Claudio Gonzalez, and ridden by Angel Cruz. 
THIRD STAR: THREES OVER DEUCES. Just like the last sprint stakes at Laurel, the Howard and Sondra Bender Memorial Stakes last month, the Dave's Friend Stakes saw an exciting, driving finish. Threes Over Deuces, who had never crossed the wire first in a stakes race before, rallied wide in the stretch and got up to win by a head in a 12-1 upset. Runner-up Penguin Power finished a nose ahead of Youngest of Five in third. He's owned by Pocket 3's Racing, trained by Gary Capuano, and ridden by Victor Rosales. 
CHARLES TOWN RACES
Charles Town is currently on their end-of-year break. Live racing is scheduled to resume on Thursday, January 6. 
 PARX RACING
FIRST STAR: ANDY HERNANDEZ. Hernandez had one of the best days of his young career last Tuesday, winning four races on the card. He took both halves of the early double, scoring in race 1 with Uno Tigress, for trainer Harold Wyner, and the 2nd race aboard Lawn Boy, trained by Mark Reid. Hernandez completed the hat trick in race 5 on Successful Legacy, trained by Patricia Farro, and got the grand slam in his final mount of the day, taking the 7th race aboard Leslye Bouchard-trained Catch Fire. Entering Tuesday's card, Hernandez had 24 winners from 203 mounts in his first year of riding. 
SECOND STAR: RUBEN SILVERA. Parx's leading jockey won five races last week, including a trio on the Monday program. He won a pair for Jamie Ness, winning race 4 on Frosted Indian and race 8 on Fort Fortitude. In between, he scored in race 6 on Louis Linder Jr-trained Secret Path. Silvera has won more than 200 races this year and is closing in on $6 million in earnings, both far and away career-highs. 
THIRD STAR: UNCLE ERNIE. Last Monday's feature, a Pennsylvania-bred n/w2x allowance optional claiming race, went to Uncle Ernie, for his third win of the year. Despite breaking from the inside, he found himself dueling in the two-path with Breezy Gust, who broke slowly and was rushed to the lead from the inside. Despite the challenge, Uncle Ernie drew off from the others in the stretch and won by 7 3/4 lengths. Jorge Vargas Jr had the winning mount for owner Gilman Hallenbeck and trainer John Servis.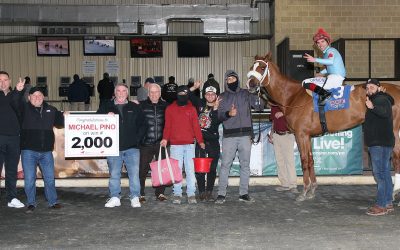 Trainer Michael Pino went 2-for-2 today at Parx Racing to reach 2,000 wins in a career which has seen his runners earn over $43 million.